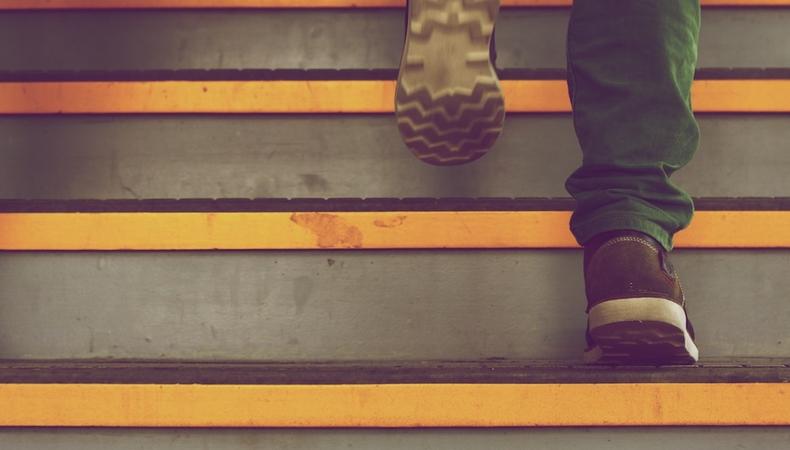 There are thousands of new faces coming into this industry every year. That means there are thousands of new actors who are chasing the dream and need to know where to start. Want my sage advice? Don't hurry. Build slowly.
You don't need to rush out and spend money on a headshot so quickly. Wait a year and build your skill and knowledge—New York and L.A. aren't going anywhere. Very few actors gain immediate success and if they do, it probably won't last. Beauty counts big time and can trump skill in commercial work; but again, there's still a lot of beautiful people out there. If you want to be the next Kim Kardashian, skip this article. If you're serious about the craft and plan to be in this business for the long haul, do it the right way.
Here are five initial steps to building a solid foundation and that will set you up for success.
1. Start with monologue study.
You need to learn the fundamentals of acting and that begins with the internals: subtext, feelings, honesty. With monologue study, you learn the basics of having an objective, conflict, given circumstances and transitions. Don't start with Shakespeare or a scene class. Learn the basics of acting through character work. If you're deciding between a class and private study, choose a class. You'll learn more watching others and listening to the direction given to each in the class.
2. Read books and plays.
Educate yourself. There's no downtime as an actor. Uta Hagen's "Respect for Acting" is great; "It Would Be So Nice if You Weren't Here" by Charles Grodin is great as well. Read the books, articles, and plays you will enjoy; they'll enhance your understanding and appreciation for acting.
READ: Time to Get Reel: 3 Tapes You Need to Further Your Career
3. Get set or stage experience.
At the beginning, it's not the time to audition for major roles as you don't have the knowledge or experience yet. Audition for community or local theater. Get your feet wet. Learn to take direction from a director, shake out the kinks and be in scenes with other actors. Audition for student films. If your work is good and the clips are marketable, request a copy for your marketing reel. If not, who cares. It was great experience being on a set. Agents and managers look at education, experience, and determination. Set yourself apart from actors who don't want to train and move forward simply on a dream.
4. Take advantage of regional markets.
If you're willing to travel, there's less competition in regional markets like Philadelphia, Washington, Richmond, etc. You'll gain more auditions there and build your resume at a quicker pace. Be willing to be hired as a local, meaning that if you book a job, the production will not have to pay for travel, hotel, or meal stipends. This local status puts you on par with other actors who can be hired for less.
5. Keep perspective and a good attitude.
It's not a race; you want to have longevity. Success takes time. Most people fail because they simply quit too early. You're building. A career can last for 60 years. Always be honing in class and build good relationships with actor friends who will keep you informed. Be positive and happy for others. Your time will come.
Respect the craft and the process. You need education. You need to build your resume. There are thousands of adults and kids around the world who flock to New York and California every year in hopes of fame, fortune, and quick success. Many quit in their first two years because they become disillusioned and don't gain success quickly. When the time comes, be ready. Be trained, knowledgeable, and have a good attitude. Remember Rome? Not built in a day. Success takes time. You'll have yours, but only if you build the right way. Walk before you run.
Todd Etelson is a top NYC kids and teen acting coach, specializing in on-camera television, film, and audition technique. In 2004, he founded Actors Technique NY (ATNY), a TV and film school for serious young actors. He is responsible for helping hundreds of young talent gain representation and succeed in their budding careers. He works closely with most all of the top NYC agents, managers, and casting directors. His clients have boasted numerous major successes in network TV, film, and other commercial and stage projects. He began his career working at Dick Clark Productions in Los Angeles on such hits as The Academy of Country Music Awards, Puttin' on the Hits, and American Bandstand. He's performed on network television, film, and stage. He travels nationally and internationally to speak and teaches regional acting workshops. He's taught in Canada and has been invited to China to teach on-camera acting skills.
Check out Backstage's short film audition listings!
The views expressed in this article are solely that of the individual(s) providing them,
and do not necessarily reflect the opinions of Backstage or its staff.