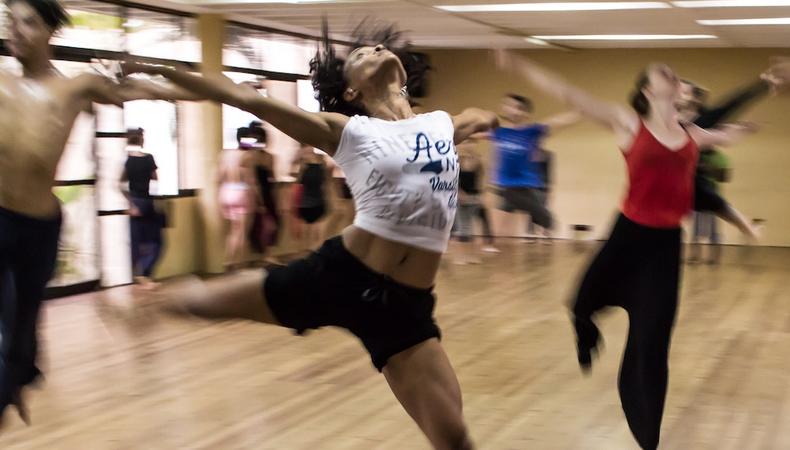 College audition season is tough! So much to manage, so much vocal/monologue material to prepare, and requirements vary for every school. But perhaps the most nerve-wracking piece is the unknown that lies behind the door of the dance audition. Nine times out of ten, you can't prepare ahead of time for a dance call (except to train for at least a year before audition season), because material is presented to you in real time when you're already laced up and on the dance floor. So I'm here to ease your mind, break it down for you, and remind you that there is hope! You CAN make a great showing at the dance call, even if you don't have training.
Movement calls for musical theater programs will most likely include a warmup, a technique evaluation, and a dance combination (usually in classic musical theater style), to be performed in small groups. Here's how you're going to wow them despite your wobbly legs:
1. Break every step down into right/left/right.
Dancing is just glorified walking. When it comes down to it, there are only two things you can do: step on the right foot or step on the left. So if you take away the mystique of how people make it look so darn graceful and see what's really there, you'll notice that everything is just right foot/left foot. Take a deep breath, concentrate on the steps, and you'll pick up enough of the choreography to keep moving with the crowd.
READ: 3 Stretches to Increase Flexibility, FAST
2. Be teachable.
When auditioning for college programs, the auditors are looking for more than good technique. They're looking for people who they want to hang out with for the next four years, people who are open to learning, growing, and improving. And guess what? If you're already a perfect dancer, there's no learning to be done! It's not a bad thing to be a beginner, but it IS bad to be a jerk about it. Stay loose, stay engaged, laugh at your mistakes, and hold your head up high. And if you have a question, ask it! Your determination will not go unnoticed.
3. Remember that performance scores points.
I'm sure I don't have to tell you that college auditions are competitive these days! Programs are looking for people who are really good at two of the three triple threats (dancing, singing and acting, obviously), but the winning factor—the golden ticket that garners your acceptance letter—is when you show potential in the third realm.
How do they measure your potential? By watching you learn, observing your willingness to go for it, and enjoying your performance, so sell it! I know stakes are high, but smile, give it all you've got, and wow them from the neck up. If you make them feel good, they'll remember you. Plus, they will be watching the joy on your face (and not your two left feet).
The views expressed in this article are solely that of the individual(s) providing them,
and do not necessarily reflect the opinions of Backstage or its staff.