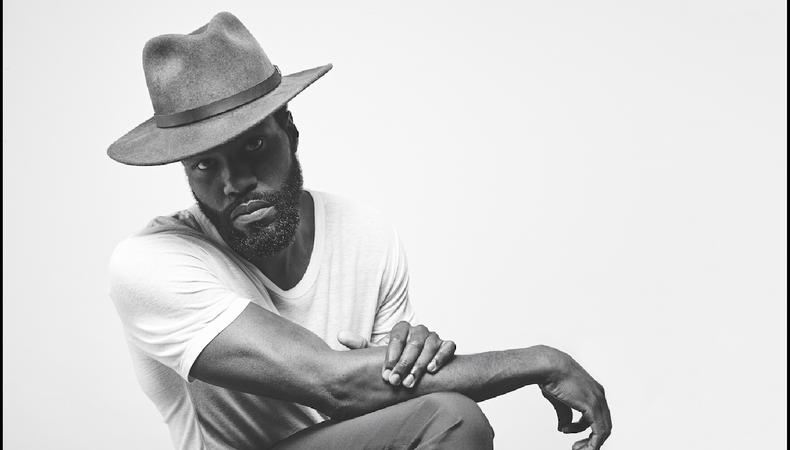 One afternoon in May, Yahya Abdul-Mateen II woke from a nap in a panic.
"It all kind of hit me," he recalls. "I thought, Wait a minute—in a couple months people are going to know about me and it's not going to make sense. It's not going to add up. How did I get here? Oh my God! I'm a fraud, I'm a fraud!"
A month ahead of his mainstream acting debut on Baz Luhrmann's "The Get Down," Abdul-Mateen II is sitting in Manhattan's Brasserie Les Halles, thinking back on that day with his elbow propped on his chair's back and his hand under his chin.
The actor was only half right.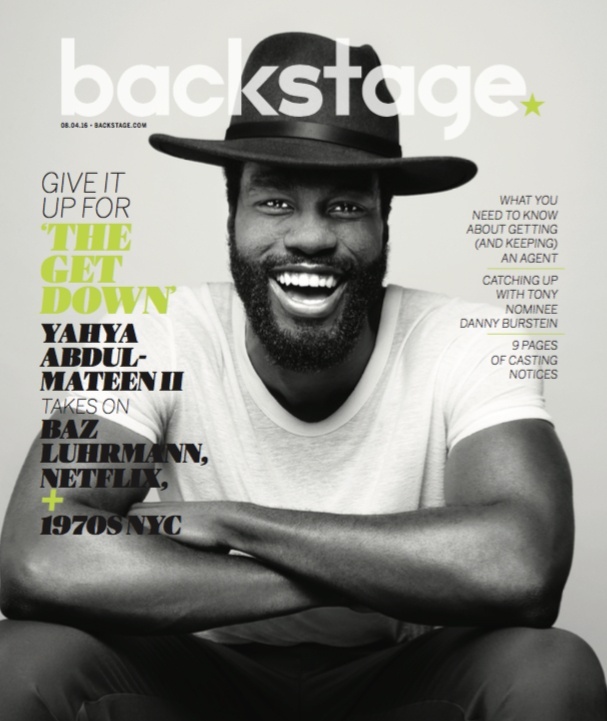 Since then, he's been featured in Vogue, been labeled a "men's style tastemaker" by the New York Times, landed a magazine cover, and got a free pair of shoes. "Free stuff? We made it!" he says, laughing. "I surprise myself by the things I get excited by. I'm not very excitable as a person. What I say is, I'm always chillin', I'm always chillin'." His casual demeanor is part of what makes his anxiety that much more out of character.
Admittedly, landing a lead role on one of the summer's most highly anticipated Netflix series (and Luhrmann's first foray into television) while still earning his MFA from Yale, plus his subsequent casting as Sgt. Ellerbee in the upcoming "Baywatch" movie, was a quick turnabout for Abdul-Mateen II. It required some adjustments.
"I wouldn't say that I was intimidated," he says about auditioning for Luhrmann to play gangster disco dance king Cadillac on the '70s-set period piece. "But I knew I had to do something to control the situation for myself. He crossed his legs, I crossed my legs. He made a physical gesture with his hand, I eased into the same gesture."
In an industry where actors have little control over their careers, Abdul-Mateen II can now take his where it's appropriate—but only after understanding where it's not.
READ: "How to Audition for Netflix"
"I'm a thinker," he says four times in succession. The trait served him well in his audition and conversation with Luhrmann about favorite theater roles and plays, but he quickly learned to relinquish it once in character on the series about a group of South Bronx kids coming into their own just before the birth of hip-hop gives way to the swift death of disco.
"I process in my head and I try to get things right, but acting isn't like that," he says. It took a willingness to mess up to learn how to find the drama and the "trouble" in his portrayal.
"Ron [Van Lieu, the renowned Yale School of Drama teacher] says, 'When you make choices rooted in keeping the character safe, you rob them of the human experience of slamming themselves into something they weren't prepared for,' and that's so interesting to me—watching someone get themselves into a situation they had no idea was coming and that they cannot get out of, because that's when the audience leans forward."
READ: "The Inside Scoop on Yale's Acting MFA"
In 2010, Abdul-Mateen II was laid off from the job he'd wanted since he was 6 years old. He'd doggedly pursued a degree in architecture and landed a position in San Francisco's city planning department. He'd also taken a few acting classes for fun and enjoyed them enough that instead of applying to more architecture positions, the then-27-year-old gave himself three years to "see what was there," as he puts it, with regard to a career. He'd hoped for a commercial in his first year and a half or a background role, perhaps with a line, if things went really well.
Sixteen months later, he auditioned for drama school and was accepted not only into Yale, but into New York University's Tisch School of the Arts, American Conservatory Theater, and American Repertory Theater, too. Where some would take this as a sign of raw talent, Abdul-Mateen II still wasn't prepared to call himself an actor.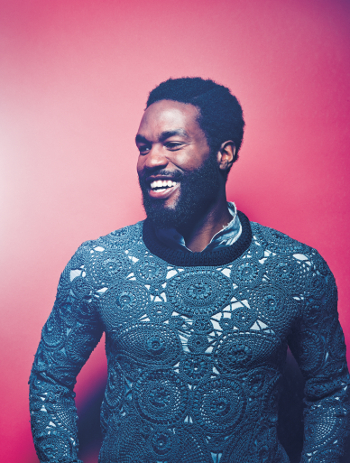 It took a conversation with Van Lieu, Abdul-Mateen II's main reason for choosing Yale, about changing his "back-footed" and "timid" approach in his first semester to galvanize a commitment to his choices. The decision earned him the Herschel Williams Prize, awarded annually to one outstanding student (Lupita Nyong'o won in 2012), and provided advice that would prove necessary to play his breakout role.
The antagonist and "princely" son to Fat Annie, one of the neighborhood's most notorious criminals—her dealings include heroin, cocaine, prostitution, a daycare center, and the seedy nightclub Les Inferno—Cadillac and his mother are flashy characters emblematic not only of the violence that's long dominated the Bronx and its residents, but of the era itself.
While poor children are running around setting fire to abandoned buildings for pay, Cadillac is dripping in gold chains, delivering slick "Saturday Night Fever" moves on the Les Inferno dance floor, and donning a wardrobe courtesy of Oscar-winning costumer and "Get Down" executive producer Catherine Martin, which includes a bright white, snakeskin-trimmed suit, a peanut butter–colored leather outfit, and a floor-length fur coat.
"This was a guy who in 1977 is dancing disco, running a disco club, and he calls himself Cadillac; that lets me know how he thinks, what he sees when he looks in the mirror: He sees sexy, he sees power, he sees someone who's on top, who's never gonna fall, which is what makes the drama of the Cadillac narrative so fun," the actor says.
He's a stark contrast to the ragtag subculture run by teenagers who breakdance on the floor in sneakers and T-shirts and are scraping money out of their couch cushions to buy turntables. "It's about the music," he says of the volatile disco–hip-hop dichotomy, "but it's also about the people who are the torchbearers of this culture. And I think he's definitely threatened by them."
Guiding the conflict is Luhrmann, known for his ability to create a spectacle worth watching ("Moulin Rouge!," "The Great Gatsby"). Along with collaborators, Grandmaster Flash, an associate producer, DJ Kool Herc, rapper and executive producer Nas, respected musical journalist and supervising producer Nelson George, and Pulitzer Prize–winning co-creator and executive producer Stephen Adly Guirgis, he's built a musical roadmap, both for the audience and the actors, into the explosive narrative by using original and period songs that advance his plots while connecting numerous characters. The "grit and power" of the era's basslines provides not only a literal backdrop for the series in post, but was a sure-fire way into the world for Abdul-Mateen II. He listened to James Brown and Al Green for inspiration and used his classical training to go further and find Cadillac in his posture. "The shoulders get wide, you stand tall, and you stride," he says coolly. He underwent dance bootcamp with choreographers Rich and Tone Talauega to learn disco shapes before adapting them to his self-absorbed character.
"He may be sliding and feeling himself," he says, bopping his head and tracing his middle finger down his chest before slipping briefly into character. " 'Because I know thatcha lookin'. If 10 people looking at me, it might as well be 11. And everybody wants to look but they know better than to touch.' He's too expensive!"
Cadillac is one of the series' intriguing characters, all played by fresh Latino and black actors. The ensemble-driven musical drama serves as a steppingstone not only for Abdul-Mateen II but for the next on- and offscreen "torch-bearing" generation that includes Justice Smith, Shameik Moore, Skylan Brooks, Herizen F. Guardiola, Tremaine Brown Jr. (discovered rapping on the New York City subway), and Mamoudou Athie, starring as real-life DJ Grandmaster Flash.
"The Get Down" serves as an unprecedented look at the early recipe for the modern-day global phenomenon of hip-hop. But did it prepare Abdul-Mateen II to take on his next role in a TV history juggernaut-turned-film?
" 'Baywatch' was terrifying," the actor says of walking onto the set of the film due out in theaters next year—but not because of the recognizable name or because everyone kept telling him he was funny instead of just laughing. "I could feel the financial stakes, you know? 'The Get Down,' there's financial stakes there all over the place, but there's something about stepping onto a big movie with the Rock [Dwayne Johnson] and Zac Efron as my scene partners," he says. "That was one of the movies where I had to tell myself over and over, 'I am enough.' "
After two major projects and four more coming with names like Vera Farmiga and Nathan Lane, is it enough for Abdul-Mateen II to consider himself an actor? With a big smile on his face he answers, "Oh, absolutely. I'm a professional now."
Styling by Sam Spector with assistance by Esther Pak. T-shirt by Alexander Wang, pants by Club Monaco, hat by City Hats. Sweater and shirt by Orley.