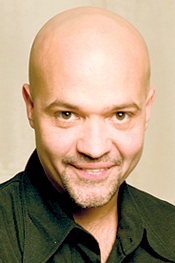 Perhaps only slightly more addictive to their audiences than to the many actors who earn their livings in them, Latin American telenovelas are an international sensation. In the United States, according to Sept. 3 figures from Nielsen Media Research, Univision's most popular program, the telenovela Destilando Amor, captured 25.6 percent of Hispanic households, demonstrating an intensely loyal viewing audience among a growing demographic.
The popularity of telenovelas isn't limited to the Americas, and many exports have large followings in non-Spanish-speaking countries -- including China, Russia, Nigeria, and Afghanistan. According to veteran talent manager Iván de Paz of DePaz Management, bilingual actors would be wise to take advantage of the entertainment industry's move toward globalization and market their skills outside of Hollywood. "If you're an actor who is bicultural and bilingual, and you have been able to establish your name or you're some type of a name within the Hispanic market, telenovelas are a wonderful option for you when you're not working in the general market," says de Paz, who manages bilingual and bicultural actors working in the United States and abroad. "It's always good for actors who have the ability to cross over to the Spanish market to make some money."
Getting into the Spanish-language market is as difficult as breaking into Hollywood. For Mexico City-born actor Eliana Alexander, however, the comparison ends there. Many Americans believe that telenovelas, or television novels, are the Spanish-language equivalent of soap operas. But a telenovela is structured more like a miniseries with a limited run; American soaps, such as The Bold and the Beautiful or General Hospital, can run for decades. "I've worked in American television and film, but the Latin ones are different," says Alexander, who spent over six months shooting more than 80 episodes of Telemundo's telenovela La Ley del Silencio in Texas. American productions may shoot five to six script pages a day, but telenovelas are much faster. "[Telenovelas] have a three-camera setup; you do the scenes twice and you move on," says the actor. "They're shooting anywhere between 18 to 20 pages a day. They're whipping them out."
Finding a way into the Latin market through traditional methods is fruitless because telenovelas are nonunion and operate in a sphere separate from Hollywood. There is no directory of talent agents in the United States (or abroad) who specifically handle Latino talent, nor is there a definitive list of casting directors who cast telenovelas; production information for Latino projects on the Internet Movie Database (www.imdb.com.) is often incomplete. Contact is most often made through word of mouth, networking, and direct referrals. De Paz notes that the hallmark of a good agent or manager in the Latino market is having working clients, as well as contacts at Telemundo and Univision and in Venezuela, Mexico, and Miami -- the three major locations for telenovela production. There are very few, if any, telenovelas shot in New York or California, as performers working in these states are often subject to union jurisdiction. Because telenovelas are produced on relatively small budgets, many production companies have been able to take advantage of Florida's large Spanish-speaking population and its status as a right-to-work state to supersede the unions. Actors interested in working in telenovelas should be prepared to relocate and work long hours up to six days per week and for relatively low pay. According to de Paz, actors are paid monthly rather than weekly and do not receive residuals.
Despite the hectic pace, de Paz says, telenovelas can offer actors a wide audience in a relatively short amount of time. "Telenovelas last six or seven months at the most. You make some money on a monthly basis, but what you do is you establish your name in the hard-core U.S. Hispanic market, which has millions of people," he says.
Veteran casting director Rosalinda Morales says American actors who want to work in Spanish-language soaps should leave Strasberg and Stanislavsky stateside; telenovela acting is unique. "It's definitely not Method," says Morales, who has cast English- and Spanish-language projects -- including Bread and Roses, La Llorona del Río, and MyNetworkTV's telenovela imports Fashion House and Desire. In the States you see actors performing in a realistic style, she says, "whereas in telenovelas it's a little bit more dramatic and overemphasized. It's very different than your usual acting."
According to Morales, telenovela actors need not be Latino, but casting directors are seeking trained, talented actors who speak fluent, unaccented Spanish. "There are Asians that have been in telenovelas," she says. "It's more international than we think. If some British person wanted to go and work in a telenovela in Latin America, they've got to speak Spanish. You can be from any ethnicity." To find the right talent for her projects, she uses her industry contacts in Miami and throughout Latin America -- such as top agency Gabriel Blanco Iglesias, which has offices in Mexico and South America.
In addition to being familiar with telenovela style, actors should know how to work with ear prompters and teleprompters, which are frequently used in Spanish-language productions. Although telenovela training isn't required, actors must be knowledgeable about the industry, and several schools have telenovela-focused programs. "Telenovelas are a genre," de Paz explains. "It's a technique. Just like sitcoms. It's just the way [actors are] taught in creating this drama."
Creating drama is what actor Indra Zuno learned at Centro de Educación Artística in Mexico City, one of several acting schools funded by media giant Televisa to train future telenovela actors. "[The school] works much like the old studio system here in Hollywood," says Zuno, whose credits include Te Amaré en Silencio, Mi Querida Isabel, and Pobre Niña Rica. "They have yearly open auditions to join the school and do not charge for classes. It's a three-year program. To help you stay in school, they will give you a monthly stipend, because classes are all day. It's like boot camp," she says.
Alexander -- whose English-language credits include guest-starring roles on CBS's The Bold and the Beautiful and Fox's Beverly Hills 90210 and MadTV -- says La Ley del Silencio helped her catch Desire casting director Morales' eye. "Because of that experience, Rosalinda Morales, who was the casting director for MyNetworkTV and Fox's telenovela Desire, took me straight to the producer, and then from there I did Desire, which was a Colombia telenovela translated into English," Alexander says.
Oscar-nominated Salma Hayek (Ugly Betty, Frida, Once Upon a Time in Mexico), Gael García Bernal (Babel, Y Tu Mamá También), Kuno Becker (Goal!, English as a Second Language, From Mexico With Love), and Ana de la Reguera (Nacho Libre) have successfully made the transition to Hollywood from telenovelas. According to Morales, Hollywood frequently snatches telenovela stars for English-language films. "The whole trend is now American television trying to incorporate [the telenovela format] into the mainstream of the U.S.," Morales says. "What does that tell us? It truly is almost like this culture is crossing into the other culture. Telenovela actors are coming to the U.S., learning English, getting hired. I've sat at many seminars and many talks where producers will say, 'Hey, if you want to get distribution on a film in Latin America and large parts of Europe, hire a well-known telenovela actor.' "
De Paz adds that actors who have cachet outside the United States can mean dollars for the box office take. "The bottom line [on] opening weekend: [With] that star who has a value to the Hispanic market due to the fact that he's been on soaps and he's got an audience, you have someone who is talking to them and selling them your product," de Paz says.
Bilingual and bicultural actors who take advantage of their abilities are a step ahead of actors limited to one market, because bicultural actors can boost their exposure across cultural lines, further their careers, and increase their paychecks. "[Telenovela actors] already have a fan base in a market that every single buyer, producer, and network is looking to get into, so you have a value that not too many people have," de Paz says. "You may not be able to do the Jay Lenos and any one of those wonderful shows, but you will do the top Hispanic shows on Univision and the top Hispanic shows on Telemundo, and you will be able to do the magazine covers, newspaper articles, and the radio circuit in promoting that movie to the U.S. Hispanic market."
Alexander says all actors -- not just those who are bilingual -- need to take advantage of every avenue available to succeed in the entertainment business: "There's always room for meeting new people and experiencing new opportunities with networks. They have to know where you are somewhere, and if not, you're going to be this wonderful artist in your living room."
Nicole Porter can be reached at nporter (at) backstage.com.