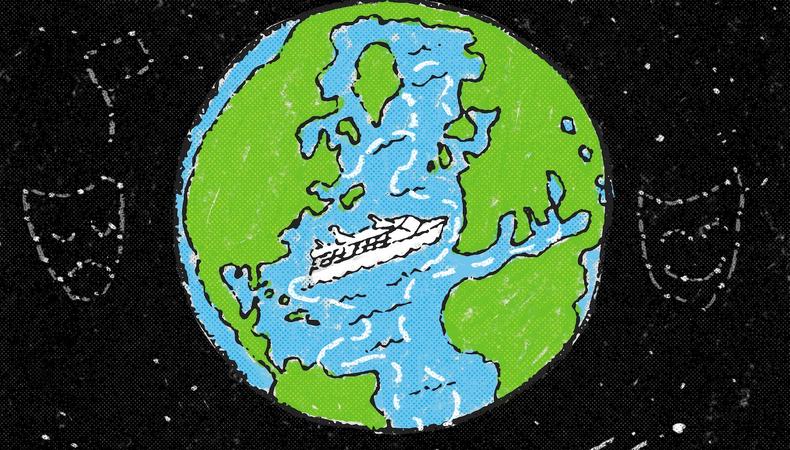 Most performers dream of having a steady stream of gigs to be able to make a living solely by means of their craft. Yet with unemployment rates what they are for those in the performing arts, and day jobs very much the norm, this is obviously easier said than done. However, there is one type of steady performing arts work that not only pays a competitive rate but also covers room and board: working on a cruise ship. With contracts often lasting six to nine months and many performers being hired over and over again, this may just be the right gig for you to pursue your dreams of full-time employment in your artistic profession, whether it be as a dancer, singer, actor, comedian, or cruise ship director. But before you can even begin the process of picking a cruise line to work for, make sure you've taken a look at our general Backstage Guide to working on a cruise ship to decide if it's the right place for you.
Here, we break down what some of the most popular cruise lines have to offer and what types of performers they hire:
Norwegian Cruise Line
Norwegian Cruise Line is a multi–award-winning, well-known cruise line with top-notch entertainment that includes song-and-dance numbers and great production value.
Shows currently running on Norwegian include "Burn the Floor," "Rock of Ages," "Million Dollar Quartet," "Priscilla Queen of the Desert," "After Midnight," "Cirque Dreams and Dinner," "Deal or No Deal," variety shows, and murder mystery events.
Singers, dancers, musicians, and acrobats are needed to fulfill these positions. Standard contracts through this company can run between four and nine months.
More information on the various types of entertainment can be found on the cruise line's website. You can also search for casting opportunities with Norwegian and other lines on backstage.com/casting by plugging "cruises" into the keyword section under additional filters. Available jobs can also be found here.
RELATED
Carnival Cruise Line
Carnival bills itself as the "fun ship" thanks to its unique onboard environment. Employees find themselves performing consistently, no matter which artistic discipline their area of talent is in. While you work aboard Carnival ships, your room and board is covered and you have access to areas such as the gym, spa, sun decks, clubs, and lounges. The position also comes with benefits after a number of years with the company, such as an employee stock purchase plan, retirement plan, loan plan, and reduced-rate or free cruises.
Carnival acts have been developed by some of Broadway's and the West End's leading talents in production design, choreography, and music. Carnival hires musicians, singers who dance, dancers who sing, dancers, technicians, youth staff, fun squads, DJs, variety acts, and comedians on a constant and rolling basis.
The company asks that dancers considering applying have "a strong technical training in ballet and jazz with adaptable and versatile styles and performance qualities to perform in Carnival's high-energy shows." Meanwhile, singers must have a great onstage presence. Additionally, Spanish-speaking singers who dance are also in demand.
Carnival musicians perform at varying venues throughout the ship, including the main theater, poolside pub, main decks, comedy clubs, or nightclubs. At the time of publication, the company is specifically seeking musicians who can get the crowd singing and dancing.
The youth staff creates programming for the youngest guests from toddlers all the way to teens. This team is in charge of ensuring young people's safety and making sure they have a great time, too.
For available entertainment options aboard the ship, check out Carnival's website. You can also search for casting opportunities with Carnival and other lines on backstage.com/casting by plugging "cruises" into the keyword section under additional filters. Additionally, you can check out upcoming auditions for Carnival cruises here.
Royal Caribbean
Rated the best cruise line overall and in the Caribbean 15 years running by Travel Weekly Readers Choice (it was also named best entertainment in 2017), Royal Caribbean is the cruise line that has something for everyone.
Royal Caribbean currently has the industry's highest rating for innovative performances on cruise ships. This year, the cruise line has six musicals: "Cats," "Grease," "Hairspray," "Mamma Mia!", "Saturday Night Fever," and "We Will Rock You." It also has three production shows: "Spectra's Cabaret," "Starwater," and "The Beautiful Dream."
The cruise line often seeks dancers, singers, musicians, aerialists, ballroom couples, DreamWorks character performers, Olympic-level gymnasts, hand balance acts, divers, high divers, synchronized swimmers, BMX cyclists, and ice skaters for both Royal Caribbean as well as its partner cruise line, Azamara Club Cruises. Performers should be "technically strong, appealing, energetic, and dynamic performers. Prior performance experience is preferred and all applicants must provide a current picture and résumé."
For singers, Royal Caribbean is looking for performers in the 18–40 age range who are experienced and multitalented. Great acting skills and the ability to speak in other languages are huge bonuses. Needed vocal styles include: R&B, pop-rock, jazz, and current musical theater styles. For women, they would like a "vocal range between G3 and C6, with a strong, controlled belt/mix up to an F5." Meanwhile, for men: a "vocal range between A2 and A4 [that] must be able to sustain upper notes" is required. Additionally, the website states that "some roles require a strong falsetto up to an F5." In regard to dancers, technically sound, experienced professionals between 18 and 35 years old are preferred. A solid performance ability is a must! Special skills, especially in tumbling or aerial work, is great.
Live auditions will include three challenging dance routines in different styles. For video auditions, you should submit pirouettes (classical or jazz), an across-the-floor combination, extensions, jumps, battements, and two differing jazz combinations in the style of lyrical, contemporary, or funk jazz. Video footage from live performances is also encouraged.
To apply for a costumed character position, one should have a movement and dance background. Additionally, full-body puppetry and mask work is highly encouraged. Performer heights must fall between 4 feet 10 inches and 6 feet 4 inches tall. Those auditioning to be aerialists should have experience and a solid dance background, and must be physically strong. Aerialists will go through a dance combination, harness work, and strength training.
Ballroom dance candidates should expect to audition with three different types of dancing out of the following list: samba, jive, waltz, rumba, cha-cha, and quickstep.
All acrobats and tumblers should have fast speed track experience, as well as great form, lines, control, and strong technique. Diving and ballet experience are a plus, while strong swimming skills are expected.
Royal Caribbean's compensation packages include competitive salaries, paid rehearsals, five- to seven-month performing contracts, housing, and wonderful itineraries, all in a professional work environment.
Upcoming auditions are located in San Diego, California; New York City; Atlanta; Los Angeles; London; Manchester, England; and Castellana Grotte, Italy.
More information on upcoming auditions across the U.S., U.K., and Europe, and the types of entertainment available on the ship, can be found on the cruise line's website. You can also search for casting opportunities with Royal Caribbean and other lines on backstage.com/casting by plugging "cruises" into the keyword section under additional filters. Additionally, more information about upcoming auditions can be found here.
RELATED:
Holland America Line
Holland America maintains that travel can make the world a better place by connecting and inspiring people. Holland America prides itself on its exclusive experiences and world-class entertainment options. It has been a cruise line for 145 years, and has continually been recognized as a leader in the industry. Popular destinations for its ships include Alaska, South America, the Caribbean, Europe, Mexico, Australia, New Zealand, Asia, and the Panama Canal. Company culture at Holland America places great importance on giving back to the communities around the world to which it travels. With over 70 nationalities represented on board its ships, Holland America stresses that employees will be immersed in global culture.
Available entertainment includes B.B. King's Blue's Club, Lincoln Center Stage chamber music, "Billboard Onboard," its World Stage shows, its Mainstage shows, and spins on recently released movies.
Holland America hires entertainers, singers, dancers, and musicians (keyboardists, guitar players, bass players, drummers, violinists, and pianists). It also has a special partnership with Lincoln Center for the Performing Arts and Billboard.
Holland America typically works with male singers and singer-dancers who look late 20s to early 40s, are 5 feet 9 inches or taller, can tell a story, are "leading man" types, can move well, and are great at interacting with guests. In terms of singing specifically, they should be tenors and baritenors with a good falsetto, great at pop-rock, and good harmonizers.
As for female singers and singer-dancers, Holland America seeks those who look late 20s to early 40s and are mature performers who can tell a story. Singers must move well and be good with guest interaction. Required singing skills include: a strong mix/head voice, adeptness at pop-rock-contemporary, and great harmonizing capabilities.
Dancers are expected to present good technical skills and adequately perform ballet, commercial jazz, and contemporary. Tap dancing, ballroom and partnering, and tumbling and aerial skills are an added bonus.
Musicians hoping to apply for the Lincoln Center Stage group must be classically trained and enthusiastic chamber musicians, as these artists will be performing special commissioned works as well as traditional chamber music.
Meanwhile, those wanting to be part of "Billboard Onboard" will be taking traditional pianist technique and creating an interactive experience that delves into Billboard's top hits over the past 50 to 60 years.
As for other entertainment positions, Holland America also hires for entertainment management, cruise staff, enrichment staff, and stage technician positions.
You can learn more about the entertainment it has on its ships on its website.
Princess Cruises
The Princess Cruises guest programs and entertainment are a collaborative effort based on an assortment of teams that come together to provide an enthralling overall entertainment experience. Types of shows include: productions, game shows, organized activities, and presentations. Princess Cruises is always looking for musicians and bands, dancers, vocalists, youth staff, production staff, and cruise staff to entertain guests, all while traveling the world.
Specific types of musicians that Princess Cruises often looks to hire include: band leaders, featured soloists (guitar, steel pan, piano, and vocals), atrium/piazza groups, house bands, lounge bands, sequenced duos, and pop-rock party bands. All musicians should be able to work seven days a week, work well in small environments with others, enthusiastically participate in all onboard activities. They should also have great sight-reading skills, good musical improv skills, proficiency in English, and an ability to stand for long periods of time. Backgrounds in dance, vocal, and Broadway, as well as knowledge of contemporary styles, are a plus.
Those wishing to audition for dancing positions should be strong technical dancers with experience in ballet, jazz, tap, musical theater, ballroom, and partnering. Acting and gymnastics experience are a plus. Women must be between 5 feet 2 inches and 5 feet 9 inches tall. Men should be between 5 feet 7 inches and 6 feet 4 inches tall.
As for singers, Princess wants females with a range of "G or Gb below middle C with a strong belt up to B or C, an octave above middle C. Head voice up to a minimum of a G5. There are no belt-only tracks on our ships," says the line's website. Males should have a range of "B or Bb, an octave below middle C with a strong belt up to A4." The height of all female vocalists should be between 5 feet 3 inches and 5 feet 9 inches, while male vocalists should be between 5 feet 8 inches and 6 feet 4 inches. All applicants should have great singing skills and some dance knowledge. Music genres they should be adept at include: R&B, rock, pop, and musical theater.
Those wanting to apply for youth staff positions on Princess Cruises should be passionate, dynamic, and, of course, great with kids.
As far as accommodations go, Princess provides double-occupancy cabins with bunk beds, as well as meals. Vocalists and senior staff get their own cabins. Contracts vary from four months to nine months in length.
Auditions are held year-round at various locations. If there is not an audition in a city near you, you can apply online. Audition information can be accessed here or on backstage.com/casting, and you can find more information about Princess Cruises' entertainment options on its website.
Celebrity Cruises
Celebrity Cruises offers more than 300 destinations on all seven continents. With a new show called "Eden" added to its roster, artistic directors are seeking more house bands, four-piece dance quartets, solo musicians, string duos, acoustic duos, and DJ instrumentalists. Actors in the U.S., U.K., and Canada can find auditions nearby.
Celebrity Cruises singers who are female-identifying performers must be 5 feet 3 inches to 5 feet 9 inches, and male-identifying must be 5 feet 1 inch to 5 feet 8 inches. Lead vocalists should be able to sing one of the following types: R&B, contemporary, pop, rock, or musical theater. Female-identifying performers should be able to sing "a strong mix/belt to F5 and legit to C6." Male-identifying singers should have "baritenors to G4 and tenors to B4 with a good falsetto." Lead vocalists must also be able to move well.
For ensemble roles, applicants should be true triple threats. A dance background should include experience in ballet, jazz, partnering, and commercial. Female-identifying performers must be able to perform all dance moves in three-inch heels. All featured ensemble members must be able to understudy the leads.
Each cruise has 18 different types of shows that are created exclusively for Celebrity. Those hoping to audition specifically for the show "Eden," an immersive theatrical experience, should be versatile, enthusiastic performers. They will need to be effective storytellers and great at audience interaction. Celebrity Cruises performers are athletic, technically trained dancers who can "fully become their characters for an evening." Experience in contemporary and expressionist dance is recommended. Other performing arts skills that you can bring to the table, such as magic, juggling, balancing, gymnastics, and contortionism, are a plus.
More information regarding auditioning can be found here or on backstage.com/casting by plugging "cruises" into the keyword section under additional filters. Finally, you can find more information on its entertainment options on Celebrity Cruises' website.
RELATED
AIDA Cruises
This American- and British-owned German line has been cruising the high seas since the 1960s, providing a great mix of city tours, vacation time, and the chance to experience nature. (Fun fact: the onboard language is German!)
AIDA employs singers, dancers, and acrobatic performers for traditional comedy, musical, improv, and storytelling shows.
Singers must be familiar with performing musicals, pop, rock, and contemporary music while also showcasing strong acting and movement abilities and personalities. Additionally, dancers with "excellent stage presence and technique" and acrobatic performers with great strength and a high skill set have a place with AIDA. Finally, dance bands, duos and trios, DJs, and pianists should consider looking up when the next round of auditions will take place!
When it comes to dancers, AIDA wants performers with strong movement and acting training. Partnering and chorus work are helpful, as are acrobatic skills. Dancers must also have a natural propensity for entertaining and musicality. Females should be between 5 feet 3 inches and 5 feet 11 inches tall, and males should be between 5 feet 7 inches and 6 feet 1 inch tall.
In terms of acrobatic performers, AIDA is always on the lookout for circus artists and rhythmic gymnasts. Circus artists should have a diverse skill set including contortionism, acrobatics, juggling, and equilibristics. Meanwhile, rhythmic gymnasts should have a competitive background in gymnastics, as well as a high skill level for jumps, fluidity, and movement. Both types of performers should be natural entertainers.
Overall, entertainers for AIDA should be master thespians of both comedy and drama, have a keen ability to pick up information and text quickly, and have a strong personality of their own. Similarly, hosts should have magnetic personalities and ample stage experience. Finally, interactive performers must have great comedy, improv, and storytelling skills with a shining personality that thrives on interacting with guests.
Musicians must have good technical skills in addition to great musical improvisation abilities. A wide knowledge of musical genres is a big help.
For all positions, there is a rehearsal period in Hamburg, Germany, followed by a two- to six-month contract, depending on the focus of the job.
Information on the varying entertainment jobs can be found on AIDA's website and on backstage.com/casting by plugging "cruises" into the keyword section under additional filters. Auditions are often held in London and Hamburg. Information on auditions, along with a behind-the-scenes video, can be found here.
Cunard Line
Cunard is a British-American cruise line that has been around since 1847 and is owned by parent company Carnival U.K. It features the famous Queen Mary 2, which is one of the only ships to continually make the transatlantic journey from Southampton, England, to the U.S. Cunard believes great service makes the difference on cruises, and the staff takes pleasure in creating a warm and sincere environment.
Entertainment events on Cunard ships include West End–caliber shows, dance productions, film screenings, live music, and comedy.
Cunard is currently hiring for entertainment manager positions, musicians, and host positions. Audition information can be found here. You can also search for casting opportunities with Cunard Cruise Lines, as well as others, on backstage.com/casting by plugging "cruises" into the keyword section under additional filters. Finally, information on Cunard's general entertainment options can be found on its website.
Disney Cruise Line
Perhaps one of the most well-known cruise lines for entertainment among performers is Disney Cruise Line. Disney cruises offer activities, character experiences, deck parties, dining, live shows, entertainment, nightclubs, spas, fitness facilities, youth clubs, and pools, all with that touch of Disney magic. Shows like "Beauty and the Beast," "Frozen: A Musical Spectacular," "Tangled: The Musical," and "Disney's Aladdin: A Musical Spectacular" are just some of its offerings.
Jobs for performers include: vocalists, character performers, and dancers, with auditions often happening in New York City and London.
Actors are cast for individual roles in specific shows on the various Disney cruise ships. Overall requirements to audition for Disney Cruise Line include: being 18 years or older, a willingness to relocate for the job, and availability for the second callback as well as the contract dates. Experienced, technically solid performers are always needed, and there are height requirements, depending on the individual role.
Audition information for Disney Cruise Line can be found here. You can also search for casting opportunities with Disney Cruise Line and more on backstage.com/casting. More information on the various entertainment options aboard its ships can be found on its website.
Marella Cruises
Marella is a U.K.-based cruise line with destinations all over the world and a focus on night sailing to give guests more time in port to explore. When it comes to entertainment, expect "a show lounge to rival the West End," according to Marella's website. Audiences "can be watching feather-plumed dancers one evening, and singing along to the West End's finest musicals or Queen's biggest hits the next," it adds. Also included on the onboard entertainment roster is comedy, live music, cabaret acts, and dance classes.
For those seeking other methods of entertainment, Marella hires for positions including seminar hosts as well as family entertainers.
The host creates programming, builds strong relationships with guests, hosts the entertainment and themed evenings, and works closely with the fitness and sports instructors to build detailed events for guests. Meanwhile, family entertainers are charged with delivering quality, fun entertainment and activities, hosting duties on some main-stage events, and, finally, showing off their talents at singing, dancing, and comedy.
Those in performing positions should excel at audience interaction, as well as be seasoned stage performers. Improv and comedy backgrounds are a great bonus.
More information on the entertainment options with Marella can be found on its website. You can check for open positions with Marella here and on backstage.com/casting.
Crystal Cruises
Crystal Cruises is a luxury cruise line for the "savviest world travelers."
For singers and singer-dancers looking for employment, be prepared to show off your tap, jazz, ballet, and hip-hop backgrounds. Acrobatic and adagio experience are a plus. Females should be 5 feet 6 inches to 5 feet 9 inches, while males should be 5 feet 9 inches to 6 feet 2 inches. When auditioning, prepare one ballad and one song with an up-tempo beat to show off your range as a singer.
Lead vocalists should all have a solid dance background and proficiency in jazz, rock, musical theater, and contemporary pop music. Women should fall within the height range of 5 feet 6 inches to 5 feet 9 inches, the age range of 23 to 40, and a vocal range of G3 to A5, with an occasional C5. Meanwhile, men should fall within the height range of 5 feet 10 inches to 6 feet 4 inches, an age range of 25 to 40, and a vocal range of B2 to G4.
Benefits include paid vacation and rehearsal, health care, a single cabin, open-ended contracts, and access to cruising destinations worldwide. Initial rehearsal periods often range from six to eight weeks in Los Angeles, with paid rehearsal time, transportation, and lodging.
You can learn more about open entertainment positions here or search for casting opportunities with Crystal Cruises, as well as others, on backstage.com/casting by plugging "cruises" into the keyword section under additional filters. Meanwhile, general entertainment information can be found on its website.
Additional Opportunities
If you're looking for a one-stop shop to compare a range of job opportunities on cruise ships, look no further than Backstage's open casting calls for cruise ship auditions. Cruise lines such as Marella and Crystal Cruises often post through our own casting boards.
A number of stars started off working on cruise ships: Jennifer Hudson, before she made it big on "American Idol," and Kerry Ellis, before "Wicked," are just a couple to note. So, if you are looking for a new adventure and wouldn't mind spending a few months on the high seas traveling to new locations, consistently performing your craft, saving money on room and board, and meeting people from all over the world, you just might want to consider auditioning to be an entertainer on a cruise line.
Check out Backstage's cruise lines listings!