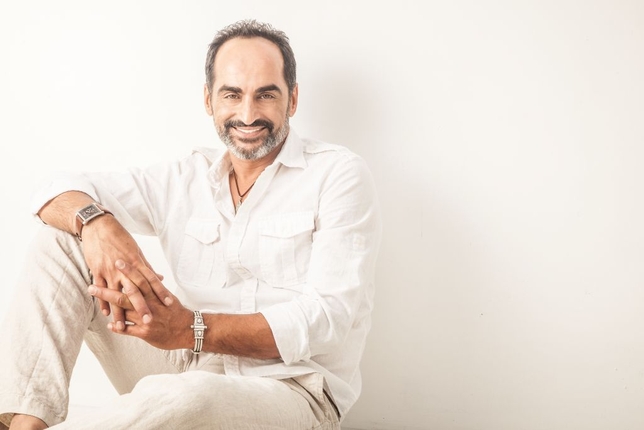 Navid Negahban may play formidable terrorist, Abu Nazir on Showtime's "Homeland," but the actor couldn't be more charismatic. He jokes that he was "destined to play a turban guy." His first role, at age eight, was as an older man with a full beard and turban. Now, he's playing one on the Emmy award-winning "Homeland."
Growing up in Iran during the war between Iran and Iraq, Neghaban saw what war can do to both sides. In high school, he would often arrive at school to see a red tulip on a classmate's desk. The tulip with its black center, symbolized the bullet and the red splash of blood. War has touched the actor's life personally, and he is passionate about the multiple perspectives "Homeland" gives viewers.
Negahban's journey hasn't always been easy, but his positive attitude, and persistence have paid off. At school in San Diego, "a professor pulled me aside out of the theater and, exact words, 'I want you to leave my theater and never come back. If you ever become famous I don't want to know,'" says Negahban. Undeterred, he started classes with another professor, who was instrumental in Navid's career, encouraging him to just start acting and find out for himself whether he could do it or not. Clearly he can.
How did you get involved in "Homeland"?
Navid Negabhan: It just so happened that I went to the book reading, poetry night and Howard [Gordon] was one of the readers. After the reading, I went up to him and I said "Howard, I just read your script. I love it. So who's playing Abu?" And he said "Well, we haven't cast him yet; we are still thinking." So I said "What about me?" And two weeks later I got a call and I had a meeting with Alex Gansa and Howard Gordon. A week later my agent got a call and that was it.
Wow. So you read the two lines and knew you wanted the role, so you went after it?
Navid Negabhan: I went after the role. As an actor sometimes we sit and wait for projects to be handed to us and we don't really work. We expect our agents and managers to know who we are and to see who we are and offer us a part or send us out and submit us. As actors, if we are truthful to ourselves and we know what we can do and what we cannot do and just go after it, there are possibilities out there. If you don't try, you won't find out if you get them or not.
So Abu is more multi-dimensional than a lot of portrayals you see of terrorists. What did you try to do to make him seem more human?
Navid Negabhan: Because he is human. Nobody comes to this world as a terrorist; the second that we're in our environment it gives us direction and takes us down different paths. I saw a father. I saw a teacher. I saw a husband, who is being put in a circumstance in a situation that he has to deal with it. And I tried to find the love. Find what the character loves and then everything grows from there. Let the character take his own life. For example, at the end of the pilot you see the moment that Damian [Lewis] breaks down after beating Walker and I put his head on my shoulder - that was an improvised moment. Damian's performance had such a huge impact on me that I couldn't do anything but take him in my arms. That was when Abu was born. That split moment created something inside me that I said, "Oh, okay, this guy is not that bad."
One of the good things about this show is that none of the characters are all good or all bad. The lines are kind of blurred.
Navid Negabhan: [The creative team] didn't want to give the audience an answer. They wanted to stimulate audience's brains and minds to think for themselves. They took a chance said okay here's a villain, but let me see what is behind the façade? Let me get in and explore. To me that was fascinating. You just need to put yourself in someone else's shoes and then see how they feel and then you will understand why they are reacting or why they are behaving the way that they are behaving. We need to be fair.
Is that part of what made this project appeal to you?
Navid Negabhan: Yeah. [Abu's] being put in the situation and he's reacting to what has happened to him. And also his upbringing. His values are different than our values. So playing with that, it created this multi-dimensional character that, to me, is fascinating. It was tough not to judge him. I had to completely separate myself. Sometimes when I'm traveling, Abu gets recognized. But nobody knows me. They know Abu. Especially at the airport. They know that they know him but they don't know where they know him from, and it's already in their mindset that he's a bad guy, so they're going into the files and they're looking for pictures matching.
One of the not-so-good things about getting recognized?
Navid Negabhan: I was going to say that. But it's fun because you're sitting there and you can see their looks. Every time I'm going in one of those rooms and every time I'm talking to those people, Abu becomes richer.
"Homeland" season 2 premieres on Sunday at 10 p.m. on Showtime.