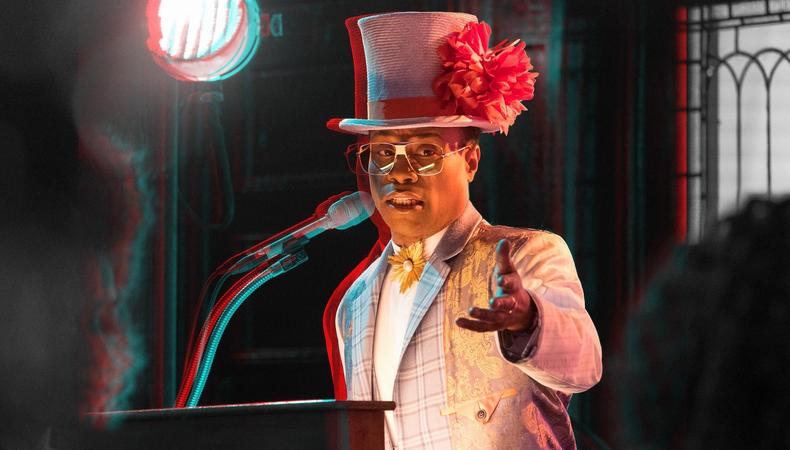 To say there's a lot of television these days is a monumental understatement. With the 2019 Emmy Awards upon us (the nominating window is June 10–24), no one could be blamed for struggling to keep track of the small screen's many contenders. Every scripted series that has aired episodes since June 1, 2018, is eligible, meaning Television Academy voters must keep summer and fall 2018, as well as spring 2019, shows in their deliberations. The Backstage staff is here to remind couch potatoes about last year's "forgotten" programs and performances that, despite our shrinking attention spans, still merit recognition.
"BoJack Horseman" (Netflix)
Raphael Bob-Waksberg's series about humans and anthropomorphic animals following former TV star BoJack's (Will Arnett) attempts at both a Hollywood comeback and an end to his self-destructive cycles of addiction and depression is a great example of why animation is not just for kids. The medium has allowed a five-season exploration of these heavy themes in distinct ways, with actors (especially Amy Sedaris, Alison Brie, Paul F. Tompkins, and Aaron Paul) giving voiceover performances as moving and powerful as any live-action one. They'll make you tear up from laughter one minute before tearfully addressing trauma the next, delivering some of the best TV available today. —Lisa Granshaw
"Homecoming" (Amazon)
Half-hour dramas: Why aren't there more of them? Brevity was one of the many novelties of Julia Roberts' entrance to the TV landscape last fall. Based on the fictional podcast of the same name from Eli Horowitz and Micah Bloomberg, this subtly trippy thriller—which follows military vets (including Stephan James) rejoining civilian life at a mysterious government facility where even case worker Heidi Bergman (Roberts) seems out of the loop—teams her up with writer-director-producer Sam Esmail of the Emmy-winning "Mr. Robot." Their synergy on "Homecoming," blending paranoia, corporate malevolence, and, ultimately, heartbreak, left me craving more. —Jack Smart
"Insecure" (HBO)
Over the course of an extended series, a fine line exists between character development that is believable and engaging but not contrived. There's no episodic series in recent memory that toes that line better than Season 3 of Issa Rae's "Insecure." Fresh as the front page, the comedy expanded its world to include new characters while delving deeper into those we already know and the relationships between them. In this season's examination of Issa and company's friend group as it scales ridges of true adulthood, "Insecure" asked viewers to contemplate their own evolving maturity. But as the show itself proves, existential growth is all the more possible if you're laughing along the way. —CM
"Pose" (FX)
Aside from homages paid by Madonna and other pop culture pillars known for repurposing queer iconography, New York's vogue and ballroom scene—specifically during the HIV/AIDS crisis of the 1980s—had never populated the mainstream in all its glorious flamboyance before Ryan Murphy's "Pose." But that alone a first-rate series does not make. Thankfully, we also owe "Pose" for introducing us to some of today's most exciting stars: Mj Rodriguez, Indya Moore, and Dominique Jackson will take your breath away as three transgender women vying for a family, a lover, and a crown; and Billy Porter may just be the ensemble player of the year as scene-stealing ballroom emcee
Pray Tell. —Benjamin Lindsay
"Sharp Objects" (HBO)
Lovers of prestige TV are a fickle bunch; on the precipice of summer 2019, all they seem to care about is a certain Mother of Dragons. However, in the long-ago era of summer 2018, a different dragon mother held their obsession: Patricia Clarkson's Adora Crellin, radioactive mom to Amy Adams' physically and emotionally lacerated Camille Preaker on Marti Noxon and Jean-Marc Vallée's "Sharp Objects." There's a reason the murder mystery-turned-familial case study-turned-nightmare had us gasping through its final moments (and end credits!). So, Emmys, let's all agree to give this miniseries its due, and we can pretend you never let it slip your mind. We won't tell mama if you won't. —Casey Mink
READ: The Amy Adams Approach
"The Sinner" (USA)
Season 2 of USA's hit why-done-it mystery switched one magnetic Emmy nominee for another—and we're not complaining! With Cora Tannetti's arc wrapped up in Season 1, Jessica Biel stepped strictly behind the scenes as executive producer for the second season and tapped the great Carrie Coon as the central woman with a secret. Bill Pullman was again up to task as the haunted but brilliant Det. Harry Ambrose; he delivers the kind of calculated, nuanced, gut punch of a performance that deserves the Television Academy's attention come Emmy voting time. —BL
"Vida" (Starz)
Watching any moment of "Vida" reinforces that we're on the cusp of something exciting in Hollywood. Maybe it's showrunner Tanya Saracho's focus on East Los Angeles Chicanas at a time when Mexican-American heritage is being denigrated in political spaces, or the series' commitment to making space for queer Latinx folks and their stories—but a show like "Vida" airing on a premium cable channel still feels like a breath of fresh air in 2019. Wild, right? Mishel Prada, Melissa Barrera, Ser Anzoategui, and, come Season 2, Raúl Castillo are leading the charge on a show steeped in the culture and so much more, walking the line between specificity and universality with finesse. It's a passionate portrayal of people you want to watch—full stop. —Briana Rodriguez
This story originally appeared in the June 13 issue of Backstage Magazine. Subscribe here!