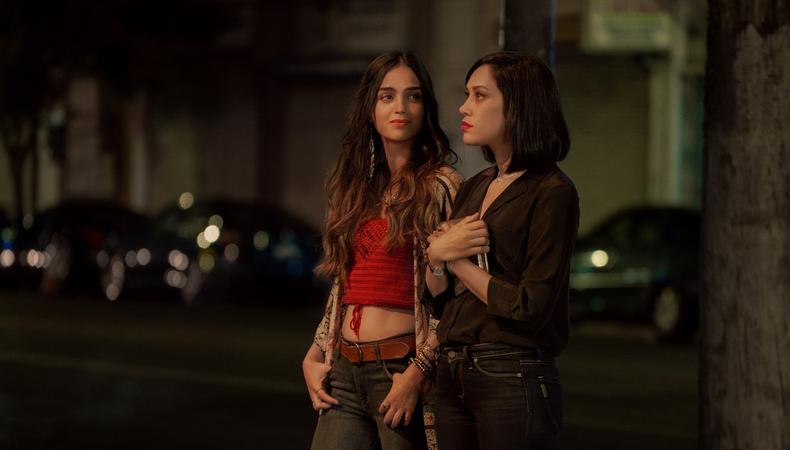 In Hollywood, many brand their work as "unique" or "different," while very few actually have the goods to back it up. Showrunner Tanya Saracho is one of those with the résumé to support the claim. The Chicana by way of Chicago playwright-turned-TV scribe has set herself apart not only by creating new spaces for queer and brown women's narratives on the small screen, but by bringing Latinx artists into the creative fold—her writers' room is as culturally on point as her stories.
As the first Latina showrunner in the premium cable space (and the only one with a three-year deal with Starz), Saracho's experience writing for series including "How to Get Away With Murder," "Looking," "Devious Maids," and now "Vida" makes her well-versed in what's needed to get a show made, particularly one featuring people of color.
"When they tell you to pick something and [sell your show as] 'It's a cross between this or that,' and if you can't find the 'this' or 'that' because something like this hasn't come before, it's OK, do it anyway," she says. "Especially in Latinx communities that don't have narratives in the TV landscape consistently for the past [nearly 100] years...a lot of the stuff we do will be for the first time because we haven't gotten the chance to do it. Rather than figuring out, 'I think the market will bear this kind of content,' just tell the story. Steep it in identity because we do need representation, but also, if you're a Latinx creator and you don't want to deal with identity, that should be allowed, too."
READ: How to Find a Producer for your Film, TV, or Theater Project
Her Starz series, "Vida," explores the Latinidad that we usually see in passing in flattened, often supporting and stereotyped characters; Saracho pulls them instead to the center of a story about two semiestranged sisters who are forced to return to their East Los Angeles neighborhood in the wake of their mother's sudden death. Starring Mishel Prada and Melissa Barrera, it explores themes of identity, sexuality, race, and privilege as they pertain to the Mexican population in a very specific part of L.A. Yet the universality of the struggles—during a time when the "othering" of Latinx and brown people is on a major upswing—serves as a salving look at culturally porous communities that feels more necessary than ever.
Saracho's personal commitment to Latinx stories stems from her days working in the Chicago theater scene, where she founded an all-Latina company called Teatro Luna in her early 20s and ran it for 10 years. It was an immersive study in making art frugally ("My theater company's annual operating budget was $150k; that's like our food budget [on 'Vida'!]") that ultimately evolved into a lesson in how to imbue the work with her voice, what she says became an "addiction" to eliciting responses from an audience. Her forays into acting, which included voicing Spanish-language ads for Special K cereal, made for a synergistic relationship that improved her writing. "Sometimes [while acting], I had to say these words that were too clunky in the mouth, and I always try and watch out for that in the dialogue that I write in theater and TV."
Now, Saracho is putting all her skills to use on the set of "Vida," and will soon put them on the page for "Brujas," an early writing process she says is very spiritual, involving "a little brujería" and a lot of alone time to think options through.
As a person who's been both creator and interpreter on great TV shows, what does she have to offer actors? "Don't wait to learn your lines in the makeup trailer—unless you just got them last night," she says. "Be absolutely prepared with choices. Also, don't get so attached to those choices that you can't pivot and be flexible. This is not like movies."