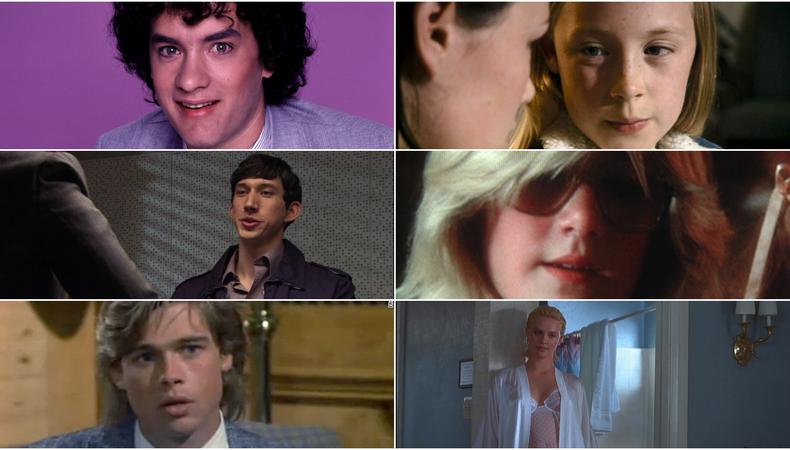 The 92nd Academy Awards are almost here! On Feb. 9th, this year's stars will gather at the Dolby Theater in Hollywood to finally see who's going to go home with the gold. Before all that, we're taking our annual look at each acting nominee's first credited role—from '80s soap operas to early-aughts police procedurals. Everybody has to start somewhere; read on to see how this year's nominees launched into show business, Oscar contention, and our hearts!
Your Official Voting Guide to the 2020 Oscar-Nominated Actors
BEST ACTOR
Antonio Banderas, "Pain and Glory"
Pedro Almodóvar's international film nominee "Pain and Glory" likely won't be the last time the writer-director works with his muse Banderas. And it certainly wasn't the first: fittingly, the Spanish actor's first film credit, 1983's "False Eyelash," counts Almodóvar as one of its producers. That same year, Banderas also played a small role in the first of Almodóvar's many feature film masterpieces, "Labyrinth of Passion."
Leonardo DiCaprio, "Once Upon a Time in Hollywood"
DiCaprio has sure been making his way in Hollywood for a long time. A very, very long time, in fact: His first credit, at the ripe age of five years old, was a role on children's show "Romper Room and Friends." But it didn't exactly go swimmingly: in an interview with David Letterman from 1995, DiCaprio says he was kicked off the show for being "too much to handle."
Adam Driver, "Marriage Story"
Many people's first introduction to Driver was on Lena Dunham's HBO series "Girls," but the "Marriage Story" lead actor actually had his first credit a few years prior. The former marine's first on-camera role was the 2009 series finale of comedy-drama "The Unusuals," where he played a reluctant accomplice alongside the likes of Amber Tamblyn and Jeremy Renner.
Joaquin Phoenix, "Joker"
Before Phoenix played Batman's ultimate nemesis, dancing on a stairwell in the Bronx, he was known as little Leaf Phoenix. Leaf's first time in front of the camera was on an episode of the television series "Seven Brides for Seven Brothers" in 1982. His first credit officially as Joaquin Phoenix came a few years later in Gus Van Sant's 1995 film "To Die For."
Jonathan Pryce, "The Two Popes"
This storied Welsh actor began his career as a stage actor, but he dabbled in TV here and there in his early days, too. His first-ever onscreen role was in 1972 on a British sci-fi series called "Doomwatch," where he played a police constable. And despite having worked as an actor for 50 years, this is Pryce's first Academy Award nomination.
LISTEN: Jonathan Pryce joins Backstage's awards podcast "In the Envelope"
BEST ACTRESS
Cynthia Erivo, "Harriet"
Erivo's Academy Award nod for playing the titular Harriet Tubman in "Harriet," and her other nod for best original song, are all the more impressive when you consider her first onscreen credit was just in 2015. The star's first role was as a character named Magdalene in the wildly funny series "Chewing Gum." Before that, Erivo shined onstage, coming to prominence for her work in musicals like "Sister Act," and winning a Tony Award, Grammy Award, and Emmy Award for her work on "The Color Purple."
Scarlett Johansson, "Marriage Story"
This year, Johansson is making history as only the 12th actor to receive two Oscar nominations in the same year. (She's also nominated for best actress in a supporting role for her performance in "Jojo Rabbit"). But long before "Marriage Story" and playing Black Widow in the Marvel film franchise, one of today's most successful stars first appeared onscreen in "North," a 1994 film about a precocious child played by Elijah Wood and co-starring another 2020 Oscar nominee, Kathy Bates.
Saoirse Ronan, "Little Women"
When paired with writer-director Greta Gerwig, Ronan can do anything—and by anything, we mean bring us almost immediately to tears. But before her role in "Little Women," a 10-year-old Ronan made her TV debut, starring in a four-episode arc on Irish medical drama "The Clinic" between 2003 and 2004.
Charlize Theron, "Bombshell"
In 1996, Theron popped up as a hit woman in "2 Days in the Valley," a crime film about a group of people drawn together by a murder-for-hire scheme. That same year, the Oscar-winning actor starred alongside Tom Hanks in a small role in "That Thing You Do." At this year's Golden Globes, she was tapped to present the Cecil B. DeMille Award to Hanks, another of this year's nominees.
Renée Zellweger, "Judy"
In "Judy," Zellweger transforms into a pitch-perfect '60s-era Judy Garland. The Oscar winner's own onscreen debut was in a TV movie called "A Taste for Killing" in 1992. And she made her first credited big screen debut a couple of years later in cult favorite "Reality Bites" as Tami, an ex-girlfriend of Ethan Hawke's Troy.
BEST SUPPORTING ACTOR
Tom Hanks, "A Beautiful Day in the Neighborhood"
Like many other renowned actors, this two-time Oscar winner got his career started onstage before turning to the screen. His very first film was a 1980 slasher movie, "He Knows You're Alone." Fun fact: Hanks was also in an episode of "The Love Boat" that same year.
Anthony Hopkins, "The Two Popes"
The last time Sir Hopkins was nominated for an Academy Award was in 1998 for his work in "Amistad." But considering how long the veteran Welsh actor's been at it, that's not very long ago: His first onscreen credit was for two episodes of "A Matter of Degree," way back in 1960.
Al Pacino, "The Irishman"
Pacino has had many successes in his long career of award-worthy performances in everything from "The Godfather" series to "Glengarry Glen Ross." He first made his way into the TV and film industry in 1968, guest starring in an episode of "NYPD," a series that followed three detectives fighting crimes across New York City.
Joe Pesci, "The Irishman"
Though his first credited appearance was in 1976's "The Death Collector"—a film about a neighborhood kid turned Mafia debt collector—Pesci's very first on screen appearance was in the 1961 musical "Hey, Let's Twist" as a background dancer!
Brad Pitt, "Once Upon a Time in Hollywood"
Naturally, Pitt's very first role, although uncredited, was as a boy at the beach in a 1987 movie simply titled "Hunk." Pretty appropriate, right? Fortunately, he didn't have to wait long for an official Hollywood credit. That same year, the four-time Oscar nominee starred as Chris on two episodes of the soap opera "Another World."
BEST SUPPORTING ACTRESS
Kathy Bates, "Richard Jewell"
Early on in her career, the multi-talented Bates went by her childhood name Bobo. Her first credit—as Bobo Bates—was as an audition singer in the 1971 film "Taking Off." The Oscar winner, who found success on- and Off-Broadway in the years in between, later made her onscreen debut under the name Kathy Bates in the 1977 TV movie "Vanities."
READ: The Acting Trick Laura Dern Picked Up From Airports
Laura Dern, "Marriage Story"
Thanks to being the daughter of Hollywood heavyweights Bruce Dern and Diane Ladd, the three-time Oscar-nominated Dern had an early introduction in front of the camera. Her first two roles, although uncredited, were alongside her mother in 1973's "White Lightning" and 1974's "Alice Doesn't Live Here." She made her official credited debut in "Foxes," a 1980 movie about teens coming of age in Los Angeles, alongside Jodie Foster.
Scarlett Johansson, "Jojo Rabbit"
(See above!)
Florence Pugh, "Little Women"
Pugh starred in two major films in 2019: the terrifying "Midsommar" and the heart-wrenching "Little Women." The young English actor got her start on screen recently—in a 2014 film called "The Falling," where she starred alongside "Game of Thrones" actor Maisie Williams.
Margot Robbie, "Bombshell"
Before breakthrough performances in "The Wolf of Wall Street" and "I, Tonya," this Aussie star got her start on the small screen. Her first real credit was in 2008 for an episode of "City Homicide," a series about homicide detectives in Melbourne, Australia.