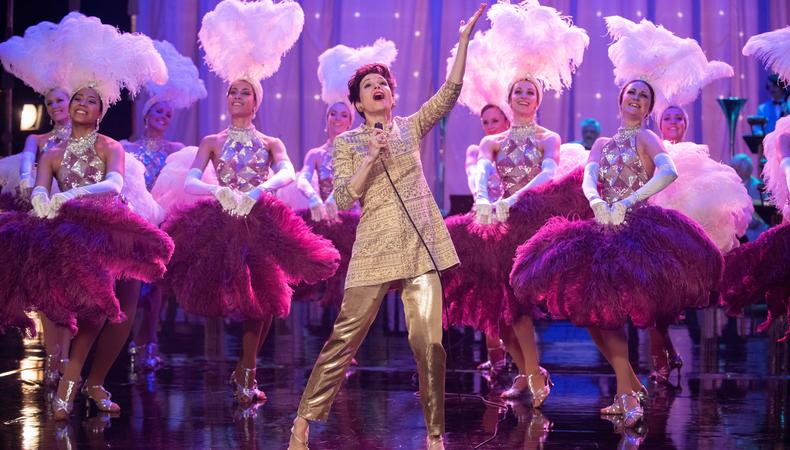 Want the inside scoop on all things awards? Welcome to Letter From the Awards Editor, our weekly series where Backstage's Jack Smart takes a look at the latest film and television news, industry trends, and awards projections that matter to today's working actor.
Dear Backstage reader,
So how 'bout them SAG Awards? SAG-AFTRA's 26th celebration of actorly camaraderie was one of the starriest in the ceremony's history (Pitt! Aniston! DiCaprio introducing De Niro!), and it was bettered, still, by its shocker of a final moment. After Renée Zellweger, Joaquin Phoenix, Laura Dern, and Brad Pitt repeated their Golden Globe and Critics' Choice wins, SAG's top film cast prize went to the ensemble of Bong Joon-ho's "Parasite," the category's first non-English-speaking winner and a suddenly formidable Oscar contender. With only two weeks left until the Academy Awards, it's looking like "1917," a Globes and now Producers Guild Award champion, and "Parasite," the acting community's top pick, could be our two frontrunners for best picture.
Interestingly, neither film is nominated for acting Oscars. It was over 10 years ago, "Slumdog Millionaire" in 2009, that a best picture contender last emerged victorious without nods for acting, much more an exception than a rule.
'Parasite' Director Bong Joon-ho: A Film's Genre Shouldn't Change Your Performance
Even more remarkable for "Parasite": it's only the third film to have ever claimed SAG's cast prize without any individual nominations. We at Backstage often discuss what great ensemble acting means, and I personally think "Parasite" fits that bill the most this year—and it's significant that SAG-AFTRA, Hollywood's largest guild overlapping with the largest AMPAS voting branch, agrees. Why didn't the Academy recognize those stars, after nominating two foreign actors in "Roma" just last year? Many are asserting it has less to do with being unknown to American audiences than with voters' troubling trend of failing to recognize specifically Asian actors. Either way, the "Parasite" cast (actors Cho Yeo-jeong, Choi Woo-shik, Jang Hye-jin, Jung Hyun-joon, Jung Ji-so, Lee Jung-eun, Lee Sun-kyun, Park Myung-hoon, Park So-dam, and Song Kang-ho) is now the toast of Hollywood.
"1917," Sam Mendes' epic yet personal depiction of WWI, burst into a shorter-than-usual awards race late in the game—in time for his directorial feats (filming a two-hour saga as a single take) to register with voters, but perhaps too late for love to spread to the terrific actors he put through the ringer, including leading man and current Backstage cover star George MacKay. Of course, a star vehicle like Quentin Tarantino's "Once Upon a Time in Hollywood," Martin Scorsese's "The Irishman," or Noah Baumbach's "Marriage Story" could also be the name in that best picture envelope Feb. 9.
In fact, the Academy's acting lineup this year is particularly starry, skewing toward previous nominees and winners. Of the 19 stars nominated, only Cynthia Erivo, Scarlett Johansson, Antonio Banderas, Jonathan Pryce, and Florence Pugh are brand new to Oscar. Pitt is the only nominee in his category without an acting win.
It's all got me thinking about the types of acting that tends to score with the Academy and other voters. In such an inherently subjective process, how do they decide what makes one performance the "best?" Is there a recipe for success? As this year's A-list Oscar nominees suggest, there's more context and history going into an award-winning performance than just the performance itself. This is a meritocracy, sure, but let's face it: it's also a popularity contest, and voters' perceptions of stars and their narratives undoubtedly color their choices.
This is oversimplifying for the sake of categorizing, but bear with me—I've always thought there are three elements to an Oscar win. Tick one of the boxes below neatly in your campaign and you qualify as worthy; tick two or even all three, and you're likely to take that little gold man home.
The transformers: It's been said the Academy favors larger-than-life performances (the most acting, rather than the finest) from stars who look nothing like themselves in the role. Nicole Kidman in a fake nose, Meryl Streep in fake teeth, Charlize Theron looking like a feral serial killer—there's a history of trophies going to actors (especially female actors) "uglying" themselves for a role, indicating they've spent their blood, sweat, and tears for the craft. That's what an Oscar-winning transformation is really about: the impressive sacrifice. Leonardo DiCaprio had to freeze his butt off and fight a bear to earn the Academy's approval.
Want to win an Oscar? Here's the one-two punch: Take on a character that's nothing like you and play them fearlessly (preferably also while singing, dancing, or speaking multiple languages). But then campaign on red carpets looking every inch your glamorous self. This works for breakouts like Lupita Nyong'o in "12 Years a Slave" or established stars like Anne Hathaway in "Les Misérables."
A major subset of this category is biographical films. The only thing Oscar likes more than a transformation is a transformation into a real person, preferably someone recognizable and in the public consciousness. Look at the last several years of leading actor winners: Rami Malek as Freddie Mercury, Gary Oldman as Winston Churchill, Eddie Redmayne as Stephen Hawking, Daniel Day-Lewis as Abraham Lincoln. Be sure to thank your hair and makeup team in your acceptance speech!
The Hollywood legends: This category can overlap slightly with the other two, but essentially I think of it as the Julia Roberts or Sandra Bullock effect. With "Erin Brockovich" and "The Blind Side," respectively, those A-listers made a grand transition into Oscar's good graces, giving the kind of performance that leans into, rather than subverts, their superstardom. The goodwill (and money) they've generated for years is the engine of such a campaign. Matthew McConaughey, Reese Witherspoon, and Halle Berry were first and foremost box office stars, making their crowning at the Oscars a kind of prestigious anointing: now you are a star and an actor.
The overdue veterans: While all voting orgs have official honors recognizing career achievement, surely some competitive wins are the result of the question, "How has this person not yet won?" When a star accumulates a certain number of nods—four feels like the magic number—a sentiment emerges that they deserve their due. This "always a bridesmaid" narrative is why everyone expected Glenn Close, now the most Oscar-nominated living actor without a win, to finally take best actress last year.
I'm not suggesting that DiCaprio in "The Revenant," Julianne Moore in "Still Alice," Patricia Arquette in "Boyhood," or Christopher Plummer in "Beginners" didn't give the best performance in their categories, only that some wins have an added layer of symbolism, a recognition, at long last, of a terrific body of work. And a win is a win! The day six-time nominee Amy Adams wins an Oscar for doing the bare minimum, I'll be popping the champagne just like you.
So this year, if you're wondering why our acting races feel like foregone conclusions, with Zellweger, Phoenix, Dern, and Pitt missing none of the precursors, look at my categories above. In "Once Upon a Time," Pitt leans into his innate charisma, giving based-on-real-life stuntman Cliff Booth his cool swagger, the sun glinting off his flawless-by-Hollywood-standards body. In "Marriage Story," the now thrice-Oscar-nominated Dern, daughter of Bruce Dern and Diane Ladd, presents the latest in a string of perfectly calibrated film and TV performances. Phoenix is a bit of each category, a four-time Oscar-nominated character actor and leading man immersing himself in "Joker."
And Zellweger, for "Judy," manages to feel overdue for a win—yes, despite being the only one of the bunch already crowned by Oscar. That "Cold Mountain" supporting victory, while justified, is thought to be more of a footnote in the career of a leading lady of this caliber. At least that's what her press tour, heralding Zellweger's transformative big-screen comeback as none other than Hollywood legend Judy Garland, has suggested. And she sings. The Renée-sance is upon us.
Other performances that fit the Academy's preferences? Charlize Theron in "Bombshell" pulls off that elusive feat of harnessing her movie stardom and inserting that gravitas seamlessly into another recognizable figure, Megyn Kelly. Inherent in the DNA of "The Irishman" are Oscar winners Robert De Niro, Joe Pesci, and Al Pacino playing real-life gangsters while drawing on the audience's awareness of the roles that made them stars. I also would have classified Eddie Murphy and Adam Sandler, making their grand returns to bold prestige in "Dolemite Is My Name" and "Uncut Gems," as sure-fire Oscar bait performances. (Alas!)
Every conversation I have during Phase 2 of any awards show, whether it's speculating potential winners or arguing for favorites, ends much the same way: We shall see! So I'll sign off in that spirit, as only time will tell who Oscar will anoint Sunday, Feb. 9. Which actors are you rooting for? Put another way, what's your definition of an Oscar-winning performance?
Sincerely,
Jack