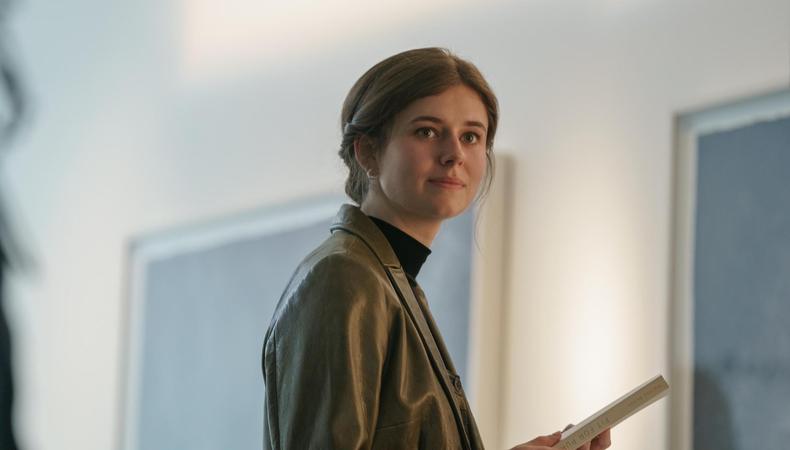 Landing a highly coveted role on a series adapted from a book by a best-selling author—and fresh out of drama school, no less—doesn't happen for everyone. But Irish actor Alison Oliver isn't everyone. She stars as Frances on director Lenny Abrahamson's latest Sally Rooney novel adaptation for Hulu, "Conversations With Friends."
Getting cast on "Conversations With Friends" was an opportunity beyond her wildest dreams.
"I was really lucky just before the pandemic happened. I was in my final year of drama school. We were doing a couple of plays, and agents had been coming to those. The last play I did before COVID-19, the agent I have now saw me in that and signed me. It was such a close call. It's always difficult to get your first [job]. So when the audition for 'Conversations With Friends' came around, it was one of those, like: 'Oh, yeah, that would be the best thing to ever happen!' But you never imagine that it actually will. I had already read the book and adored it. I just tried to do my best in my audition, and I felt like I really understood this character and the world that she was in."
Oliver saw a lot of herself in Frances' story.
"There are just so many things in the book that made me feel nostalgic reading it, like going home on the weekends to your mom's house after college, being in Trinity [College] or the pubs in Dublin. I was also finishing college at the same time [my character] was, so there were a lot of life and place similarities that I could really recognize…. Then just getting underneath the skin of all of that—and where all [Frances'] behavior comes from—was something that I was really interested in."
Even though she had rich material to pull from, it was important for Oliver to feel present in the moment.
"In a sense, I'm spoiled by the book, because it is from Frances' perspective. [Having] her entire interior monologue for the whole period of the story was just invaluable, because I could always know what she was thinking and feeling in each moment, both about herself and about the people she was interacting with and the world that she was living in. But then there comes a moment where you're in a scene with another person, and they're giving you something, and you have to respond and be in the moment with them, too. You use the book as much as it helps you, but also allow yourself to be changed by the people around you and what's happening."
Learn from your failures.
"I've obviously been so fortunate to have been able to do a job like 'Conversations' straight out of drama school. I feel very lucky. Of course, there are always rejections…. Even when working, and certainly when I went to drama school, so much of my experience was about failing and not being afraid to fail. I definitely started drama school terrified of failure and being embarrassed. So much of that training completely changed my outlook on failure. If you fail, it means you've tried and you've taken a risk, and that's all that this job is about."
This story originally appeared in the June 23 issue of Backstage Magazine.