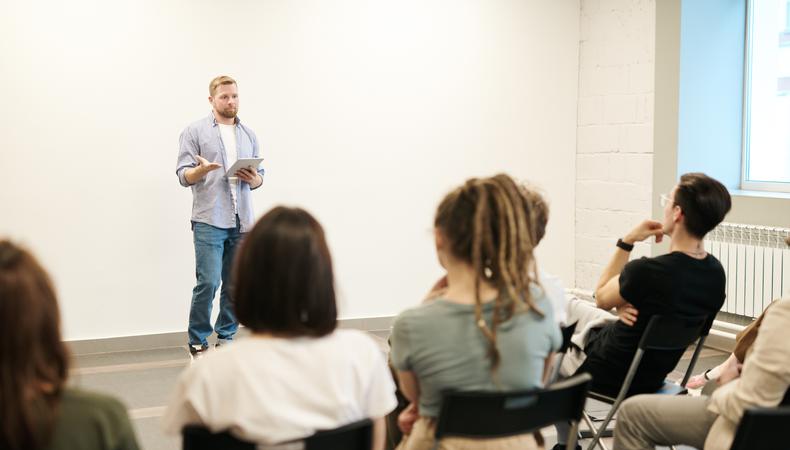 As industry professionals spanning various areas of the business, our Backstage Experts are casting directors, acting teachers, coaches, and beyond, so they know the importance of good training. That's why we knew they'd be the perfect group to ask the following question:
What factors should an actor consider when choosing a class or acting teacher?
Here are answers from 11 industry professionals!
Paul Barry, L.A.-based acting teacher and founder of Acting 4 Camera
As a primer to my article on this topic, consider the following thoughts, and in so doing arrive at your own answer.
Be honest about why you want to be an actor in the first place. Though you may claim it's a pure artistic calling, if it's really for fame, glamour, or to prove something to your parents, be honest about that. If you want to exorcise your demons—though acting may not be the most reliable therapy—it's your life, your choice. Just be honest, because it will guide every decision you make.
Some say they will sacrifice everything for acting, but cannot relinquish creature comforts, time, or money. Others cannot go without external affirmation and validation, so they seek it in acting. All classes will cost you money and time, but only some will invite you into potentially uncomfortable areas, where sometimes the best validation is that which you find within yourself.
Know what you want and why you want it, then make choices to support that. As usual, it's all your choice.
Tracy Byrd, L.A.-based casting director
If you're looking for an acting class or teacher you should consider the teaching style, your wants and needs, the acting technique or the method used in that class, and other actors and the commitment level in that class.
Risa Bramon Garcia and Steve Braun, The BGB Studio
There are in-vogue teachers that some agents believe look good on your résumé. Make sure you really look around and find teachers who genuinely get you and meet you fully in the work. Nothing less.
Find teachers who introduce you to a practice that allows you to discover your pre-existing talent and then express it in all its brilliant glory. You have the raw material, and a good teacher helps you mine it and shape it.
Anything that a teacher does in class must be in the interest of training you to be a better actor. The work is about you, not them. Your goal is not to please your teachers. Your goal is to grow as an actor and a human being.
Work with teachers who will push you to be better with nothing but deep care, respect, and your progress in mind.
It's imperative that you keep your skills sharp, stay engaged in the work, and keep growing as an actor and a person. If you're not onstage or on set, you've got to be in class.
David Patrick Green, founder of Hack Hollywood
The two main factors an actor should consider when choosing an acting class are who they are and what they want, with location being an important consideration as well.
Who they are refers to how they learn and what kind of teaching methods and teachers they respond to. Different teachers teach the same material differently, so it's important to choose both material and teachers you can respect and relate to.
What they want refers to what kind of acting goals they have. Choose an acting class that will help them develop the skills they need to do what their ultimate acting dream job is. There's no point in studying Shakespeare if their goal is to be on a sitcom.
Finally, location is very important. If you live close to where you study, it will be much harder to avoid missing classes and much easier to get together for rehearsals.
Cathryn Hartt, founder of Hartt and Soul Studio
First and foremost, you need someone you can trust so that you are willing to let go and move past your blocks. Everyone is different and you should consider that someone else might work for others but not you. It's like falling in love. Sometimes there is no rhyme or reason—it just works. Find someone that fits.
But find someone who will keep you moving out of your comfort zone. My job is to take the time to see your light and then to help remove the blocks that keep you from setting it free. My favorite phrase anyone ever said about my coaching was, "You love everything about me that I hate."
I believe that a good mentor should care deeply about your wellbeing. I personally do not just want to help you to become rich and famous, but want you to be fulfilled and happy. The rest means nothing without that.
Kate McClanaghan, L.A.-based casting director
Your career requires momentum, and training is, in part, how you drive that. You want to be challenged and to discover workable techniques that may not immediately be intuitive but will improve your game. Otherwise, you may simply be engaging in random motion. Training should give you something to apply or to review between classes, otherwise, your career will begin and end at your coach's front door. If you're developing a new skill, practice! Group classes offer community and friendship, depending on the group. The trap, of course, is the blind leading the blind. Audit a class if you're able. And beware the phrase, "We're going to break you down, then build you back up." It's a cliché uttered by damaged people who have no real process or insight to impart, so the best they can do is parrot back what some schmuck did to them back in the day. They don't deserve your time, your talent, or your money—no matter how eloquent they may sound as they cut you into ribbons.
Joseph Pearlman, L.A.-based acting coach
Choosing to engage in a relationship with an acting class or coach is like dating. You're entering into a potentially long-term relationship that must be mutually beneficial, healthy, and free of mental and emotional abuse. The No. 1 factor when considering joining is the results of the work: launched careers, booked roles, awards, nominations, etc.
Class sizes must be small—I describe my classes as "private coaching in a class setting." Because our classes are small, our actors get up and work every single week on a new piece until they have an undeniable acting breakthrough, or else they don't sit down.
Do not join a class where you are forced to work with a scene partner. When actors are required to partner up, it means the teachers can pack the class like sardines. What sucks about this imposed dynamic is the inevitability that your partner doesn't take it seriously. Why should you be shit out of luck just because your partner wasn't prepared?
With seven clients landing series regular roles this year as a direct result of our work together, we believe classes and results must go hand in hand.
Jessica Rofé, founder and artistic director of A Class Act NY
As the artistic director of an award-winning acting studio for kids and teens, I think it's important for acting students to work with industry professionals who are currently employed in show business today! For example, our teachers are all current Broadway actors, casting directors, and agents or managers. Given that the business is always changing and in flux, it's important to make sure that your teachers are connected to the industry today and know what is happening in the industry so they don't teach you something that's irrelevant.
Mae Ross, founder of 3-2-1- Acting Studios
Here are a list of questions to answer when deciding on an acting class:
Are the online reviews of the class great?
Do they offer a free trial or audit?
Is the environment in the classroom positive?
Do I like the instructor's personality and teaching style?
Is the instructor a clear communicator, caring, and encouraging?
Can I learn here? Are they offering what I want?
Do I get to work each class?
Can I see the playback of my work? (on-camera classes)
Do the other students recommend and speak highly of the class?
Can I build a community of peers? Make friends? Get support?
Does this studio have any industry connections?
Are the actors who study at the school booking jobs?
Overall, you want to go with your gut reaction. It has to feel right to you. This is where you will bare your soul, so ask yourself if you feel emotionally safe in the environment. I never cared for classes where they allowed students to comment on my work. I paid for the expert instructor to coach and direct me, not my classmates. So go ahead and ask your questions! This is your acting career and I wish you the very best!
John Swanbeck, director-author
If actors want to work in film or television, when choosing an acting class or teacher, they should consider whether there is a camera in the room and whether the person showing them how to act on-camera has experience in front of it—real experience—or, better yet, experience behind it. Ideally, that person not only can show the actor how to act on-camera, but specifically how to create for it, how to command it, and how to make it go "Wow!"
The views expressed in this article are solely that of the individual(s) providing them,
and do not necessarily reflect the opinions of Backstage or its staff.