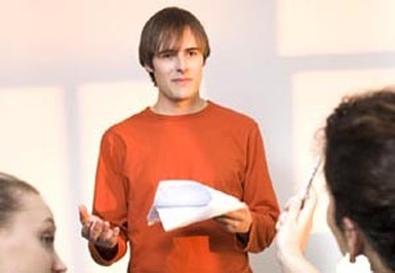 Let's be clear: There is no such thing as a perfect list of the best monologues for actors. I know the audition monologues I personally love, such as Hamlet's advice to the players—beautiful poetry, a great character, and funny to boot—but not everyone can or should play Hamlet. What I'm saying is that the monologue must fit the actor and vice versa. I can tell you that such and such monologue is a great one, but if it doesn't fit you and you don't love performing it, what good does it do you to learn it?

And while I'm on the subject of the classics, when you're asked to audition with a short Shakespearean monologue of your choice, do not fool yourself into thinking you should do one of the sonnets, just to be different. There are scores and scores of glorious characters and monologues in Shakespeare's plays, some in poetry, some in prose.

Actors always ask me if they should do a comic or a serious piece. I say do what you like, choose the best monologue for you, but to my mind it's much more difficult to score points in a short time with comedy.
Here's what every actor should look for in a monologue!
Many actors ask, "What exactly is a monologue?" It is, according to Webster's New World College Dictionary, "a passage or composition, in verse or prose, presenting the words or thoughts of a single character." What it is not is dialogue stitched together that eliminates the other character's lines. I guess the perfect example is again from "Hamlet": the monologue that begins, "To be or not to be." The title character is alone on stage and, depending on how the director has imagined the moment, either speaking to himself or speaking directly to the audience.

So what follows is merely a jumping-off place. I urge you to read, read more, and then read even more. Fall in love with the writer's words and choose the best monologue in which you can show that love to us. Find plays you're familiar with and read plays that others suggest to you. If you see a play like Eugene O'Neill's "Desire Under the Elms" or "Mourning Becomes Electra" or Friedrich Schiller's "Mary Stuart" or Neil Simon's "The Odd Couple" or Rodgers and Hammerstein's "South Pacific"—all five of which were performed in New York during the past three seasons—and you like what you see, why not read all of O'Neill, Schiller, Simon, or Rodgers and Hammerstein?

Audition with a monologue from a musical? Of course. There are lots of them, and some make terrific audition pieces. My favorite is spoken by Cornelius Hackl in "Hello, Dolly!" Cornelius, along with everyone else onstage, has been arrested, and he takes time out in jail to speak to the audience and ask if they realize how beautiful and wonderful his new ladylove is. It comes directly from the Thornton Wilder comedy "The Matchmaker," and it works because it's highly romantic and sweetly comic. Everyone who has just fallen in love can empathize with Cornelius.

1."Measure for Measure"
by William Shakespeare: Claudio
A young man might want to look at the character of Claudio in this play. He has a superb monologue addressed to his sister. Claudio has been arrested for lewd behavior, and she tells him to give up his life rather than force her to give up her virginity. It begins, "Aye, but to die and go we know not where." He suddenly realizes that his very life is at stake and wants to make his sister understand how desperate he feels.

2. "The Tempest"
by William Shakespeare: Trinculo
A more mature character man with a keen sense of humor might want to try Trinculo's speech in "The Tempest." It begins, "Here's neither bush nor shrub" as he looks for shelter in the storm and comes upon a human surprise. The monologue includes some very funny lines and descriptions. Trinculo is truly disgusted at what he sees and feels and smells.

3. "Twelfth Night"
by William Shakespeare: Viola
Any young woman would want to play Viola in "Twelfth Night," and as Viola becomes more and more confused, she has a perfectly written monologue. It begins, "I left no ring with her; what means this lady?" How often do you get to play the confusion of being disguised as a boy and having a beautiful woman fall head over heels in love with you?

4. "The Seagull"
by Anton Chekhov: Konstantin
Chekhov is one of my favorite playwrights. Konstantin, the young leading man in this play, is talking about his selfish actor mother with his beloved uncle. It begins, "She loves me; she loves me not." It is a moving, sad, honest piece in which Konstantin proves to his uncle that his mother does not love him. By the way, when doing a monologue from a play originally written in a foreign language, be sure to choose a translation that works for you and sounds natural on your tongue.

5. "The Seagull"
by Anton Chekhov: Masha
Masha, one of the most wonderful, fascinating characters in all of modern drama, has a terrific monologue about her future husband, a schoolteacher who is in love with her but whom she cannot stand. It begins, "I'm telling you all this because you're a writer."

6. "Dream Girl"
by Elmer Rice: Georgie
Georgie, the title character in this play, wakes up and performs her morning ritual in front of a mirror before going to work. It is charming, funny, and very, very true.

7. "Invitation to a March"
by Arthur Laurents: Camilla
Laurents' play begins with the middle-aged leading lady, Camilla Jablonski, addressing the audience, telling us who she is, where she lives, what she wants, and how she's going to get it—all of it real and funny. Celeste Holm played the role on Broadway.

8. "The Diary of a Scoundrel"
by Alexander Ostrovsky: Gloumov
Ostrovsky wrote this great play that I hope someday to see. The young leading man, Gloumov, speaks to his love, Kleopatra. This bitterly moving monologue begins, "Can't you see in my eyes that I'd rather die than cause you a minute's pain?" The Rodney Ackland translation is a fine one and readily available.

9. "Fear and Misery of the Third Reich"
by Bertolt Brecht: The Jewish Wife
This is a very long monologue (20 minutes, maybe), translated by Eric Bentley, but it can be divided into terrific pieces. A Jewish woman is talking to herself and then to her gentile husband as she packs her suitcases and finally leaves him. She feels that her religion will ruin her husband's life. He doesn't try to stop her.

10. "Cleo, Camping, Emmanuelle and Dick"
by Terry Johnson: Imogen
This is an extremely funny play about the movie business. Imogen, a sexy, pretty actor who has had too much to drink, talks to anyone who will listen about how she wants to be remembered as an artist and not as a woman with a beautiful chest. The monologue begins, "I'm surprised you even remembered me."

Two Bonus Picks
One of my favorite contemporary playwrights is Edward Allan Baker. His plays take place in Providence, R.I., for the most part, and I believe that the specific accent is quite important. Three of his one-acts have some great stuff in them and are published in one volume. Look at all three: "A Dead Man's Apartment," "Rosemary With Ginger," and "Face Divided." All are very serious and have desperate characters, often in life-or-death situations.

J.D. Salinger and Philip Roth both write great dialogue. Pick up their novels and stories and find a monologue you like. Zooey's monologue to his sister at the end of Salinger's "Franny and Zooey" is a good example. Yes, it is much too long, but it is brilliant, and you can do a piece of it.

To sum up, remember that the audition is not about the monologue; it is about you. Choose carefully, and when you're tired of one monologue, switch to another.

Stuart Howard is a New York–based casting director for theater, TV, and film. Among his recent credits is the recent Broadway revival of "West Side Story." He received his Bachelor of Fine Arts degree from Carnegie Mellon University and has a master's degree in drama from Purdue University and a certificate in French classic theater from La Sorbonne.
Inspired by this post? Check out our audition listings!