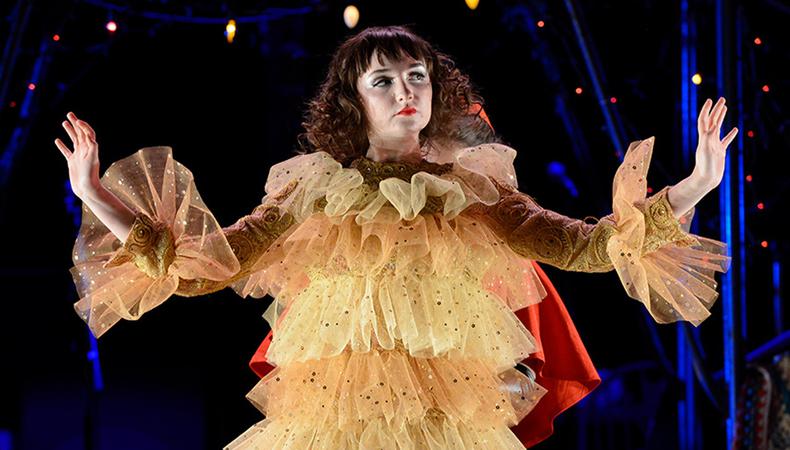 Boston Conservatory at Berklee is known for its rigorous and renowned training programs across dance, music, and theater, making it one of the most sought-after schools for performing arts education. To get a better understanding of their programs and their admissions process, we chatted with the chair of the Theater Division Patsy Collins Bandes, and the assistant chair of the Theater Division Jermaine Hill. These two pride themselves on getting contemporary theater and musical theater students Broadway-ready—or ready for anything a career in the arts may throw at young professionals.
First, what makes Boston Conservatory at Berklee's theater programs different from others?
Hill says one of the things that really makes Boston Conservatory at Berklee stand out is its rejection of the idea of the "triple threat" when it comes to performing. "Why is our talent a threat? It should be something that is uplifting and supportive and positive and beautiful. And why limit it to three? It's not just singing, acting, and dancing. There's creating and devising and choreographing and directing and looking at uplifting underrepresented and marginalized voices through our academic programs. It's studying on camera, it's voiceover work. We're committed to creating an environment in which students can do all of those things and bring forth their authentic selves." Collins Bandes also agrees with this statement: "We want people to come here and learn how to be a better version of who they already are and to think about how they are going to use their art to change the world."
How is the curriculum structured?
Hill says when applying, it's important for prospective students to really think about how a school's curriculum is structured. He says to ask yourself, "Do you want something that's very strict and structured, or do you want to have an experience where you're getting this excellent foundation, but it then gives you a little bit more room to figure out what you want to do and what you want to explore?"
As for how Boston Conservatory at Berklee's curriculum is structured, Hill describes it as a tree. "The first two years are the foundational years, where students are taking their movement, their voice and speech, their music lab, their piano classes, their voice lessons. And then in years three and four, it branches out and gives students a little bit more room to choose their path and how they want their experience and their growth process to be here."
How should prospective students prepare for their audition?
Collins Bandes says one of the biggest things they look for in the audition room is authenticity. "I know it's hard to say, 'Don't be afraid in the audition room,' because it's terrifying. But I have never heard so much laughter as I have sitting with our audition team. They are some of the most joyous people, and they want to see people who come in as their own unique individual. Bring your 16 bars, bring your monologues, but bring what really shows who you are as a human being."
What should graduating seniors know about Boston Conservatory at Berklee's performance showcases?
"For musical theater, we do a showcase here in Boston and in New York for a wide variety of agents. It is not required. We encourage students to only participate if they are actively planning on moving to New York within six months of graduation," says Collins Bandes. She also notes that those who don't come to the showcase shouldn't be discouraged as it is just one small piece of a professional journey. "It is important. It is a culmination of your time with us. But it is not the be-all and end-all of what we do. We also look for all of the other professional experiences that we can give our students: bringing agents and casting directors to our campus, working with Berklee NYC, with our career center—all of those things."
How has the pandemic changed Boston Conservatory at Berklee's programs?
Hill says their Contemporary Theater program is adapting to the pandemic changes in exciting ways. "They're creating and cultivating a kind of theater that we don't even know what it's going to be in the future—recreating the theater that we want to see. Really, we are imagining modes of delivery and performance venues and spaces, and connections with audiences that perhaps haven't existed before. How do we provide more access to places, people, and communities that haven't traditionally had access to Broadway or larger regional houses? How much does filming and technology continue to play a part in a theatrical process?"
What about the pandemic's effect on the enrollment process?
Despite the pandemic, Collins Bandes says she was surprised to see that their enrollment was up significantly this year. "I think more than ever, our students and our faculty are really taking this time to evaluate the value of what theater can mean to people—the power of sitting in a room together creating a story, [and] how that can heal us as a community and how it can bring us back together in this moment when we have been forced to be separate," says Collins Bandes. "There are people who are actively investing in coming to participate in that and choosing to step back into the space that's being held to say, 'I want to be an agent of change.' "
This story originally appeared in the Oct. 7 issue of Backstage Magazine. Subscribe here.
Looking for remote work? Backstage has got you covered! Click here for auditions you can do from home!