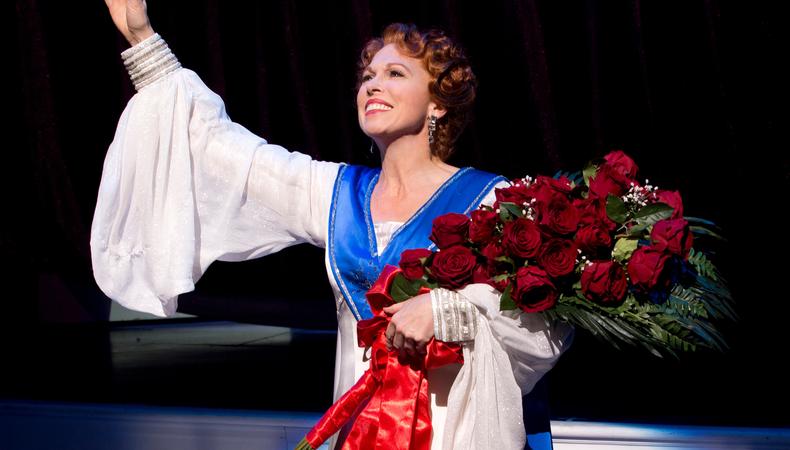 The American Theatre Wing might as well give Carolee Carmello her Tony Award now. Just like her alter ego for the evening, early-20th-century evangelist Aimee Semple McPherson, Carmello is performing miracles, only hers are onstage at the Neil Simon Theatre. In "Scandalous," the seasoned stage veteran's top billing is a credit to her performance rather than to her bankability—there's book writer and lyricist Kathie Lee Gifford for that—and Carmello deserves it, delivering one of the season's must-see performances (she's onstage for all but 11 minutes of the show's two-and-a-half hours). Unfortunately, Carmello's miracle work doesn't extend to Gifford's flimsy, expository musical, which features uncertain direction by David Armstrong.
So many things happened to Sister Aimee, as she was affectionately called. She and first husband Robert James Semple got malaria on a mission to China, and he died, leaving her pregnant. She almost died giving birth to her son with second husband Harold Stewart McPherson. When she was spared, she followed her religious calling around the country, ending up in Hollywood. She was persecuted by the Ku Klux Klan for racially integrating her services at the Angelus Temple. Oddest of all—or scandalously, as the title suggests—she disappeared without explanation for five weeks and was put on trial for it for corruption of morals, among other things. But does any of this happen onstage? Not really. Gifford's book and lyrics sound like she transcribed McPherson's Wikipedia page and had it set to music. Carmello is asked to relay countless monologues, usually while stripping off Gregory A. Poplyk's suitable period costumes to reveal another outfit. (The actor transitions from Aimee at 16 to Aimee at 50 with remarkable ease.) The reason to put a story onstage is to theatricalize it.
When Carmello sings, there's magic in the theater, even if David Pomeranz and David Friedman's tunes are generic (Gifford also gets a credit for "additional music"). Joel Fram's music direction and vocal arrangements, though, are an absolute delight. The revival scenes feel like a religious experience, thanks to a winning ensemble and Lorin Latarro's peppy choreography. Puzzlingly, set designer Walt Spangler's clunky white altar staircase never leaves the stage. (There has to be wing space at the Simon, right? Why would there be an altar on the farm where Aimee grew up?)
The entire cast is fantastic. Roz Ryan gives Carmello some scene-stealing breaks as brothel owner–turned–revival assistant Emma Jo Schaeffer. Candy Buckley fills the bill as Aimee's overbearing mother, and Edward Watts believably morphs into two characters, husband Robert and love interest David Hutton.
At the performance attended, a minor technical malfunction put the show on hold for a few minutes. As the stage manager made the announcement, Carmello stepped off her stool and threw her blue cape over her shoulder like Superman. There will be bumps in the road this season—and "Scandalous" may be one of them—but there is absolutely no doubt that Carmello is a Broadway superhero.
Presented by Betsy and Dick DeVos, Foursquare Foundation, Cantinas Ranch Foundation, and the Stand Up Group, in association with the 5th Avenue Theatre and Jeffrey Finn, at the Neil Simon Theatre, 250 W. 52nd St., NYC. Opened Nov. 15 for an open run. (877) 250-2929 or www.ticketmaster.com. Casting by Tara Rubin Casting.
Critic's Score: C-