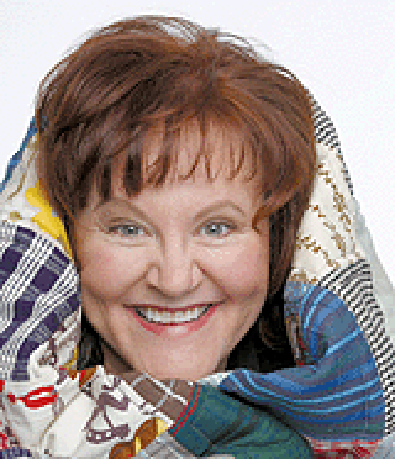 Who she is: While she may not be a household name, everyone recognizes Edie McClurg's face and voice. With countless film and television appearances to her credit, she is probably best-known for her roles in the classic John Hughes canon, including school secretary Grace in Ferris Bueller's Day Off and the chirpy airline employee in Planes, Trains & Automobiles. Her relationship with Hughes began when she appeared in Mr. Mom, which he wrote. Tapped to audition for Ferris, she said, "I took a chance when I went in on that audition on adding a little of what I call 'the noise of life'--those little uh-huhs and ohs that move things along, which I picked up from housewives in my hometown of Kansas City. And at the end of a particularly long line, when I'm talking about how much everyone loves Ferris, I added, 'They think he's a righteous dude.' And John laughed, and it was in the movie, and even in the trailer."
According to McClurg, different people remember her from different projects all the time. "People with a lot of piercings seem to bring up Natural Born Killers," she noted. And then there are the far-reaching effects of television syndication. As a series regular on Small Wonder and The Hogan Family, she found her voice being recognized as far away as Southeast Asia. "I was doing a charity tour where I would play tennis, and we stopped at an orphanage for blind children in Singapore. When I started talking, they got very excited. That's when I realized the power of syndication."
Now showing: She is looking to "shake things up" with her first one-woman show, It's Edie In Here, now playing at the Groundlings Theatre. Detailing her early years growing up in Kansas City, Mo., the show features McClurg playing 15 different characters, including her parents, brother, aunts, neighbors, and countless "strong Midwestern women." While highly comedic, the show also gives her a chance to strut her stuff in more dramatic, moving moments. "I think I was being pigeonholed in the business, and while it's good to be known as a woman who can do that kind of housewife/neighbor stuff, and I enjoy playing those parts, I was only being asked to do comedic roles," she noted. "I realized with this show there's an opportunity to show a really wide range of people and emotions. It's very funny, but there are poignant points and shocking points." She couldn't be more pleased with the response the show has received thus far. "One fellow I consider kind of a hard nut to crack told me he teared up three times during the show. I told him how much that surprised me, and he said, 'When it's honest, I'm there.'"
Radio and stage: McClurg spent 10 years working for National Public Radio before deciding to become an actor. "NPR was the first place women were really allowed to get on the air and read news, so there were a lot of women working for them," she recalled. "I had heard from other radio stations that people wouldn't accept hearing the news from a woman's voice, that it didn't have the 'weight' a man's voice does." One highlight during her time at NPR was playing John Ehrlichmann and Richard Kleindienst in readings of the Nixon tape transcripts. "NPR had a weekend-long reading of the tapes where we would play out the conversations. We had to actually say, 'Expletive deleted,' a lot. And it was right after that broadcast that people began to see Richard Nixon wasn't so squeaky clean and was really a gig in many areas of his life."
She moved to San Francisco in 1974 and began performing improvisation with the Pitschel Players. From there she moved on to the prestigious Groundlings in Los Angeles, where she was involved from 1975 to 1985. She credits the Groundlings not only with her excellent training but also for getting her seen. "I didn't even have an agent when I started there, and I started getting work in movies," she said. "The Tony Orlando and Dawn Show came out of that. Cheech and Chong saw us there and put a lot of the Groundlings in their movies."
Early experiences: Through the Groundlings, McClurg also landed her first movie role--in the horror classic Carrie, based on Stephen King's novel and directed by Brian DePalma. "I was the lamest of the clique. I played the girl who, if Carrie hadn't been in the class, all the others would have been throwing personal products at me," said McClurg. There she got to film her first death scene, in which she drowned in a punch bowl at the high school prom, but the scene was ultimately deemed too humorous to make the final cut. "I served punch at that prom for three weeks straight, and, because it was a low-budget production, they didn't change the punch every day. By the end it was fermenting, and I was starting to get sick standing over it all day."
One of McClurg's biggest breaks came playing Mrs. Marv Mendenhall on David Letterman's daytime show, a cult favorite before the comic entered the late-night arena. While the show didn't last, the character became an archetype McClurg frequently revisited over the years. "She became Lucille on WKRP in Cincinnati and the mom in Cheech and Chong's Next Movie, and even the secretary in Ferris Bueller's Day Off," noted the actor. "So that's one character that's really stood me in good stead. She was so sweet and funny, but she could be a little acerbic."
Lasting influences: McClurg credits two prominent instructors with her success in the industry: improv legend Viola Spolin, and acting teacher Milton Katselas. "Those are the two main influences in my work. Viola is the mother of every improv group, every improv game, every improv company, and I meet some people who don't even know her name. She wrote books that are some of the strongest things to help actors learn to be real in their acting. She said, 'If you learn to play the games well and use them in everyday life, you'll be successful in your everyday life because you pause, you listen, you observe, you give and take, you share the space. It's all about being a successful person, not an actor.'"
Katselas shared a similar philosophy with McClurg. "Milton taught me the difference between indicating acting and acting, between being and showing you I'm being. He had a great book, Dreams Into Action, which had nothing to do with acting but with being a person who accomplished goals. He taught me: Don't just be a comedian, be a comedic actor. Because every part of comedy includes some tragedy, so you have to be able to show all of that in order to be a fully realized character."
Parting advice: McClurg started out with a lot of well-known stand-up comics, and watched as some made the transition to acting...and some didn't. "Many stand-up comedians have been doing it for so long and are so good at relating to an audience one-on-one, they don't develop skills relating to other actors," said McClurg. "I would advise people that while they're developing their stand-up, don't ignore their acting. Some very smart people can be very narrow in their scope." One example of an actor who balanced the two was Tim Reid, her co-star on WKRP. "Tim was doing stand-up and taking acting lessons so when the opportunity came for WKRP, we both ended up on the same show because he had the skills." Reid, however, was an exception to the rule, according to McClurg. "I've noticed there's been some really, smart clever guys who have not been able to capitalize on the short window of opportunity."
"It's Edie In Here," presented by and at the Groundlings Theatre, 7307 Melrose Avenue, Hollywood. Mon-Tue. 8 p.m. Oct. 20-Nov. 26. $15. (323) 934-4747.