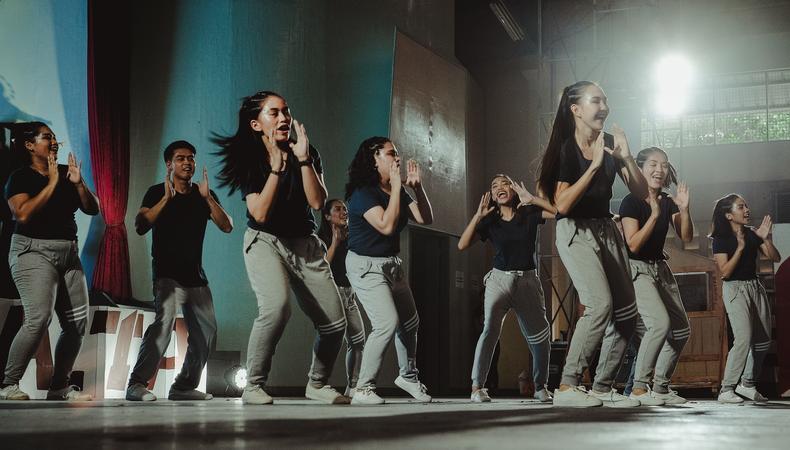 Contrary to what you may think, technique is not the most important thing when it comes to auditioning for college programs. Many aspiring college dancers show up to auditions thinking they need amazing technique to get accepted to the college of their choice but having been on hundreds of audition panels with dance faculty, I can tell you that this is only partially true.
The most crucial aspect of a college dance audition? I want you to walk into your auditions with confidence and walk out with pride in how you presented yourself to the admission committee. Here are a few other things college professors look for, beyond auditions.
1. Passion
Be engaged! To determine if a dancer has what it takes to graduate from a program with success, I'm looking at passion. Do you appear to have a passion for the movements and combinations you're learning and performing? If you're completely engaged in what's being taught to you, the committee will notice. Passion isn't something a professor can teach; it's innate. If you're shy and introverted in your audition, a committee won't be able to see your passion and will likely mistake it for being lazy.
I always say, "Where is the punctuation in that sentence?" What this means is use pauses, stillness, rhythm, and dynamics to find your passion and project it to the committee.
2. Personality
Be kind and courteous! The most common mistake I see in auditions is for dancers to over-do it. Auditionees who are overly aggressive standing in the front, asking unnecessary questions, and being overly dramatic just to get noticed will make a bad impression. Professors are looking to admit students who will be good students in the classroom and stage. If you appear overly eager in auditions, you'll probably be the same in class and rehearsals—something no professor wants.
Instead, try to be relaxed in your auditions and project your true personality. Professors will be attracted to how natural you are. Of course, you want to put forth the most respectful version of yourself but highlight what makes you, you. If you're right for a program, your true personality will get you accepted.
3. Preparedness
Always stay busy! I watch students through the entire audition process and am specifically interested in what they do between combinations, on breaks, and during free stretches of time.
Use every moment to work on something the professor has asked of you, whether through personal correction or general observation. Always mark combinations even when you're not in the performing group. Always stretch on the sides when you get a chance. Always focus on the professors and look at them while they're speaking. Showing your most prepared self displays professionalism in an audition setting and how prepared you will be for college.
4. Pride
Smile and say, "thank you!" In the field of dance, pride is one of the most important qualities to have while also being one of the most dangerous. Professors want a student to exhibit pride in what they're doing but also be able to accept and consider criticism. A college dance degree comes with a lot of criticism from professors, choreographers, and colleagues so demonstrating that you have the ability to proudly take a correction without offense and learn something from every comment is essential. If a student appears upset, angry, indifferent, or offended at a correction, they're not likely to get accepted. Again, a professor is trying to predict what you'll be like as their student and wants to ensure you're open to different pedagogies.
5. Punctuality
Be on time! This shouldn't come as news, but being on time for an audition can make or break your acceptance. I've denied applicants because of their inability to make a 9 a.m. audition. Your college courses will often begin early in the day, so if it's evident you can't be on time during something as important as audition day, it's clear you most likely won't be on time for class.
Good luck with your auditions! You're going to be amazing.
*This post was originally published on Dec. 13, 2017. It has since been updated.
The views expressed in this article are solely that of the individual(s) providing them,
and do not necessarily reflect the opinions of Backstage or its staff.