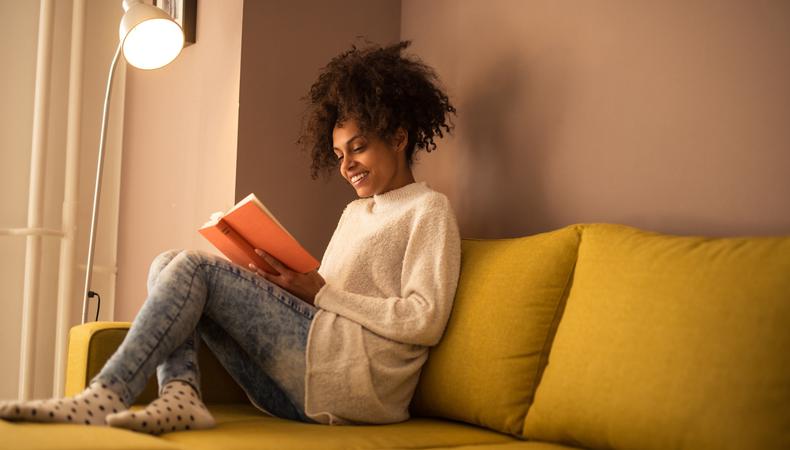 As an actor, knowing a few great comedic monologues can come in handy throughout your career. But how do you find one that can be a good fit for you and for the project you're auditioning for? Don't worry, our Backstage Experts know a thing or two about finding good comedic audition monologues! Here are some of the best comedic monologues that you can consider to help you land your next great gig.
According to Backstage Expert and actor Mallory Fuccella, "comedy is all about truth, pain, and the misunderstanding in relationships." Finding a monologue that fits these categories might be difficult, but Fuccella has some excellent comedic monologue suggestions for women that you can consider.
1. "Marie and Bruce" by Wallace Shawn
"Wallace Shawn's sharp wit highlights the hilarity of a marriage gone south. Marie's dry sarcasm throughout the play allows for her monologue explosions to be a fun and engaging one-sided dialogue."
2. "Insecure" (Season 1, Episode 2)
"The monologue in this episode has the ability to show range and for the imaginative actor, can really showcase the environment and the ability to move through your vocal range."
3. "Barry" (Season 2, Episode 7)
"It's great when a monologue mirrors an aspect of everyday life and what's great about this monologue is that every actor can relate to Sally's speech to Barry."
4. "The Good Place" (Season 1, Episode 7)
"Janet's monologue explaining how to deactivate herself dexterously goes between her AI-like voice and her extreme 'human emotion.' Sometimes doing a character that's so well-known on television can be a trap though so make sure to make it your own!"
5. "The Search for Signs of Intelligent Life in the Universe" by Lily Tomlin
"If you're going out for more character-actor roles or consider yourself a character actor, I highly recommend sifting through this masterpiece."
You can learn more about these monologues here!
Actor and Backstage Expert Robert Peterpaul says that "comedic material is out there just waiting for actors to chew up." However, that doesn't mean it's always easy to find! Luckily, Peterpaul is helping to fix that problem by supplying you with some of the best comedic monologue options for men.
1. "Schitt's Creek" (Season 3, Episode 8)
"One standout is when David leaves a hilarious heap of voicemails for Patrick about his plans for the general store. There are several other instances within the episode that could be cobbled together for a comedic piece."
2. "New Girl" (Season 1, Episode 19)
"If you're looking for some sitcom silliness, this show is ripe for the picking. In the first season, Lamorne Morris' Winston delivers an epic Saturday morning rant after his roommates and their friends wake him up too early."
3. "Unbearable Hotness" by Gabrielle Davis
"This one-act comedic play is chock-full of juicy and explicit monologues. One of the funniest is when Brandon details how he may have accidentally just pushed Chuck off the roof of the house party. It starts with: 'I just f***in' killed Chuck.' '
4. "City Slickers" (Mitch)
"If you're looking for a mid-life crisis ramble, 'City Slickers' has got you covered...Things plummet down a darkly funny path as [Mitch] details the horrors of growing old."
5. "Palm Springs" (Nyles)
"The acclaimed 2020 flick charmed audiences and could help you charm people on the other side of the table. This one's a two-for-one special (because why not). Nyles (Andy Samberg) bookends the film with a duo of memorable monologues."
You can learn more about these monologues here!
Backstage Expert and acting coach Denise Simon knows that the first step to nailing comedy is finding the ideal monologue. To help you find the perfect piece for you, she's rounded up some of the best comedic monologues for teens!
1. "A Midsummer Night in the OC" by D. Tupper McKnight
"A modern interpretation of the jealous maiden, Helena's monologue here oozes with teen insecurity and angst...It has all the humor of Shakespeare's original play, 'A Midsummer Night's Dream,' mixed with modern references that teens are sure to connect to."
2. "Serendipity and Serenity" by Jonathan Marc Sherman
"Jonathan Marc Sherman wrote several plays for the Young Playwrights Festival in his youth, so you can rest assured he knows how teenagers think. That understanding comes through in every line of dialogue."
3. "All This Intimacy" by Rajiv Joseph
"The title says it all. The character Jen's hilarious attempts to wring some emotion out of her boyfriend are foiled by her own ineptitude in her monologue here."
4. "Dags" by Debra Oswald
"Told through the eyes of a girl with her head in a bag, the monologue really just gives teens an opportunity to let loose about the stress of adolescence. It dials up the melodrama, angst, and confusion, making it easy to connect with it and really have fun."
5. "Everything Will Be Different" by Mark Schultz
"The confusion of this character is both hilarious and endearing as he tries to convince Charlotte, a girl who doesn't know him particularly well, that they should 'be like boyfriend and girlfriend or something.' "
6. "From Up Here" by Liz Flahive
"It's a dynamic monologue, with beats of contemplation juxtaposed with Charlie's anxious ramblings. It is an easy monologue for lovesick teenage boys to understand."
7. "I Ought To Be in Pictures" by Neil Simon
"Is there anything more awkward than a girl and her dad having 'the talk?' Not when Libby is in charge. Although Libby doesn't have one long speech you can splice together some of Simon's witty dialogue."
You can learn more about these monologues here!
Acting coach and Backstage Expert Denise Simon knows that comedy can be hard, especially for kids! Here are Simon's suggestions for some great comedic monologues for children.
1. "Charlie and the Chocolate Factory" by Richard R. George
"A great character piece for girls who have enough energy to nail Veruca's over-the-top brattiness. From the engaging story to the unexpected shift in tone at the end, this monologue is a slam dunk to entertain even the most reserved audience."
2. "The Loman Family Picnic" by Donald Margulies
"I love this monologue because of its self-aware writing. It's riddled with jokes that kids might not understand, but the character, Mitchell, is confused right alongside them."
3. "The Fifth of July" by Lanford Wilson
"The excitement that Shirley has while looking toward the future is endearing and hilarious, making the piece great for kids to impress with their willingness to make bold choices."
4. "You're a Good Man Charlie Brown" by John Gordon and Charles M. Schultz
"Charlie Brown may be the ultimate underdog of children's literature. In this monologue, he once again manages to self-sabotage his attempts to woo the cute little redheaded girl, even putting a lunch bag over his head when he realizes she may actually be looking at him."
5. "The Young Girl and the Monsoon" by James Ryan
"It's a conflict kids can understand that is presented by a hilariously talkative little girl, creating a comedic environment rooted in a real, albeit overblown fear."
You can learn more about these monologues here!
Looking for remote work? Backstage has got you covered! Click here for auditions you can do from home!
The views expressed in this article are solely that of the individual(s) providing them,
and do not necessarily reflect the opinions of Backstage or its staff.