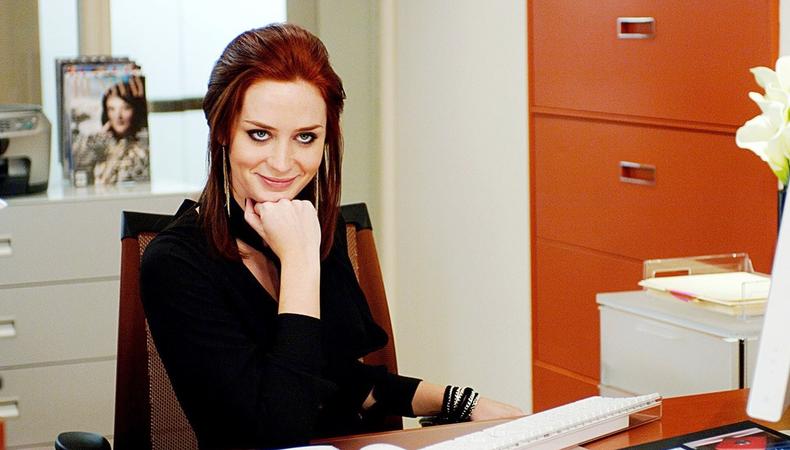 Listen. We're not necessarily saying the Academy of Motion Picture Arts and Sciences doesn't honor the greatest performances in film, but getting an audience to laugh can often be more difficult than getting them to cry. While there've been winners like Diane Keaton for "Annie Hall" and Marisa Tomei for "My Cousin Vinny," they're still the rare exceptions to the rule. Here's to more Oscars for funny people! Below, we present 12 recent comedic film performances overlooked by the Academy Awards.
Emily Blunt, "The Devil Wears Prada"
Can you believe Blunt achieved instant-classic status as an acid-tongued assistant to Meryl Streep's fashion mogul—serving devastating snark and the film's most quotable one-liners—and didn't get Oscar recognition for her comedic brilliance? "No, I shan't."
Eddie Murphy, "Trading Places"
Although the best work of Murphy's career may be as the uproarious Donkey in "Shrek," the Academy has never recognized a voiceover role. So we're submitting for consideration his dynamic performance as a street-hustler-turned-wealthy-swindler in this 1983 comedy co-starring Dan Aykroyd.
RELATED: 10 Oscar-Less Actors Who Deserve That Little Gold Man Already!
Jenny Slate, "Obvious Child"
It was hard not to suspect the Academy of anticomedy bias after Slate's feat of balancing hot-button drama and laughs in 2014's indie darling was snubbed of a nomination. As a young woman who doesn't wonder whether she should get an abortion but who is haunted by its implications nonetheless, the actor was constantly surprising—and hilarious.
Naomi Watts, "I Heart Huckabees"
Speaking of surprising, Watts should dabble in comedies more often. In David O. Russell's 2004 delightful head-scratcher of a movie, she steals the show from co-stars Jude Law and Jason Schwartzman by deteriorating from perky model to bonnet-wearing schlub with perfect precision.
Steve Carell, "The 40-Year-Old Virgin"
Oh, come on. Don't pretend you didn't laugh at Carell's spot-on depiction of a man entering middle age without having lost his virginity. The 2005 Judd Apatow film was crude and silly at best, but Carell anchored it with visceral vulnerability and, occasionally, actual pathos.
Rosario Dawson, "Top Five"
Chris Rock's semiautobiographical love letter to New York City doubled as a love letter to the easy skill and charm of Dawson, one of Hollywood's most underappreciated actors. Understated jokes, steamy seduction, tearful heartbreak—there's nothing she can't do.
Jim Carrey, "Liar Liar"
Carrey was famously snubbed at the Oscars for his searing performance in "The Truman Show," but we're partial to his more shamelessly uproarious projects. At the top of the list is "Liar Liar" from 1997, which should have secured the comedic genius a nomination for this manic "The pen is blue!" scene alone.
Amy Adams, "Enchanted"
How does Adams not have an Oscar? While serious-minded voters have recognized her efforts in now six films, the Disney musical "Enchanted" is not among them. It's harder than it looks to convincingly sing and coo at critters helping clean your apartment.
Randall Park, "The Interview"
"You know what hurts worse than nuclear bombs, Dave? Words." Tasked with turning real-life dictator Kim Jong Un into a satirical buffoon—without veering too hard into cheap shots—Park stole the show. Dying in a fiery explosion to a Katy Perry song is easy. Comedy is hard.
Rachel McAdams, "Mean Girls"
Sure, she achieved long-overdue recognition in "Spotlight." But McAdams should create a burn book disparaging all the Oscar voters who didn't recognize her insightful, scathing portrayal of queen bee Regina George in Mark Waters and Tina Fey's 2004 comedy.
Goldie Hawn, "The First Wives Club"
Perhaps the biggest injustice on this list is that Hawn, a triple threat wildly gifted in the slapstick department, did not win any of the awards her character Elise owns in this classic 1996 comedy. She's a masterful actor, after all. She has "all the feelings!"
Robin Williams, "Mrs. Doubtfire"
Last but never least, Williams is the crème de la crème of comedic actors: spirited but restrained when necessary, as heartfelt as hysterical, and practically gushing joy. His film career is a list of Oscar-worthy performances (including his actual win for "Good Will Hunting"), but 1993's intricately rendered drag act remains best of all.
This article was originally published on Feb. 10, 2016. It has since been updated.