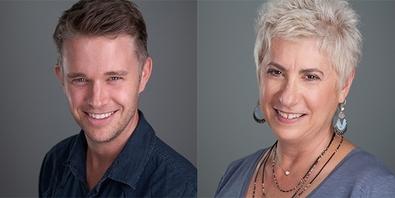 You live outside the U.S.—in Rome, Sydney, Hong Kong, or Berlin—and you are an actor. It's not just that you dream of red carpets and mansions in the Hollywood Hills. No, you hear the calling; that voice inside that demands that you find human connection by exploring and expressing your unique emotional experience. You crave that connection and will do anything you can to get it. You'll even consider moving to Los Angeles, where the art and business of acting fork like two mighty rivers, and where some of the most talented actors on the planet compete on the big stage.
But while the calling compels you to follow, the reality of moving thousands of miles away is enough to wake you from your Hollywood dreams. Moving to L.A. from another country is a logistical nightmare, requiring large sums of start-up money, an often rare nod from the U.S. Citizenship and Immigration Services (USCIS), and gallons of blood, sweat, and tears. And that's just to get to LA. It's a whole new set of challenges once you get here. But as daunting as it seems, it can be done. It takes a lot of patience and hard work. But the opportunity to act in Los Angeles is within your grasp. Here are five tips that will help you with the process.
1. It's never too early to start the immigration process. In order to act for money in the U.S.—or even stay in the U.S. for an extended period of time—you have to be accepted by an agent of the United States Citizenship and Immigration Services. Sound scary? While anyone can make money—you can add shifts at the restaurant and save every last dime—not everyone gets the go-ahead from U.S. Immigration to work legally in the country. And these days many TV and movie networks and studios won't hire you even if you have a short term work visa. They'll only consider you if you have what is typically called a green card.
In order to get it you'll probably need to hire an immigration attorney who will present USCIS with a file suggesting that you are an "alien of extraordinary ability"; basically that you are so awesome that you will definitely work in the U.S. and that you will make the U.S. a better place. The lawyer will need to convince them that you are an actor who works a lot in your home country, that people in the U.S. think you're a great actor, and that in every way you are a spectacular "alien."
The tools a lawyer uses to convince them of that include any press about you and your acting (newspaper articles, Internet articles, etc.), any awards you may have gotten for your acting, letters from important industry people describing in flowery detail how amazing you are, your résumé, your reel, and anything else that says you're exceptional. Even if you're just starting your career, if you want to get to America one day, start saving all of that now. Include the smallest little reference in a magazine or website, the dinkiest award. If you know a friend who knows anyone resembling a celebrity actor or director, and that person is willing to write a letter of recommendation for you, do it. And save it all. Save it in a place where it's as organized as possible so you can just hand a big file to a lawyer and he or she can get to work. Collecting all of this from scratch later in your career can add a year or more to your immigration process. It's never too early to start putting together your files.
2. Come on down! The first time you come to L.A. can't be the time you move to L.A. Unless you're coming for work you already booked, moving to L.A., even after only one trip, is probably a mistake. This city is so vast and includes multitudes of neighborhoods and communities that you have to do the work of checking out the city before hand.
When you move here for good your brain will be busy figuring out how to survive (and then thrive) in an entirely foreign universe. You want to get a sense of this city before that move. You want to get a sense of the work that's being done here. So come to L.A., take a class, watch some theater, go where the actors are. And you want to get a sense of the city outside of the entertainment industry, too. You want to know what your life is going to look like. Of course, you'll probably move around before you find the neighborhood that resonates most with you, but being able to have a mental image of your future life—where you'll buy groceries, where you'll exercise, and where you'll hang your hat at night—eases the stress and makes the move tangible. Yes, flying here, staying here, and flying home is an extra expense, but it is a sound investment in your future. Most importantly, it holds the reality of being in L.A. up to the dream of living in L.A. that exists in your head.
3. Don't jump the gun. Your desire for something bigger can make you want to forget about life and your work in your home country and get to L.A. right now. Trouble is, this town is a vast expanse and more actors than not get lost here. They think that simply being here is the answer to their problems, and that upon arrival they will be greeted like a conquering hero (or even treated with the same level of respect they get from the acting community in their home country). That rarely happens. In fact, most actors—even those who are well-known in their own country—find nothing but obscurity here. There's nothing magical about this city or living here. It eats up and spits out 20 times more actors than it turns into Oscar-winning stars. If you come to L.A. too early (before you are emotionally ready or before you are ready to actually live and work in L.A.), you'll be sorry. Sometimes staying in your home country, building your résumé, and working hard on your craft, is what you need before you jump into the big game here in L.A.
The old saying, "Everywhere you go, there you are," is true. The personal resistance and blocks that are holding you back will still be there when you live in L.A. Don't wait for the big move before you take control of your career and get as proactive as you need to be to be successful. Why not start living in the practice of taking advantage of every artistic and professional opportunity available to you? Train hard in your hometown, learn everything about acting that you can from as many people as you can no matter where they live. Write, shoot, and distribute your own work. A smaller city or town often offers more opportunities for self-generated work. If you're in the practice of taking advantage of the resources available to you wherever you are, L.A. will be an extension of your artistic and professional exploration.
4. Don't burn bridges. Yes, there is amazing theater, film, and TV made all over the world, but if Hollywood is what you seek, you may be frustrated by what your home city has to offer you. Even if you are working, you can feel like you're hitting a ceiling. The Hollywood actors are flown to your town to play the big roles while you get nothing but the one-line walk-ons. It happens everywhere. Regardless of talent, L.A. actors are revered as gods while local actors are often considered less than. So, you want to distance yourself from your small-time, local agent, the local casting director, the local acting community of all the same people; you want the respect that comes with being an L.A. actor. So, before you move you bid them all adieu, tell them that you're never coming back to this sleepy, backwoods town and erase their numbers from your phone. Huge mistake.
This business is international: Movies and TV shows shoot everywhere, and when the L.A. casting director won't see you for the big blockbuster that shoots in your hometown, you'll need the local casting director. When you can't even get arrested in L.A. let alone get seen for a paid acting role, you're going to want your local agent to get you a job on a show back home. Kindness is good for business. Sometimes moving on from the people you work with at home can be tough on them and you. And while you should never let anyone hold you back from fulfilling your dream, conducting your business with compassion is best for everyone.
5. Hit the ground engaged. Once you get here, the name of the game is engagement. Don't waste a day before plugging in to a community of actors, a yoga class, a source of secondary employment, a running club, a group of Angelenos from your hometown, etc., etc.—whatever offers you engagement, piques your interest, and gives you a support system. LA does not come to you. You have to move towards it. And if you don't you will feel isolated and lost here. Professional and creative success is a result of talent and hard work. But it also comes by being engaged in the community that is Los Angeles.
It's not a small undertaking to pick up, leave the comfort of your current environment, and pursue an elusive in another land. Patience wins the day. Let your dream drive you, but don't drive blind. Take your time, but not too much time. Get your ducks in a row and then jump. Engage in the city. And not just as a place to work. Engage in it as a place to live.
Join us in January 2015. Spaces are limited: The BGB Studio L.A. Immersion.
Like this advice? Check out more from our Backstage Experts!