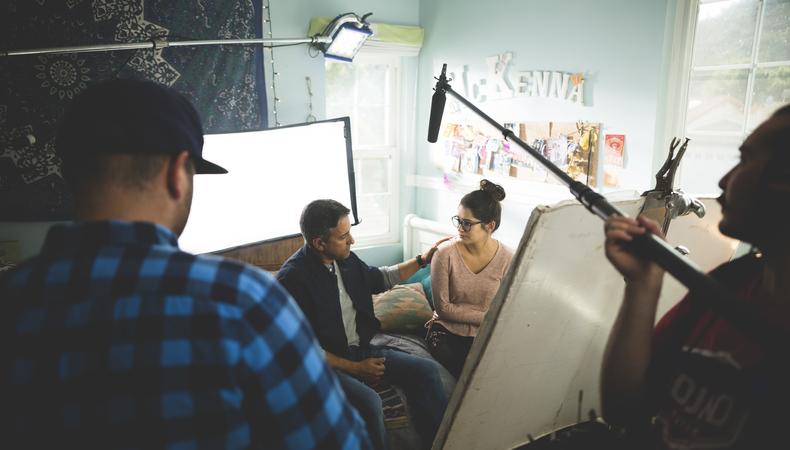 While many think Backstage is simply a tool for actors looking for work, the casting platform helps countless writers, producers, and directors easily find talent for their projects. When Luke McCain discovered Backstage, it completely changed the way he casts projects for his commercial production company Pure Cinema—most certainly, for the better. Here, McCain tells us about a recent project he cast using Backstage, and how our platform helps him find quality talent all across Los Angeles.
Tell us about the project you cast with the help of Backstage.
We did a commercial for a local music subscription brand that services DJs called BPM Supreme. We wanted to create a project that spanned different decades and showed how DJs and music have progressed from the late 70s through to today. It was a big one in terms of casting because we weren't just going to have two people—it was going to feature a primary cast in each decade plus background actors so it was one of our larger projects. It was great to know we could easily put a casting call out. We really like how when people submit, they can write us a little personal note. That is super helpful as we're scrolling the website. We can see which people are very passionate about a role and which people have certain experiences. Last weekend, we were casting a soccer campaign and our casting call said, "Must have soccer experience." It was really helpful to be able to scan all the submissions coming in and see a little personalized note that said how many years of soccer experience each person had.
Learn how to cast productions on Backstage
What did the casting process look like for the BPM Supreme commercial?
Submissions come so quickly. We choose our favorites and send our selections to the client or send all of the listings to the client or agency. Then they make their selections and ask for some type of video. Our clients want to see a quick introduction of the person saying who they are and sharing their acting experience. It's something really short that allows the client to get a sense of who they are, their voice, the way they speak on camera, their confidence, etc. Sometimes a reel doesn't provide that. If their reel is them in some dark, moody comedy or a really cheeky funny commercial, it doesn't always make sense for us. Then it's just locking them in and making sure the dates, budget, and scope work for them.
Why did you choose Backstage to help cast this project?
When we came across Backstage a couple of years ago, we noticed that we were getting a plethora of really, really solid submissions and the talent had rates that were pretty affordable for us. Plus, one of the biggest things we learned was that a lot of L.A.–based talent would be willing to come down to San Diego. We found out that people are hungry out there. Actors want opportunities and they're willing to drive a few hours as long as we're willing to pay for a little travel or the budget is worth it for them. They'll come down for a full day shoot, which often makes the casting net much larger.