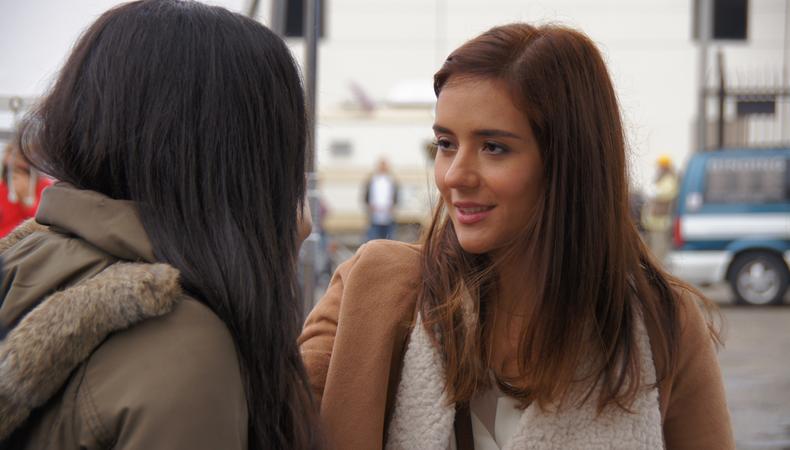 Casting director Emily Schweber knows how to spot talent. Casting Catalina Sandino Moreno as the lead in "Medeas" ultimately led to Schweber's involvement in "At the Devil's Door," about sisters Vera and Leigh, who become involved with a supernatural force when Leigh tries to help the disturbed teenage daughter of a couple whose house she's selling. Producer Sonny Mallhi was looking at Naya Rivera for the role of Vera when fellow producer Gina Resnick showed him "Medeas"; he was immediately interested in Moreno for Leigh.
Schweber was excited to work with "At the Devil's Door" writer-director Nicholas McCarthy after having seen his first film, "The Pact." Finding the perfect fit for the writer-director's vision can be hard work, but it's very satisfying. "It's more difficult, but in a good way because it's fun to find the person that is going to really solve the problem for them," she says. "It's like a chef preparing a meal for someone, and it's their ideal meal."
Schweber enjoys casting lower-budget films because it becomes more about "coming up with ideas of people who aren't the obvious choices either." Schweber had a lot of freedom in casting the sisters in "At the Devil's Door." The roles weren't written for any specific ethnicity, and Rivera and Moreno aren't that similar in appearance. Also Moreno has an accent, but Rivera doesn't. "I like that the filmmakers were really open to not having to explain that. That maybe they didn't both grow up here. Maybe they didn't grow up together...It was just more about finding the actresses that they wanted rather than making them fit perfectly together," she explains.
The role of Vera's daughter (Ava Acres) is pivotal to the film, but has very few lines, making the audition process challenging. Besides being believable as Rivera's daughter, "We needed someone who really had focus and could stare into and be able to hold the camera," says Schweber. Setting up the audition situation to find a young girl who could scare them took some creativity. "We set up a child-size table and chair and we put some toys, some coloring materials," and the creative team just watched her play, turning the audition into an improv session with Schweber directing and coaching.
Acres impressed Schweber. "We tried to distract them, get them to blink, get them to break focus and she really held it." Schweber was surprised to learn Acres, whom she'd cast before in "The Devil's in the Details," had seen lots of horror films. Her family are fans of the horror genre and really excited about her role in the film.
Because horror films deal with extraordinary and oftentimes supernatural elements, Schweber focused on finding realistic actors to make the story believable, aiming for actors who could ground it in reality with a small-town, blue-collar feel. One of the toughest challenges was finding an actor to believably play Charlene, the teenaged daughter of the couple Leigh meets with, who is questioned by Rivera in the mental hospital. "A lot of the actresses played 'crazy' or 'disturbed' in their auditions. We were looking for the simpler or more real performance." Schweber was surprised to learn that the actor they found to ground the character, Olivia Crocicchia, was only 17, but she really brought the authenticity they wanted to the role.
Inspired by this post? Check out our Los Angeles audition listings!