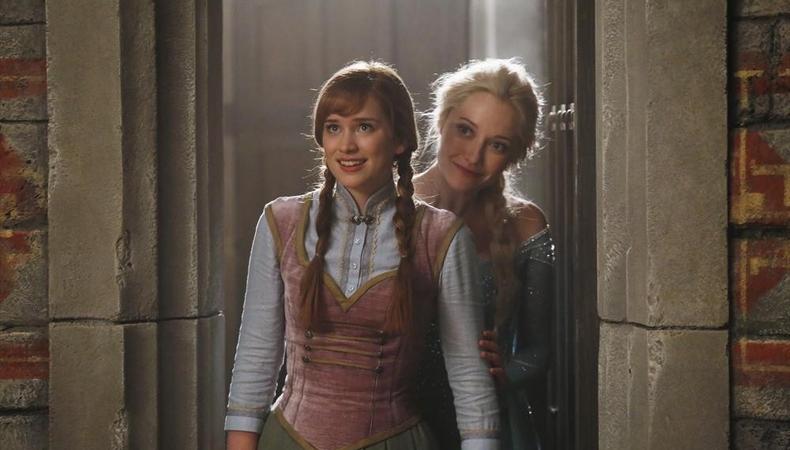 Season four of ABC's "Once Upon a Time"—starring Ginnifer Goodwin, Jennifer Morrison, Lana Parrilla, Josh Dallas, Emilie de Ravin, Colin O'Donoghue, Jared S. Gilmore, Robert Carlyle, and "Once Upon a Time in Wonderland" transfer Michael Socha—has a cast list that's starting to rival "Game of Thrones." The magical drama is banking on the hugely popular Disney film "Frozen" for its first arc of the season, adding the beloved Anna and Elsa to the long list of fairytale characters inhabiting the show.
"It was challenging because the stakes were high; I really wanted to nail the casting on this one in particular. I wanted to find girls that not only looked like the roles, but also had their essence," says casting director Veronica Collins Rooney. Casting Georgina Haig as Elsa proved to be a logistical challenge since the actor was on her honeymoon in the mountains during casting. But Rooney was persistent and was finally able to book her for the part. For Anna, Rooney's New York colleagues Marci Phillips and John Ort found newcomer Elizabeth Lail. "There was something very special about her, so we wanted to know more. She was quite lovely and so perfect for Anna," says Rooney.
Because the format of the show relies heavily on flashbacks, Rooney casts many children. In fact, she says finding Gilmore to play the precocious young Henry was one of the biggest challenges in the pilot. Henry appeared in nearly every scene and required a lot of depth from a 10-year-old. "He needed to portray a range of emotions plus have a great sense of fun and mischief." Casting Bailee Madison as the young counterpart to Goodwin's Snow White came a little easier. "Her agent had pitched her to me as soon as I started my search and Bailee could not have been more perfect for the part."
Even among the adults, Rooney finds herself casting versions of characters. With the role of Regina's mother, Rooney had to find two believable matches to Parrilla to play Cora in different timelines. "Finding dopplegangers is pretty tough as I always try to make it as perfect as possible, so casting is limited for obvious reasons. I got really lucky with Barbara [Hershey] and Rose [McGowan]—they are a pretty perfect match and that worked out well for the show."
Rooney has fun casting new villains each season; this season features Elizabeth Mitchell as the Snow Queen and marks the return of Kristin Bauer van Straten as Maleficent. To date, she says Pan was the most difficult to cast, due to the age and accent/heritage required, as well as the many sides of the character. Rooney says it was exciting finding Robbie Kay because he really nailed it. "I thought he was perfect for Peter Pan."
Season four also sees the return of many popular guest stars, including Giancarlo Esposito as Sidney/The Magic Mirror and Sean Maguire as Robin Hood. Fans might remember Tom Ellis from Robin Hood's first appearance on the show, but when the role was expanded, Ellis wasn't available. However, Rooney was thrilled for the opportunity to bring Maguire onto the show. "I have known Sean for some time and felt that this was finally the perfect part for him."
Pictured: Georgina Haig as Elsa and Elizabeth Lail as Anna
Inspired by this post? Check out our television audition listings!