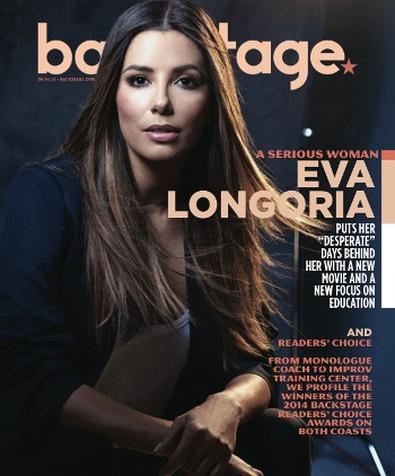 When "Desperate Housewives" ended its eight-season run in May 2012, Eva Longoria knew her next move. "My plan was to do nothing," she says. "I thought, I'm going to go away for a couple years. I volunteered for the Obama campaign, so I was campaigning for that entire year, traveling the country. I thought, I don't want to read a script, I don't want to get an offer, I don't want anything."
Not that she didn't enjoy her time on Wisteria Lane—she just needed a break from the demands of television stardom. "I needed people to forget who I was for a while," Longoria says. " 'Housewives' was so big and I was so identified with Gaby Solis—which I love, who I miss playing—but at the same time, I needed people to forget that's who
I was."
As she sits in the open-air restaurant at the Sunset Strip's Chateau Marmont on a warm August afternoon, Longoria reflects on the last two years. She started the Eva Longoria Foundation, which, according to its mission statement, "helps Latinas build better futures for themselves and their families through education and entrepreneurship." She serves as an executive producer on Lifetime's "Devious Maids" and directed the first episode of Season 2. She voices the main character on "Mother Up!," an animated Hulu sitcom about a music exec grappling with single motherhood. She spoke at the 2012 Democratic National Convention. She completed her master's degree in Chicano studies. (She studied between takes on "Housewives.") And then there's the philanthropic work and the fact-finding missions that have taken her across Europe and Asia.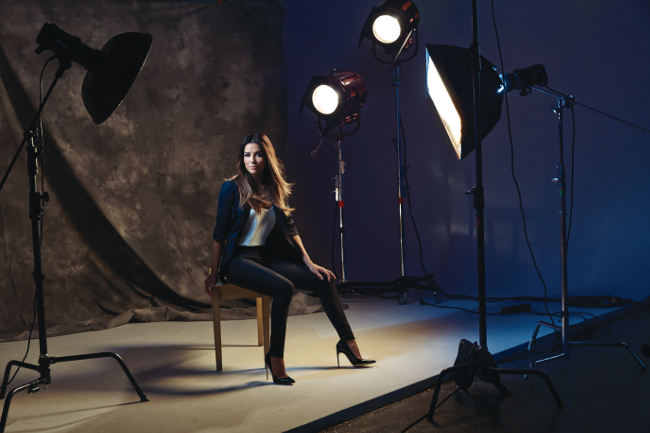 If it's not clear, this is a busy woman. Post-"Housewives," she has immersed herself in humanitarian causes without turning her back on the entertainment industry. "I started my production company and produced and developed a lot of television; I'm directing a lot and directed two short films," she says, then adds, "I just really wanted to not be in front of the camera."
However, Longoria hasn't abandoned acting. She's part of the ensemble in "Frontera," an indie drama that speaks to some of the political issues that engage her. Director and co-writer Michael Berry's film, with echoes of "Babel" and "Crash," concerns a collection of characters on both sides of the U.S.-Mexico border who intersect when the wife of a former lawman (Ed Harris) is killed and an illegal immigrant (Michael Peña) is blamed. Longoria plays the immigrant's wife who must enter the States to be by his side.
"When my agent said, 'You gotta read this,' I just thought, Oh, another script about the border," Longoria confesses. "But I read it and thought, Oh my God, this I have to do. I didn't want to do any kind of story that villainized either side of the border. But this is a beautiful love story set against this border issue that we're going through right now in our country. It doesn't have a statement—it just humanizes the issue."
She's right that "Frontera" is evenhanded in its treatment of its American and Mexican characters—there are heels and heroes in both camps—but surely she recognizes that people will attack the film (and Longoria) simply because of her liberal leanings. "I'm not scared of answering criticisms," she responds firmly. "I'm very literate on the topic of immigration, so I welcome the conversation. I think there's a lot of misinformation out there on the subject, and so I always welcome the opportunity to educate anybody about it."
Longoria can back up her confidence with firsthand experience. "In my activism, I went to the border in Arizona," she says. "Howard Buffett and I took a trip to learn more about what was happening, and we rode with the border patrol. I've been many times [to the border]—you have to go a lot so you can get a consistent sample. We talked to all sides, and the common denominator is everybody wants legal immigration. Everybody, both sides. It's economically imperative to our country. I think there's a moral imperative, but even if you don't agree with that, at least we can all agree there's an economic imperative that needs to get done."
Even as a kid growing up in Texas, she was engaged in the wider world, reading the newspaper and asking questions. "I've always been very curious," she says. "I've always been addicted to education. I love academia and I love learning. I'm curious about the world and I wanna be literate on things that I'm gonna be asked about—on top of things I'm just interested in."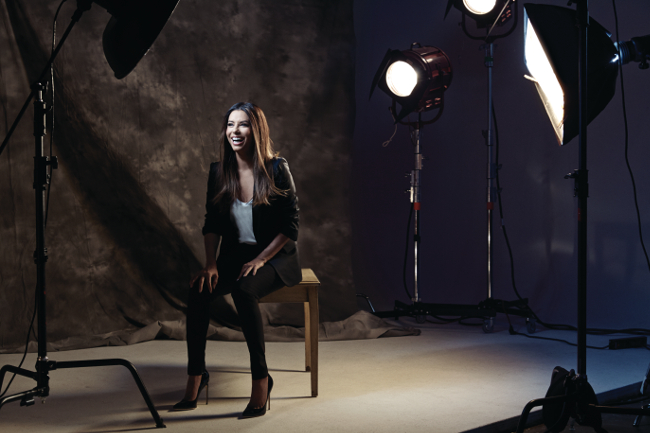 Where did acting fit into this? Honestly, nowhere. She grew up in a family of educators: "My mom's a teacher, my sister's a teacher, my aunts are teachers. Like, everybody was a teacher." Plus, the importance of volunteerism was preached at an early age. But after college, she moved to Los Angeles and a notion popped into her head. "I said, 'I think I'm gonna be an actor,' " she remembers. "Literally, one day to the next—I never thought about it before. I never strived to be an actor or wanted to be an actor. I didn't grow up with celebrity role models—I couldn't even name an actor."
How did her family take the news? "They go, 'OK, well, you can get a job in L.A.' So, I got a job as a headhunter and I was a recruiter for many years. Paid off my college debt, had a great apartment, took classes, studied, learned—I really approached it in a very disciplined way."
That's a great word to describe Longoria: disciplined. Though friendly and open—she warmly receives a few well-wishers (some she knows, some she doesn't) who stop by our table—she's also slightly intimidating. Wielding a no-nonsense intellect, Longoria will stop her train of thought to double-check a statistic she's just quoted by looking it up on her iPhone. A self-described sponge for information, she scrolls through her digital bookshelf, which includes plenty of nonfiction: Hillary Clinton's "Hard Choices," "U.S. Constitution For Dummies," and also biologist Edward O. Wilson's "The Social Conquest of Earth."
Despite appearing in "Frontera" and doing a handful of days on a few other future films, she sounds like her creative heart remains on the small screen. "I do enjoy acting, and I am going to be going back to television eventually," Longoria says. "I'm starting to welcome the idea of going back. TV is great right now, and I love the medium of television. It's my favorite format. To be in people's homes every week—or however they view you now with the [different] viewing patterns—and to be able to play a character for a long period of time and adapt and adjust…I find [that] way more fascinating than doing a one-off movie."
But she also knows she has other options and interests. For instance, she's seriously considering pursuing her doctorate. "I keep going back and forth," she admits. "Do I wanna go to law school? I'd love to study constitutional law. I'd love to study immigration law. I would love to study education again."
Asked if she envisions a future where she's too busy for (or not passionate about) acting, Longoria responds, "[In this business], women, for some reason, have an expiration date." But earlier in our conversation, she gave the question some consideration when reflecting on her brief life as a headhunter. "I always said if I wasn't an actor, I'd probably be in corporate America," she says. "I love barometers of success. I like quotas, I like measurements, I like, 'You do this this month and you get a bonus.' Hollywood has no barometer of success. You can be in an amazing movie and nobody sees it. You just never know. There's no recipe for success. In business, there is: One plus one is definitely two."
Inspired by this post? Check out our film audition listings!