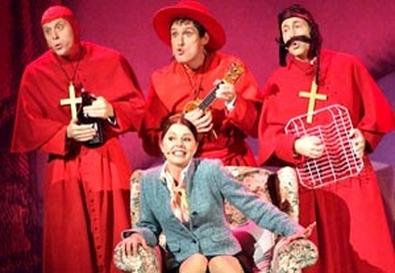 While Jim Piddock, Jane Leeves, Jeff B. Davis, Rick Holmes, and Alan Tudyk are not and will never be John Cleese, Terry Gilliam, Eric Idle, Terry Jones, Michael Palin, and most certainly cannot compare to the currently dead Graham Chapman, their performance of that renowned British comedy troupe's songs and sketches proves a particular delight. One can nitpick that the original members of Monty Python are inseparable from the roles they owned in TV, film, audio, and live performance—most especially Cleese's remarkable slow-burn-to-explosion anger—but there are great moments of joy to be had here, most especially when Idle and co-director B.T. McNicholl stage a wildly physical "Minister of Silly Walks" or when Leeves is ineffectively tortured with a soft cushion by representatives of the Spanish Inquisition, something everyone expects in this production. As an added visual bonus, when Leeves is given "the rack," a dish rack is strapped to her chest, completing the double double-entendre.
The directors find many clever transitions, longtime Python composer John Du Prez does a bang-up job on music direction, and Ann Closs-Farley's costumes are just as loony as one recalls from decades of Pythoniana. Idle and McNicholl cheerily break the fourth wall, especially in a travel-agency sketch in which an unceasingly complaining customer runs through the audience and interrupts the opening of a "Dead Parrot" sketch. With a sing-along about philosophers who drink excessively and Foster's Lager cans hurled into the crowd, and plenty of local in-jokes peppering this absurdly delicious stew, the show doesn't fly by; it sashays, whirls, and scampers. Idle, who spearheaded "Spamalot," which probably will be playing in Kuala Lumpur and Ouagadougou soon, is to be commended for putting together the 10 dates in Los Angeles and 10 dates in New York's Town Hall. It's a rare opportunity to savor live the celebrated silliness. Nudge, nudge. Know what I mean? Say no more.
Presented by WestBeth Entertainment at the Ricardo Montalbán Theatre, 1615 N. Vine St., Hollywood. Sept. 23–Oct. 4. Wed.–Sat., 8 p.m.; Sun., 2 p.m. (800) 595-4849. www.tix.com. Also at Town Hall, 123 W. 43rd. St., New York. Oct. 6–10. Tue.–Sat., 8 p.m. (212) 307-4100. www.ticketmaster.com.