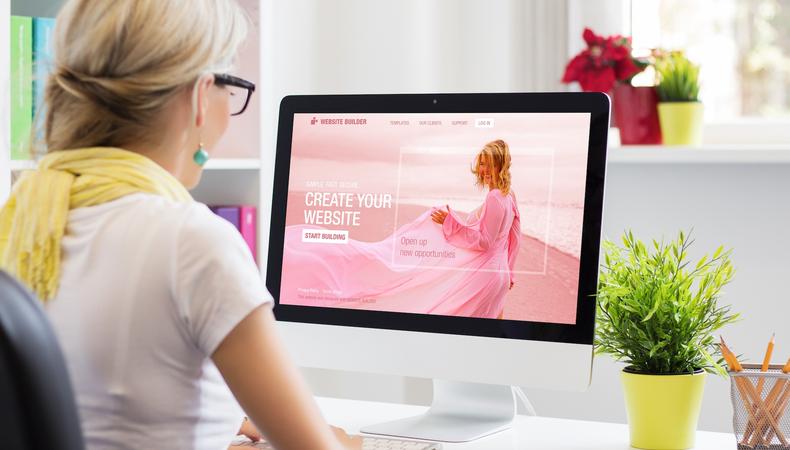 Having a strong online presence is a must for any actor—especially for those just getting started. Engaging with your community via social media is a great jumping-off point, but to really promote yourself and your work, you need a professional actor website. Keep reading to learn more about why it's important to have one, and check out our step-by-step guide to making your own.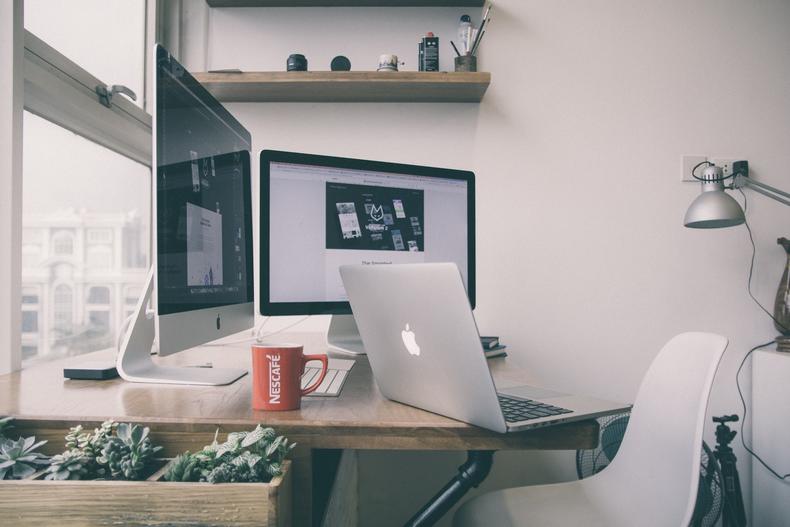 Tranmautritam/Shutterstock
An actor website is a digital, professional summary of an actor's work, unique skill set, and acting capabilities. It allows anyone interested in a performer to learn more about them. As a marketing tool, it introduces actors to industry professionals such as casting directors, agents, and producers.
What should an actor's website look like?
An actor's website should look modern (no Comic Sans or clip art) and minimalist (clean images and lines, and just enough information to intrigue your audience without overwhelming them). Navigation for the site should be "simple, clear, and easy-to-use," according to actor and web designer Amy Russ.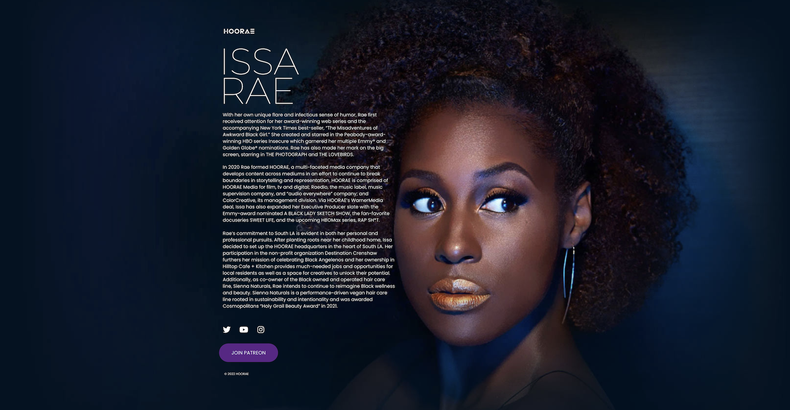 Here are the main reasons an actor should invest in a website, according to social media expert Heidi Dean:
It's a hub for your marketing. A professional working actor's website is home to all of their marketing materials: links to your social media accounts and IMDb page, casting profiles, and your résumé, reel, and headshots.
A website is a place to show off all your talents in one place. You can share media on your YouTube channel, but the platform will suggest other creators' work for viewers to watch after your reel. On your website, that won't happen.
Having a website makes referrals easy. If you want to work as an actor, make it easy for people to find you! Someone casting for a specific type of actor will often ask friends and colleagues for suggestions. If they get four actors' names and only one website comes up in their search, who do you think will be more likely to book the job? You must be searchable on the web.
A website helps you control your Google search results. "When you build a website—especially when a pro with SEO [search engine optimization] experience builds it for you—you can take control of your Google results," says digital strategist Tony Howell. "While it's impossible to guarantee you'll be the No. 1 result and stay there, having a website increases the likelihood that Google will direct interested audiences to your digital home."
You control your website. Social media platforms aren't like websites. Facebook is always changing, and pages can be hacked and deleted (it happens). No one knows what Instagram or Twitter will look like in a few years. On the other hand, you will always control what people see on your website.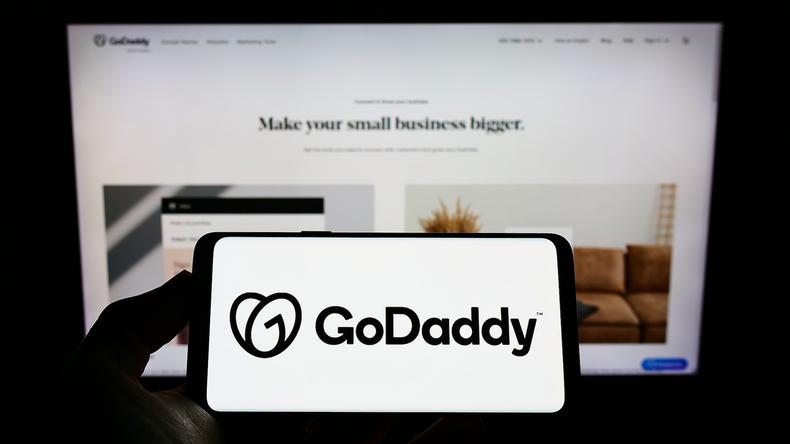 T. Schneider/Shutterstock
1. Prepare
While a professional website is necessary for most working actors, the investment might not be worth it unless you've laid the groundwork. "If you're just starting out, consider investing in acting classes and excellent headshots before spending your time and money on a website," Dean advises. "Great photos can be the key to a professional-looking website, so creating one without them may be a waste of time."
2. Purchase a domain in your name
Buy a domain in your professional name—for example, leonardodicaprio.com. If you have a common name and the domain is already taken, you can try a shorter version of your first name, add your middle name or initial, or add a descriptive term such as "actor."
You can usually buy one on a domain name registry site like GoDaddy, Domain.com, DreamHost, or NameCheap for under $20/year. From there, you'll choose a web hosting service. Note that some hosting services, such as JournoPortfolio, allow you to purchase domain names through the site.
3. Choose a web hosting service
There are two types of web hosting services:
Web hosting separate from the website builder: Use this option if you want the flexibility to build a custom site or use a site builder that doesn't offer hosting itself, such as WordPress.
Web hosting and builder combo: Use this if you're a site-building noob and want hosting and building packaged together with pre-designed templates, like those offered by Squarespace, Blogger, Wix, and Weebly.
Here are some factors to consider when choosing a service:
Cost: Sites like Squarespace, Wix, and WordPress offer 14-day free trials of their advanced versions. After that, you can expect to pay around $5 to $45 a month for premium options like extra storage space, premium templates, and 24/7 assistance. Some popular paid options include:

Wix: $45 per month for VIP (100 GB of storage, five hours of videos); $27 per month for Pro (50 GB of storage, two hours of videos); $22 per month for Unlimited (5 GB of storage, one hour of videos); $16 per month for Combo (2 GB of storage, 30 minutes of videos)
Squarespace: $16 per month for a personal site; $23 per month for a business site
WordPress: $4 per month for WordPress Personal; $8 per month for WordPress Premium

Intuitiveness: If you're making your site yourself, it's probably best to seek out a host and builder that are easy to use.
Support: Just in case you find yourself struggling, it's always helpful to know the type and amount of support that your chosen service offers.
Look and feel: Does the service offer beautiful, clean sites? Can you customize your page?
4. Build your site
Your actor website should create a narrative about you, your work, and your career path. Be sure to include these elements:
Homepage: Since this is the first page visitors land on, make it pack a punch by including a headshot, a brief intro, information about upcoming projects, a quote about your acting from a review, any awards or nominations, links to your social media pages, and your reel.
Acting résumé: Embed a downloadable acting résumé that includes information about your training, education, experience, and skills, plus any awards you've received.
Media: Include your best videos of your performances on camera and onstage, audio files of your singing, and images from productions. Your show reel should demonstrate your acting range across different genres, as well as any special skills, like the ability to play an instrument or create realistic-looking fight scenes.
Contact info: Include ways to reach you via email or contact form.
About me: "To stand out from other actors, spend time crafting an awesome 'about me' page that tells your story," says Dean. "When people visit your site, they're wondering if they'll like you and your work. Your goal is to connect with them and help them believe in what you're doing."
According to Russ, it's best to use a conversational, first-person tone. "You want to let people know what you're doing," she says, noting that if you don't have any upcoming projects it's fine to talk about a notable acting class or audition.
5. Review and publish
Before publishing your site, check out different templates, color schemes, and looks. Make sure that there are no broken links or typos. Ask friends to review the site. Does it represent you as an actor? Is it clear what acting skills you bring to the table? Are the images high-resolution? Once you're sure it's ready, go ahead and publish it.
6. Get your page seen
Now that your acting website is established, you need to ensure that it will show up when people search for you. This happens through the power of SEO. To optimize your search engine results, you should:
Come up with keywords: Think about how you search for people when you Google them before a date (it's OK—we all do it). Unless they have the most unique name ever, you probably use key identifying phrases. Instead of just "Fred Rogers," for example, had the internet been around at that time, his future wife Joanne Byrd might have looked up "Fred Rogers Latrobe," "Fred Rogers Pennsylvania," "Fred Rogers puppets," and so on.
Create key phrases: Combine keywords based on name, location, acting genre, performance abilities, and awards.
Work in key phrases throughout: Pepper variations of the phrases throughout each site page as naturally as possible. Focus particularly on images and titles closest to the top of each page, like headings, subheadings, and image descriptions.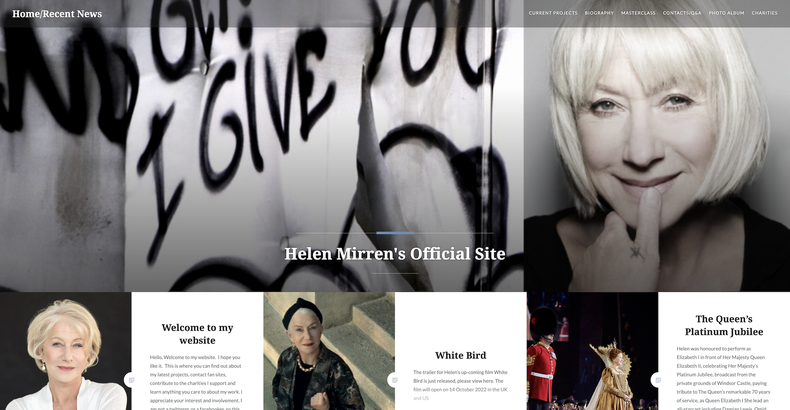 While representing different niches and showcasing different talents, these actor websites are all informative, intuitive, and eye-catching.