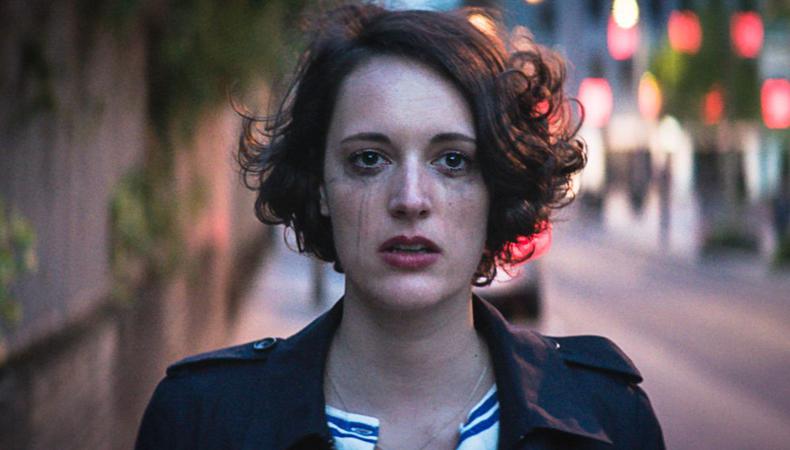 Welcome to Straight to Series, where Backstage takes a (very) deep dive into how some of the most successful television shows of this Golden Age got made—and, of course, how you can make one, too.
Every so often a show comes along and is heralded as nearly-perfect. And by 2019, that show was "Fleabag." Created by and starring Phoebe Waller-Bridge across, the roughly half-hour British comedy was a critics' favorite across two seasons and moved the needle in its honest representation of women who don't have it all figured out. The series follows the titular character (Waller-Bridge), a flirtatious and unapologetically brash woman living in London as she grapples with depression, patterns of habitual lying, an every-dry bank account, a passion for casual sex, plus grief in the aftermath of great tragedy (the death of her mother and best friend)—all while making you roar with laughter.
The series actually began as a monologue play, which Waller-Bridge performed at a fringe festival in the U.K., before it was commissioned as an on-camera series. Though it was considered a success in the U.K. following its 2016 premiere on BBC Three, Waller-Bridge's baby picked up steam last year, with its sophomore run on BBC One and Amazon Prime. The show earned six Emmy awards in 2019, in addition to praise from President Barack Obama, who included "Fleabag" in his "Quick List of TV Shows That I Considered as Powerful as Movies."
Unfortunately Waller-Bridge has consistently said the show will not be returning for a third season—at least not until Fleabag herself, 33 in the show, hits her late 40s. But we're not done adulating the series; here is the story of how a one-woman monologue transformed into a global phenomenon.
A One-Woman Show
A graduate of London's Royal Academy of Dramatic Art (RADA), Waller-Bridge spent years honing her acting skills in theater, later appearing in TV shows like BBC One's "Doctors," "Bad Education," and "Broadchurch," along with movies such as "Albert Nobbs" and "The Iron Lady," opposite Meryl Streep. Though she initially felt more comfortable acting, Waller-Bridge worked on several writing projects during this period, eventually landing a one-season comedy called "Crashing" for the U.K.'s Channel 4 in 2016.
But let's back up for a second.
Before then, in 2012, Waller-Bridge was encouraged to perform a 10-minute monologue at a local fringe festival by Deborah Frances-White, a writer and comedian behind the podcast "The Guilty Feminist." It was then, at a ripe 26 years old, that Waller-Bridge gave birth to "Fleabag." "It started as a challenge from a friend to do a 10-minute slot in her stand-up storytelling night, which is where this whole idea came from of doing it sort of stand-uppy," she tells the Henley Standard. "I was on with a bunch of other stand-ups, actors, and playwrights. I've never done that before—I never really wanted to do it, it's terrifying." The monologue was performed onstage with nothing but a stool, and elements of that original script eventually translated to the TV adaptation: it depicted a sexually-freed woman mourning the death of her best friend while running a failing coffee shop themed around said best friend's guinea pig.
"The idea was it had to be somewhere between the two. I said, 'No, absolutely not, that's terrifying "
Frances-White recalls that fateful night in the same interview: "It was a terrific show. Everyone smashed it. Then Phoebe came out and perched on the edge of her promised high stool—which I had bought especially—eyes alight as if she were about to make a hilarious prank phone call." Franches-White also notes that the audience of about 70 felt "captivated" by Fleabag's "slutty little pizzas," "sexual urges," "hypocrisies and flaws," and that it was a delight to see the character, like Waller-Bridge herself, "wasn't ashamed of the parts of herself that other women had been trained to find embarrassing—she revelled in them."
Though it was a new experience for Waller-Bridge, the audience didn't seem to know it. "I'd written a few short plays but hadn't written anything near a standup, solo thing. The idea was it had to be somewhere between the two. I said, 'No, absolutely not, that's terrifying," Waller-Bridge tells Backstage. What resulted was, in her words, the creation of a character best described as a "really dry-witted, dark-humored, naughty, sexually voracious, unapologetic, broken woman."
That 10-minute monologue was a hit, and Waller-Bridge moved on to produce an hour-long one-woman show in 2013—but not without the help of a Kickstarter campaign.
The Kickstarter Campaign
By this time, she and Vicky Jones had spent five years as partners and co-Artistic Directors of DryWrite, a theater production company whose mission was to amplify the voices of writers with distinctive storytelling skills. Together, they launched a Kickstarter campaign designed to raise £3,955 for the production of a Waller-Bridge-led one-woman show directed by Jones and performed at the Edinburgh Fringe Festival.
Reflecting on the early days of DryWrite, Jones tells Backstage, "The two of us loved theater so much and wanted to make it ourselves, somehow." They ledged early on to write for each other, "to impress the other one."
To raise funds, Jones and Waller-Bridge described the show as follows: "Today I'm going to be a new person. No more slutty pizzas. No more porny wanks. Lot's more lovely threesomes. Go. The Fleabag bites back. A rip-roaring account of some sort of a female living some sort of life in some sort of city." The play won an Edinburgh Fringe First award (and almost prophetically, DryWrite's mission around the Kickstarter campaign is what the TV adaptation would eventually be praised for). Waller-Bridge also earned a Critics Circle award for Most Promising Playwright.
"Our ambition for DryWrite is to commission and produce plays that articulate women intelligently and provocatively and to honestly reflect their own experiences. This isn't at the cost of male characters or with the agenda to lecture about feminism; we want to shed light on relationships, power, family, love, and politics with even-handedness and truth and with a strong female voice in everything we make," the campaign's descriptor reads. "We also want to practice what we preach—which is why Fleabag is the perfect opportunity to put our ambitions into actions."
The original hour-long play introduced the U.K. to the "angry, pervy, cruel, forgetful, unforgiving, flippant, capricious, but undeniably honest" Fleabag. The pounds raised for the production of the piece's theatrical debut was used to pay for the set, design, stage managers, a marketing campaign, transportation from London to Edinburgh, plus accommodations.
In addition to Waller-Bridge and Jones, Francesca Moody served as a producer for the original stage play, and as a fundraiser for the campaign. As she recalls in The Evening Standard, her recollection of the original script was utterly hilarious. "It's always a good sign when something is side-splittingly funny on first read. Fleabag started life as a short comedy-storytelling piece and I could completely see how Phoebe Waller-Bridge would bring it to life," she says. "During our previews at Soho Theater and then at Latitude, people were properly laughing. We all thought it was funny but it was a huge relief to know that other people felt the same way. In and amongst those first few shows, though, I'll always remember one friend who turned to me said he found it desperately sad. That was the moment I knew we had something brilliant and special."
In retrospect, signs that "Fleabag" would make certain viewers uncomfortable pointed towards its potential. "My brother's face turned white when he saw the early script. He said I'd freak out a lot of men because everything feels true, like her saying she'd rather wank than have sex," Waller-Bridge tells the Evening Standard.
To fine-tune "Fleabag"'s idiosyncrasies, Waller-Bridge relied on Jones, who reeled the character in when she felt lines of dialogue felt uncharacteristically austere. In fact, Jones convinced Waller-Bridge to basically lock themselves in a room until a final product for Edinburgh was ready. Waller-Bridge tells Backstage it's important to "have somebody there to constantly have their eye on the character," noting that it's better when there are "more minds and hearts" involved." Her secret sauce: "Write the most truthful thing you can possibly write—until it kind of burns your heart. People will always pick up on that."
Their stage show eventually traveled to London, Australia, and South Korea.
The TV Adaptation
In 2016, BBC Three, a digital-only channel, announced its plans to develop Waller-Bridge's play into a half-hour comedy. "I can't believe they've let me do this," Waller-Bridge told the BBC that year. It was produced by Two Brothers Pictures, Lydia Hampson, executive-produced by Jack Williams and Harry Williams, and directed by Harry Bradbeer.
Damian Kavanagh, Controller of BBC Three, said at the time, "This knocked me for six when I saw the one-woman stage play, utterly distinctive and the writing has attracted the wish-list cast for the TV series. Phoebe is destined for great things and it's a perfect fit for BBC three, whose mission is to uncover and nurture the writing and performing stars of tomorrow."
Despite the BBC Three greenlight, there were unsurprisingly some challenges in adapting a play into a script for TV.
"When you're writing your theater play, you shouldn't be thinking about it like it might be a film or TV show," Waller-Bridge tells Backstage. "Trying to write something that would fit all boxes, you'll get lost."
"Trying to write something that would fit all boxes, you'll get lost."
One of the biggest hurdles for the adaptation came in the form of the titular character's direct-to-camera, fourth-wall addressing. Onstage, Waller-Bridge would speak directly to the audience during the performance, and only break to address another character. Her original monologue encouraged the audience to imagine where Fleabag is traveling—both throughout London and in her mind—whereas the show introduces sets and characters and the physical world that her character inhabits.
Of course, she figured it out. "Delivering a manner of monologue—she does many voices, and there is disembodied dialogue at certain moments—Waller-Bridge shows herself to be skilled at story, deadpan comedy, and one-liners," Craig Simpson of the Press Association writes. "Added to this is a stunning ability to mime and do impressions, which sets the stage show apart from the restrictions of a TV show, where her sudden comic personifications become scenes and other characters, actors with faces of their own."
Speaking with Backstage, Waller-Bridge recalls the early days of pivoting between mediums. "[We were] still working closely to the idea of the unreliable narrator," she explains. "As she brings you closer and closer into her personal life, she starts to kind of regret bringing you in because of how much pain there is and how she can't escape the camera."
BBC Three's "Fleabag" aired in July of 2016, becoming the channel's most popular show of the year and earning significant approval from critics in the U.K. (The Guardian) as well as the U.S. (The New Yorker). The show also earned Waller-Bridge a BAFTA for Female Performance in a Comedy Programme (the show received six nominations total), along with two Royal Television Society awards, two Broadcast awards, and a British Press Guild Award. Additionally, the first season earned a Critics' Choice TV nomination for Best Comedy Series and Best Actress in a Comedy Series.
In 2019, ahead of the series' second season premiere, Waller-Bridge arrived in New York for a five-week encore run of her original one-woman show at Soho Playhouse. "It's really nice coming back to the genesis of the whole thing," she told the BCC at the time. "It's quite cathartic to go back to the beginning, and reading the lines and rehearsing the play again have reconnected me to the character in a way I otherwise probably wouldn't have."
For that production, Waller-Bridge worked with her sister, Isobel Waller-Bridge, the sound designer. Her role was to amplify the experience in an auditory way, achieving "humor and rhythm" with her more conceptual approach. "My responsibility was to take us on the different locations with the character, and that was really creatively satisfying because on this broad level, it gives you a lot of things to play with and investigate," she tells Backstage. "We go all over London; external places, internal places, the tube. The other thing is, a lot of times when the main character talks to other people, there are some cases where we wanted to have those voices in the show, so [the job was] figuring out how to do that."
Season 2 and Amazon Prime
Amazon Prime initially acquired "Fleabag" and launched it on Amazon Prime Video in 2016, following its BBC Three debut. Joe Lewis, then Amazon's head of half-hour series, was a fan of Waller-Bridge's "special talent," calling her skills "undeniable" and said the series was one that'll make viewers laugh, cry, and feel uncomfortable at times. Netflix CEO Reed Hastings said in a 2019 interview that the streaming service was outbid by Amazon, calling "Fleabag" "the one that got away."
Once greenlit, the second season of the show was sold as a co-production between BBC and Amazon and premiered in March of 2019. "The fact that we made a season two—I never imagined that in a million years. It was a dream to make the first series, but the second one, I was sure I couldn't think of anything," Waller-Bridge told Backstage in 2019. She noted that she originally drew from her "need to play someone who was complex and weird and has these multiple layers" to create Fleabag, turning to what's "funny and dark and sexually candid." But reimagining the show for a sophomore run, especially after the first season encouraged the viewer to in some ways respect Fleabag's privacy, presented a different set of challenges.
"I was really convinced I wasn't going to do a second series and felt I had a lot of artistic integrity in saying that," Waller-Bridge tells the BBC, "But a couple of ideas popped into my head that I got excited by and I thought, 'Oh, go on then."
Still, she had to be conscious to add to what she'd already built with the first installment of episodes. "The first and most important thing that was troubling to me was how to keep the relationship with the camera fresh and alive, because in the first one I knew what the journey of it was—which was, at the beginning, she invites you in with total confidence that she can convince you that she's absolutely fine, hilarious, and is having a brilliant life," she tells the Hollywood Reporter. The goal for season two, she adds, was to have the audience discover that Fleabag has disguised her poor behavior under a persona, one initially masked by her straight-to-camera banter.
"I was really convinced I wasn't going to do a second [season]... But a couple of ideas popped into my head that I got excited by and I thought, 'Oh, go on then.' "
That's also why, in a way, we were introduced to the now infamous "Hot Priest" (played by Andrew Scott). "The real bedrock of [season two] was tied up with the idea of religion. I was starting to write jokes about perspectives on the Christian faith and Catholicism, and that bled into the show," she tells the BBC. "Once Andrew said yes, the story really started to take over in my imagination. I liked the idea of Fleabag meeting her match in someone with the same intelligence and wit she has who leads a completely different life."
The second batch of episodes debuted with considerably more fanfare than its predecessor, and went on to earn "Fleabag" 11 Emmy nominations total and then six wins; Waller-Bridger herself nabbed three: Outstanding Comedy Series, Outstanding Writing for a Comedy Series, and Outstanding Lead Actress in a Comedy Series.
Casting
For the television adaptation, Waller-Bridge had to piece together an ensemble that could rise to the level of the show's pitch-black humor. Memorable roles ultimately were played by Bill Paterson as Fleabag's father; Olivia Colman as her pretentious Godmother; Jenny Rainsford as Boo, Fleabag's dead closest friend; Sian Clifford as her uptight sister, Claire; Brett Gelman as Martin, Claire's alcoholic husband; and of course, Andrew Scott as the priest, Fleabag's second season love interest.
Initially, the BBC called for a boldfaced name to play Claire, however, Waller-Bridge fought for Clifford to audition, having been familiar with her work since they were classmates at RADA. "We always wanted to play sisters!" Clifford tells Backstage. "I had to audition for 'Fleabag,' and Phoebe had to fight for me to get in the room and be considered. I didn't think they were going to let me do it. But they did! They wanted a bit of proving, but I think as soon as the channel saw us together, they gave in."
Waller-Bridge tells Backstage Clifford's performance is "a master class in how to perform somebody with such depth and complexity who's also only thinking about her hair the whole time." She adds, "You've got those three layers: hair, marriage, and ultimate doom of my life—and that's basically what she's always thinking about. I've seen her through drama school all the way up there to where we are now, and she's just extraordinarily good."
Similarly, Colman—who was cast before her Oscar win—had interest in playing the Godmother because of her familiarity with Waller-Bridge's work; the two were in a production of Noel Crawford's "Hay Fever" together. "I think I begged Phoebe to be in it, when she was writing the first [season]," Colman tells Entertainment Weekly.
Colman has also praised the freedom that Waller-Bridge and her writing allow an actor. "But the second one, it felt like she just had a built-in confidence. She thought, OK, I know what I'm doing, I'm just going to really let rip. And she did. The first episode of the second series, to me, was like a piece of theatre, a piece of writing that I would have studied at school. She's extraordinary and it's a pleasure to say anything that she's written," she Colman tells EW. "And also, to film it, is so much fun because they're my mates. I will be eternally grateful to Phoebe because she said, what sort of things do you want to say? And I went, could you write me someone who's a total [spells out a four-letter expletive]. So she made up this person for me. Yeah. I always wanted to play the baddie and she's written a really good one."
Andrew Scott's charm and history of magnetic performances (Waller-Bridge has cited his work on "Hamlet" in the West End as a favorite) made him the right fit for the role of the priest. "He knows the power of a look, and he knows how to really look at you. He will look at you like he's in love with you. I mean, I paid him to look at me like he was in love with me, which I'll never regret," she tells Backstage.
In an interview with the Hollywood Reporter, Waller-Bridge admits she found the "hot priest" moniker weirdly reductive considering the complexity of his performance, and his series-shifting smashing of the fourth wall. She also worried that introducing a character whose life was rooted in religion could have been detrimental to plot.
"It was so challenging because the first idea of the character was that it seemed too obvious that a renegade, sexual young woman would fall for a priest. When you're trying to write somebody like that—writing a character who has lived a life that I will never know and understand—was the challenge; you just feel like such an imposter, I think," she tells THR. "I wanted him to feel like a real person. I spoke to a few priests and one monk in particular for hours and hours and hours. And then when Andrew [Scott] appeared with all his natural complexity and generosity, i was like, OK, this is actually going to be fine."
Waller-Bridge did admit she was bummed Scott didn't receive an Emmy nomination. However, Emmy nods were given to Fiona Shaw, who played Fleabag's counselor, Kristin Scott Thomas who played Bellinda, Clifford as Claire, and Colman as Fleabag's godmother. The show also earned a trophy for Outstanding Casting in a Comedy Series.
The Release
Largely, "Fleabag"—both the stage play and its TV adaptation—has received positive feedback in the years since the piece was first introduced. In a 2016 review of Season 1, Vulture dubbed it "different from anything else on TV," focusing specifically on why Waller-Bridge's straight-to-camera conversations aren't just a trope. (Vanity Fair, TIME, Slate, and Vox, among dozens of other publications, celebrated its run as well).
"When she speaks directly to us or flashes a knowing glance in the camera's direction, something she does often, Fleabag comes across like a bawdier, British Ferris Bueller or, perhaps more apt, a sadder, sexually franker Bridget Jones who doesn't have time to write in a diary and therefore speaks her diary entries out loud," Jen Chaney wrote.
However, some reviews were also mired in scrutiny. The Guardian's Ellen E. Jones argued in 2019 that despite the show's genius, part of its success is rooted in Waller-Bridge's own privilege and access to the industry, making it a show "for posh girls." (Waller-Bridge attended private school, and her lineage descends from nobility: Sir John Edward Longueville Clerke, 12th Baronet of Hitcham, on her mother's side, and Sir Egerton Leigh, the Member of Parliament for Mid Cheshire, on her father's).
"Of course, it feels great to be seen—yay, posh girls!—but when Fleabag is being celebrated as women's Authentic Experience finally given voice, then it's time to call bullshit," wrote E. Jones, arguing that Fleabag the character ultimately wasn't "universally relatable."
Waller-Bridge refuted that criticism during an interview with the podcast "How to Fail," saying she's "never pretended that I'm not from a privileged position," but that criticizing the story "on the basis of where the author had come from" consequentially "undermines the story."
In an interview with The Evening Standard, Waller-Bridge also reacted to comparisons of "Fleabag" to Lena Dunham's "Girls." "At the end of the day as long as these stories are being talked about, I really dont give a fuck," she said. "Views are polarized, you do still want to be seen as an artist in your own right."
But generally, "Fleabag" is perceived just how Colman has described it: a piece of work you'd study at school. Parul Sehgal put it best when writing about season two and that scene with the priest for The New York Times Magazine: "It's a short, delicately modulated sequence that has been lauded by critics and viewers as one of the most important scenes of television in recent years, for the way it revives the tired trope of breaking the fourth wall. It zaps the viewer awake, reminding us that watching is never neutral."
Where Do We Go From Here?
In short, "Fleabag" will not return, and Waller-Bridge has made it clear she feels there's no story left to be told.
"I feel like it's done, but I do have a fantasy of bringing her back when I'm, like, 45 or 50. She went on the biggest journey over the past two seasons, and she started as someone who sort of hated herself and ended up as someone believing that she could love again and forgive herself," she tells The Hollywood Reporter. "I have to respect that arc and let her go and live for a bit."
Clifford doubled down, telling BBC Breakfast that despite how "desperately" she wants to continue playing Claire, "I think people will accept that this is the end when they see it, because I think it is complete. I think the story is complete."
There is one glimmer of hope for a future run: executives. Amazon Studios head Jennifer Salke has said she "dreams of wiggle room" surrounding a potential third season: "I'm basically her stalker. Anything Phoebe wants to do, nothing would make us happier to bring another season of her show. Anything she wants to do. I'm forever the optimist."
Waller-Bridge told Variety that working with Amazon was a "creative partnership [that] dreams are made of," and that "it really feels like home." Following her Emmy wins in September 2019, she scored a deal with Amazon, reportedly worth $20 million a year, committing to release projects on the streaming service exclusively.
Outside of the deal, Waller-Bridge appeared alongside Domhnall Gleeson and Merritt Wever in HBO's "Run," created and written by her DryWrite partner, Vicky Jones. She's also currently working on the script for director Cary Joji Fukunaga's forthcoming "Bond" film, making Waller-Bridge the second woman in Bond history to be credited on a script for the franchise.
Speaking with Deadline, Waller-Bridge expressed interest in bringing the same female-first perspective she did with "Fleabag" to "Bond," saying Daniel Craig's character is "absolutely relevant now. It just has to grow. It has just got to evolve, and the important thing is that the film treats women properly. He doesn't have to. He needs to be true to his character."
Looking for remote work? Backstage has got you covered! Click here for auditions you can do from home!