On her birthday last year, Mira Sorvino wished to be braver.
"My wish for myself was to be more of the person that I am in my heart on the outside," Sorvino recalls, sitting for a late September interview in a Lower Manhattan studio. "[In] the second half of my life—that's the way I'm seeing it—I just want to be as happy and magnanimous and loving and generous as I possibly can be. And as brave as I can be."
Sorvino has had a landmark year, both in her career and personally, full of high highs and low lows. The Academy Award winner made headlines as one of the first actors to go public with sexual harassment and abuse accusations against producer Harvey Weinstein, and has since become one of the most vocal participants in the fight for gender equality. With that, she's carved out a legacy not just for herself, but for women inside and out of Hollywood as an actor, activist, and mother. Fitting, too, that she's having a creative renaissance of her own.
Part of that comes from her latest role, joining Season 3 of "StartUp" as Rebecca Stroud, an NSA agent who has come to investigate a new dark web and force a partnership with the government. The Sony Crackle crime thriller created by Ben Ketai and co-starring Martin Freeman, Adam Brody, Edi Gathegi, Otmara Marrero, and Ron Perlman returns Nov. 1 to chart the controversial emergence of GenCoin, a digital currency, and the rise of three unlikely—and by most counts unqualified—strangers-turned-tech entrepreneurs.
With all her tics, rituals, and failed attempts at comfort, Stroud—complicated and intense, villainous yet vulnerable—is the type of character Sorvino is drawn to. She was able to build off Stroud's backstory (which fans will see as the season progresses) to create the full range of the character and flesh her out in singular and engaging ways.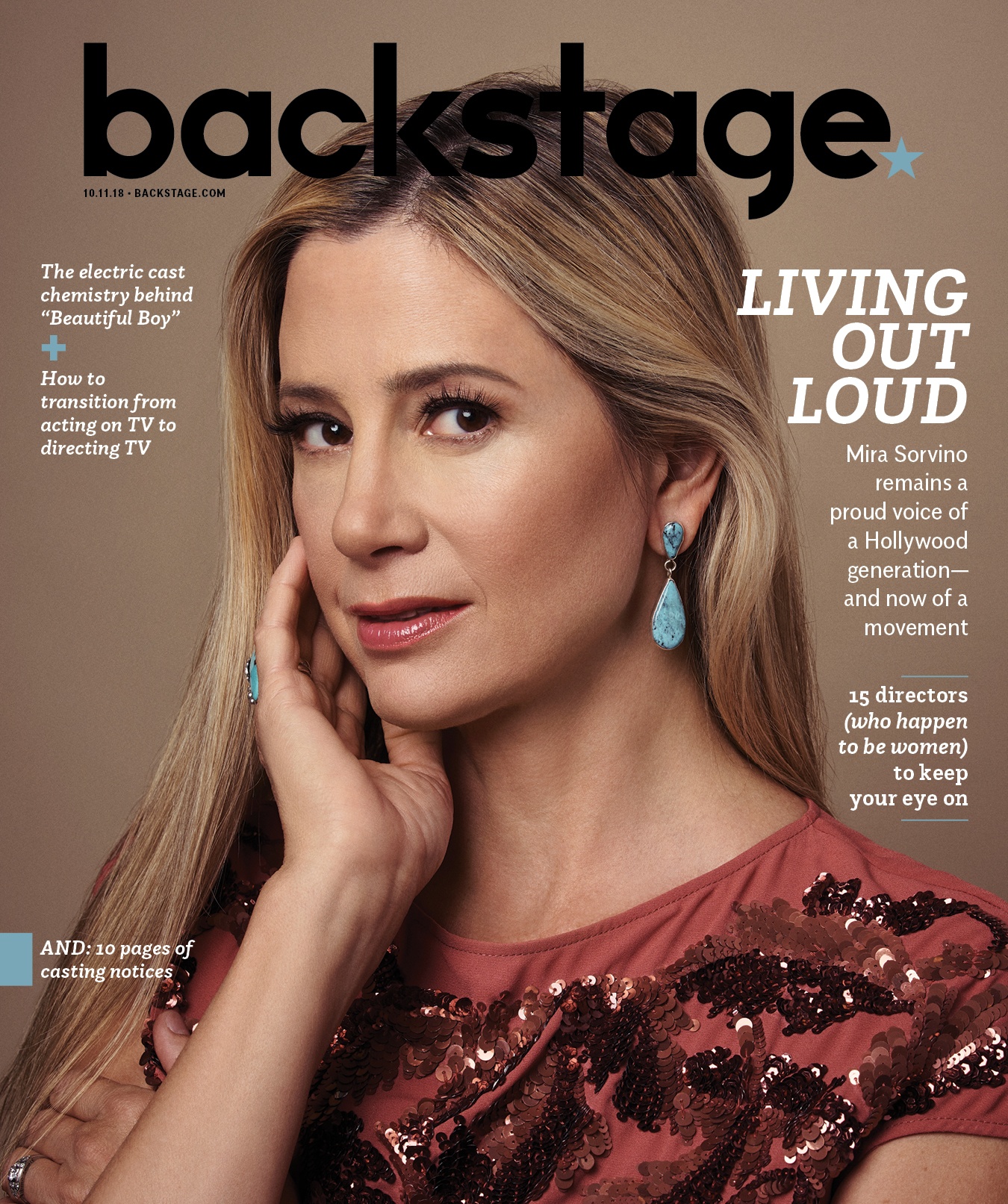 "There's no safe haven for her except these little boxes she's built for herself," Sorvino explains. "I think her behavior and her loneliness and her efforts to reach out and communicate to people, while ultimately unsuccessful, are fascinating to play."
Stroud is not the only character Sorvino is involved with at the moment, either. She recently appeared on the Audience Network series "Condor" as Marty Frost and has a recurring role on ABC's "Modern Family" as Nicole Rosemary Page, a gig she picked up earlier this year. That's not to mention several other projects on the horizon, including the upcoming feature "The Mustard Seed," which she's currently filming in Oklahoma City.
Such range is nothing new for Sorvino, who has played a wide variety of characters throughout her career and has held at least one role a year, every year, since 1991. As an actor, she says she is drawn to roles that don't repeat themselves, save for her recent string of villains and antiheroes, which she attributes to ageism in the industry. ("A woman hits a certain age and all of a sudden people are like, 'What do we do with her? Well, she could be the villain! She could be the dried-up woman who's angry at everyone and betrays them.' ")
Her main interest, however, is finding parts that allow her to interpret experience and "shine a little bit of light onto the way the human heart and the human mind work." So, as good as she is at playing a Stroud or a Frost, they will likely be the last times we see her toying with villainy for some time, she says. Her goal? To portray ordinary women in compelling situations at the center of the story.
"I really want to get out there this idea that human beings are all interesting at every stage in their lives," she says. "If we can see male protagonists into their 50s and 60s, women can also be strong leading or strong supporting characters that don't have to dissipate into little boxes."
While Sorvino has been working harder and more frequently than ever of late, she has also revealed how she's lost gigs and been blacklisted, especially in response to her rejection of Weinstein's advances—a claim that has been verified by director Peter Jackson. Since coming forward with her story, Sorvino has been a critical voice within the #MeToo movement.
"I was like, If I do nothing now, if I stay silent, if I don't use my name and take the boldest possible stance on this, what kind of a person am I?" she says. If she didn't speak out, she says she'd be "enabling that culture to persist" and "contributing through silence to the culture of impunity for predators."
Sorvino attended Harvard University and graduated magna cum laude with a degree in East Asian Studies. If the transition to actor doesn't seem clear, her transition to activist was natural. Her mother, Lorraine Ruth Davis, was a participant of the March on Washington and influenced Sorvino to take up social causes of her own from a young age. At Harvard, for instance, she wrote her thesis on racism and worked on a documentary about anti-Semitism in the former Soviet Union. That grew and transformed into work with Amnesty International from 2004–2007, and then as a goodwill ambassador for the United Nations Office on Drugs and Crime since 2009, participating in lobbying Congress to abolish human trafficking in Darfur.
It wasn't easy, though, to transition from lobbying for others to lobbying for herself. Following Ronan Farrow's Weinstein exposé in the New Yorker in October 2017, Sorvino says she was still too raw to talk about her experiences on-camera and opted to write a few "purpose-driven" columns for TIME and the Hollywood Reporter. "I've fought for other women and violence against women in the past…but when I had to stand up for myself and say, 'Actually, what happened to me was wrong, too,' it was a whole other thin-ice pond to step out on."
The shift came when the opportunity to create real, lasting change arose. Since then, Sorvino has been a prominent champion of Take the Lead, a women's leadership effort that persuaded California Gov. Jerry Brown to recently sign a series of workers' rights bills that will, among other things, extend the statute of limitations for filing sexual harassment claims from one year to three years, expand protections in professional relationships, and mandate harassment training in all companies with more than five employees.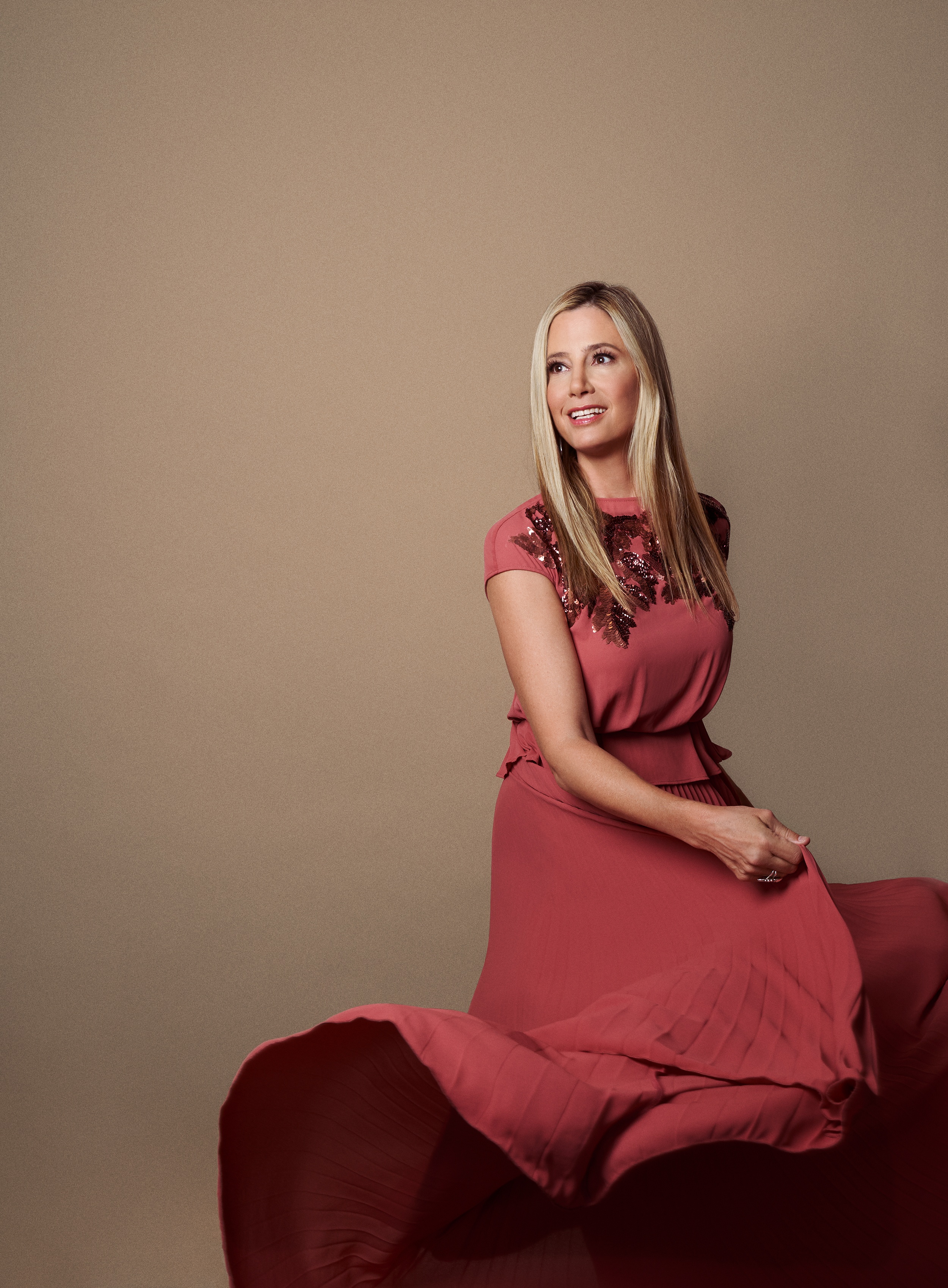 "We are saying, 'Let's be on the side of the survivors and let's make it possible for them to achieve some measure of justice rather than stacking everything on the side of big business and predators who hide behind this shield of anonymity,' " Sorvino says of the cause. The bones for lasting change are there, and she's encouraged by what has been done so far, as well as the community it's built.
"I feel like there's this worldwide community of love. Damn the naysayers—there's a lot of love out there," she says. "This isn't a negative movement. It's a positive one."
As the movement swells, so does Sorvino's place in it as a veteran of the industry and its offenses, as well as the work it produces. For young actors, she advises saying yes to as many roles as possible, as long as they don't go against your morals or comfort levels, and taking every possible opportunity to act. Look at every opportunity as a chance to learn. Build yourself up and believe in yourself, but work as hard as you possibly can. Be as prepared as possible with a character, and do the work to learn them inside and out. She advises taking that character out in public and fully embodying them: Go to the store and buy things as someone other than yourself; talk to people in character; think on your feet as that character.
"Being able to ad-lib the person is the mark of ultimately having the character [down]," she says. "If you haven't gotten to that stage with the character [and] you can only do the lines in-character but you can't actually be that person walking around, you haven't finished the work yet."
But maybe the most fitting piece of advice is one that she got from her acting teacher, the great Wynn Handman: It's all about "finding the pinch that creates the ouch"—making strong, bold choices, and going outside of the safe. That's what Sorvino's doing today. Now watch her soar.
Photographed by Chad Griffith on September 21 in NYC