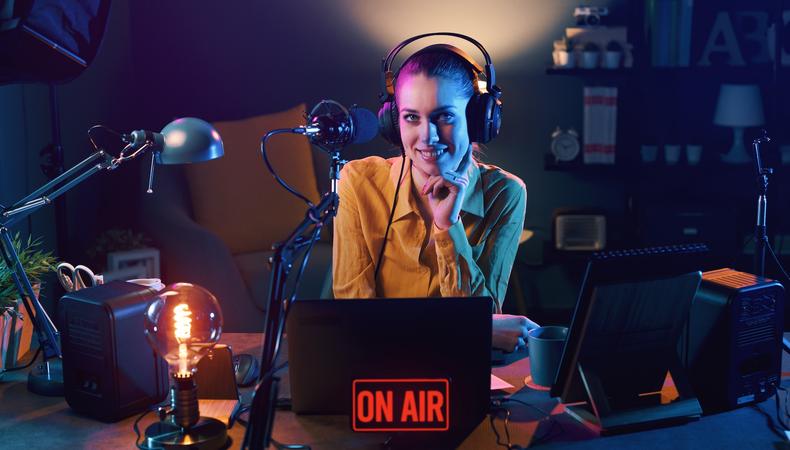 Have you been told you have a voice for radio? Whether it's reading ads or broadcasting the news, breaking into an on-air radio career takes a special set of skills and experience. If you want to hear yourself on the airwaves, tune in to these details on qualifications, salary, famous voices to study, and everything else you need to hone and craft your career as a radio host.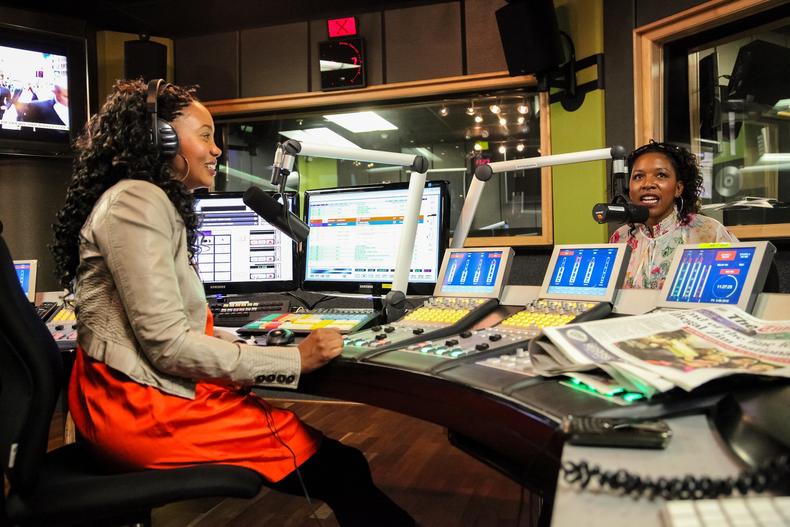 Sunshine Seeds/Shutterstock
A radio broadcaster is an on-air vocal talent. From shock jocks to sports announcers, disc jockeys to documentarians, radio voices activate the airwaves. Radio broadcasting relies on voice talent to share stories and sell products through their personalities and performance skills.
Radio broadcasting opens doors to many career opportunities, including:
Radio announcer:

Announcers deliver news, updates, and other stories. Many specialize in a particular niche such as sports, weather, traffic, or current events. Others may take on a specific format, such as long-form narratives that cover a wide variety of topics (e.g., Ira Glass on NPR's "This American Life").

Disc jockey:

DJs curate music on radio stations. Many also pull double duty as talk show or listener call-in hosts.

Radio voiceover performer:

Voiceover artists record commercials, jingles, and other short announcements. These actors may create characters and voices outside of their regular speaking voice to match the project.

Radio dramas:

Audio plays tap more into performance than personality, requiring actors to create characters and bring a script to life with their voice.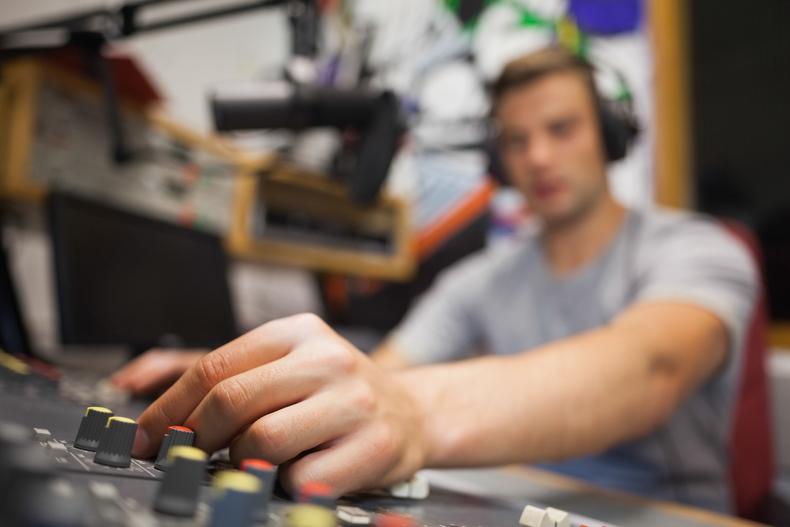 ESB Professional/Shutterstock
If you want to work as an on-air radio talent, you need a unique voice. Whether you speak in a commanding baritone or soothing, dulcet tones, your voice should be distinctive enough that audiences recognize you without ever seeing your face. The most memorable radio stars are able to connect with listeners through impassioned, sincere speech that is clear, engaging, and entertaining. Flat, monotone voices are rarely asked for in radio casting calls.
Having a "radio voice" is only the first step to breaking into the industry. While formal voiceover training may not be required, experience in public speaking, audio engineering, and/or journalism gives aspiring radio announcers a distinct advantage. Field experience teaches voice actors how to fine-tune their instrument and build industry know-how.
Advantageous skills for radio broadcasting include:
Education:

A bachelor's degree in communications, journalism, or broadcasting enables entry-level radio voice actors to

understand the field

and stay competitive. Not all radio jobs require formal education, but schooling does build a solid foundation. Voice lessons also teach actors proper diction, pitch, timing, inflection, and accents to give a wide range of vocal abilities.

Vocal talent: Aspiring radio actors need a distinctive voice that ignites listener interest. Without the facial and body cues used by onscreen performers, vocal actors must still convey emotion and excitement to keep listeners tuned in. Voice acting lessons teach you different techniques, breathing exercises, and ways to explore your range and abilities. Actors can study with in-person tutors or take online classes through professional development platforms. Listening to recordings of your own voice is another way to play with your performance: Use your phone or laptop to record yourself, and make notes on where you'd like to improve.
Personality:

Radio announcers often adopt a larger-than-life personality to make listeners laugh, cry, or take action. They also have to be quick on their feet to avoid dead air during interviews or live events;

studying improv

can help you stay sharp-witted.

Subject matter expertise:

Being able to talk at length about a particular interest or industry is an advantage for aspiring radio voice actors. Whether your specialty is music, sports, pop culture, or current events, having a thorough understanding of your subject will make you come off as natural and knowledgeable.

Communication skills:

Confidence in your written and interpersonal skills are important. Radio hosts often interview guests and interact with listeners both on-air and in person, which requires an inviting, comforting demeanor.

Self-promotion: Marketing yourself will make all the difference in landing jobs, especially when you're first starting out. Getting heard above the crowd involves persistent self-promotion and dedication to your career advancement. This is an area where starting your own podcast can help put your name out there. You should also build a dedicated social media presence, such as YouTube videos that are heavy on narration, in order to showcase your talent. Connect with others via Twitter, Instagram, or LinkedIn to look for possible collaborators who would be interested in having you guest on their podcasts or platforms. You can also attend voice acting classes or workshops in your area to connect with other professionals in the field. Network to learn more about available opportunities.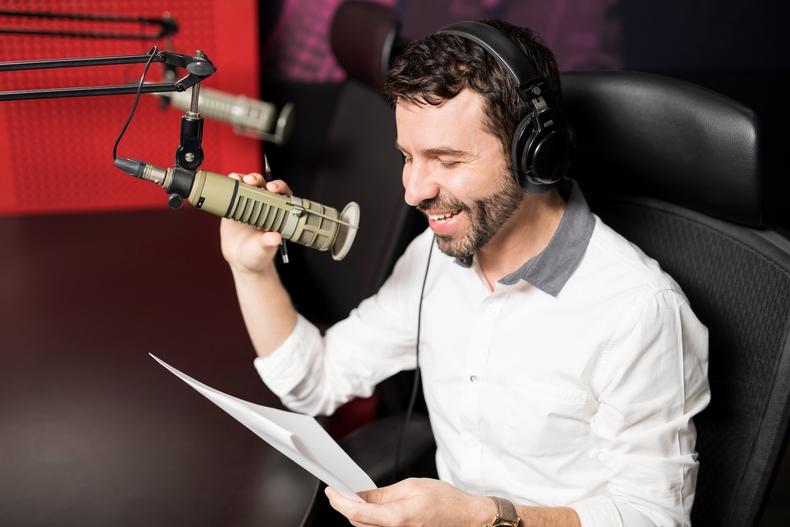 antoniodiaz/Shutterstock
Listen to radio programs
Tuning in to a variety of radio shows and stations will help you get a feel for the current trends, styles, and topics that are being discussed on the airwaves. Pay attention to which segments and hosts captivate you most: How are they drawing you in? What's different about their approach? Find out what makes for compelling radio from today's experts.
Get some experience under your belt
Many broadcasters get their start in college or at independent radio stations, learning the ropes with a smaller audience. A studio gig offers opportunities to interface with broadcasting equipment and get familiar with the daily workflow. If you don't have a degree, getting field experience is a must. Smaller stations often post volunteer positions for help with answering phones, managing events, and other behind-the-scenes tasks. These are a great way to start making connections.
Beyond official radio gigs, here are some other ways to build experience.
Start a podcast:

Recording

your own podcast

is a great way to showcase your voice talent. Plus, the production aspect involves transferable skills and proves you're up to the task.

Try out for voiceover jobs:

Auditioning

forces you to focus on your vocal talent and potentially get feedback on where you can improve.

Take voiceover classes:

Participating in

VO classes

not only teaches you applicable skills; it also offers the opportunity to work with professionals who can guide you through other aspects of the business, like making demo reels and staying in line with current industry trends.

Study radio shows:

Record segments you particularly enjoy; write them out like a script to see if you can re-create them.
Build a demo reel
Every aspiring radio voice actor needs a voiceover demo reel. These are the cover letters of the voiceover world, showcasing your abilities, personality, and work experience. They demonstrate what you've done and what you can do, all wrapped in a succinct, 60-second package.
You have two options when making a demo reel: creating it yourself or working with a professional. An audio engineer will be able to take multiple clips and piece them into one cohesive file, balancing sound levels and adding effects as necessary. Engineers will have all the right equipment to make you sound like a pro, eliminating the need for you to learn how to use a mixing board or audio software.
Most experts agree that working with a professional to record your demo is worthwhile, even though it's costly. VO artist and engineer Dan Friedman estimates a quality demo costing "upwards of $1,000," while Phil Sutfin, founder of VO agency ACM Talent, puts a one-minute demo at $2,000 "at the bare minimum."
To produce your own reel, you'll need some equipment and basic understanding of sound design. At a minimum, you should have a computer, microphone, microphone stand and cable, and sound-editing software. Depending on how advanced you want to go, investing in a home recording setup will cost as much as $300.
Your demo reel should include:
Your favorite work:

Put your proudest audio moment at the front of your reel.

Your job experience:

Highlight any major brands or stations you've worked with, along with your portfolio's range (commercials, DJ spots, etc.).

Your vocal range:

Show off your talents, including different accents, character voices, or unique abilities.
Once you've got a stellar reel, it's time to start sending it out. To connect with radio stations, you should:
Start by researching local, regional, and national radio station producers. Listen to their programming to see if you'd be a good fit. Subtle, softer-toned voices are well-equipped for long-form or content-sensitive segments, such as documentary features or listener advice shows, whereas spirited, energetic speakers are perfect to hype up morning show listeners.

Call your top stations and ask for the programming director's contact information.

Email your demo along with a résumé and recommendations to the programming director. Be sure to introduce yourself in the email and explain how your talent can benefit the station.

Interested producers will reach out if they like what they hear, but it never hurts to follow up with a phone call or email after a week or so.
Stations may also post job opportunities on career sites. On-air positions will require a demo reel as part of the application process. It's worth considering off-air positions as well to get your start in radio.
Secure an agent
Working with a voiceover talent agent is another option. They can assist in finding gigs and opportunities that you may not discover on your own; plus, they can help with career advice and plotting out your trajectory. Most agents will want to see that you've booked a few notable paying jobs before they sign you as a client, though it's possible to generate interest with a standout demo reel if, for example, the agent is seeking to expand their roster in a way only someone like you can. The best bet is to get a few gigs under your belt before reaching out to prove you're capable of booking steady work. It's important to note that any agent requiring an upfront fee is not a reputable partner; agents should only get paid when their client lands a job.
To find representation, start by Googling talent agencies in your area or searching the SAG-AFTRA database. Not all agencies represent voice actors, so look for those who specifically mention radio and voiceover talent. You want someone who fully understands the ins and outs of this industry. It's also worth researching big-name radio stars on sites like IMDbPro to find out which agencies represent them.
Once you've found agencies with a voiceover department, be sure to thoroughly read through their submission guidelines. Different agencies will ask for different requirements, so don't let yourself get overlooked based on a technicality. If an agency isn't accepting demos, make a note and check back at a later date.
Interested agents will reach out and likely ask you to audition. Ask questions about how representation works, and make sure you feel comfortable working with this person. As your partner, they should make you feel excited to get to work.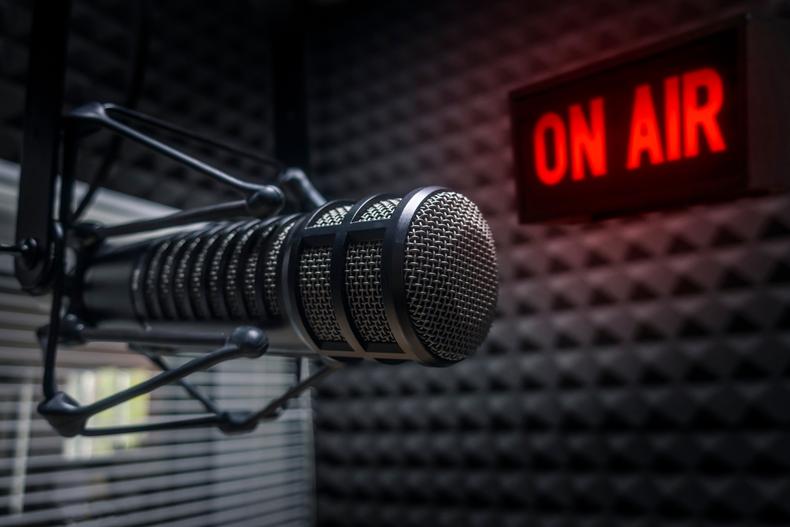 Andrei_Diachenko/Shutterstock
According to ZipRecruiter, the average radio announcer's salary is $55,459 a year, or $27 an hour. Top earners can pull in as much as $117,500 annually, whereas beginners start around $18,500. Some radio jobs pay per the project, such as radio commercials, whereas others may net a full-time salary, like a dedicated station DJ or sports announcer. Some considerations that will affect take-home pay include:
Location:

Radio announcers on national stations are more likely to earn higher salaries than those working with local or independent stations. Bigger markets such as New York City or Los Angeles will also pay more for on-air talent than smaller cities.

Endorsements and appearance fees:

In-demand radio announcers with name recognition can supplement their income by getting paid to attend events such as concerts, conventions, and sports events. Some radio voice actors may also acquire brand endorsements for on-air promotion.

Agent fees:

Radio voice actors who work with an agent will see a percentage of their earnings go toward representation. Talent agents help negotiate terms and book jobs for their actors, and they take a portion of each job's payment for their efforts. On average,

agents will earn 10–20%

of their clients' paychecks.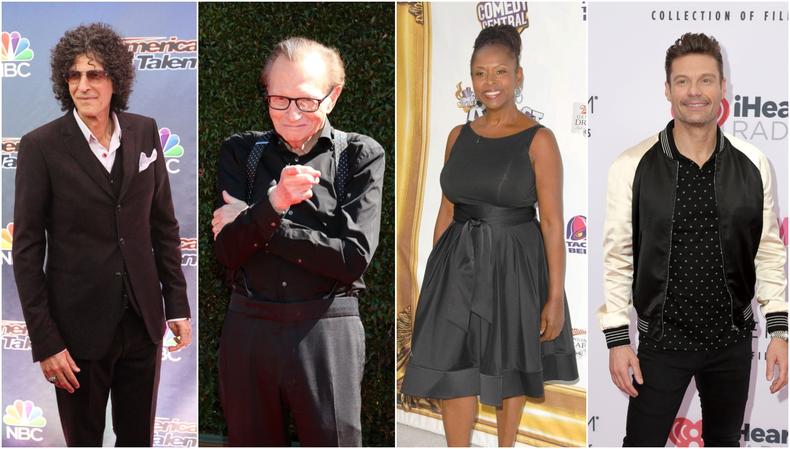 Debby Wong/Kathy Hutchins/s_bukley/Shutterstock
Some of the most famous radio stars include:
Ryan Seacrest:

Best known for "American Idol," Seacrest is also the host of the "American Top 40."

Casey Kasem:

Before Seacrest took the reins, Kasem ruled over the "American Top 40" for decades. He was also the original voice of Shaggy in "Scooby Doo."

Ira Glass:

The host and producer of "This American Life" is also the voice of many other NPR projects.

Terry Gross:

NPR's popular show "Fresh Air" is produced and hosted by Gross, a Peabody Award–winning journalist and author.

Larry King:

As the host of radio call-in program "The Larry King Show," King earned two Peabody awards for excellence in radio media.

Howard Stern:

"The Howard Stern Show" ran on syndicated radio for 24 years before moving to satellite.

Robin Quivers:

As co-host of "The Howard Stern Show," Quivers made a name for herself sparring with Stern.

Vin Scully:

Considered one of the greatest sportscasters of all time, Scully announced Major League Baseball games for 67 seasons.

Mel Blanc:

Blanc rose to fame during the golden age of radio, creating countless character voices across many popular radio shows, as well as originating the voices of Bugs Bunny, Daffy Duck, and Porky Pig on "Looney Tunes."

Laura Schlessinger:

The host of "The Dr. Laura Program," Schlessinger answers caller questions regarding relationships, social issues, and personal growth.

Jocko Henderson:

A pioneer in both radio and music, Henderson had a distinctive speaking style that combined rapping, rhyming, and street slang.