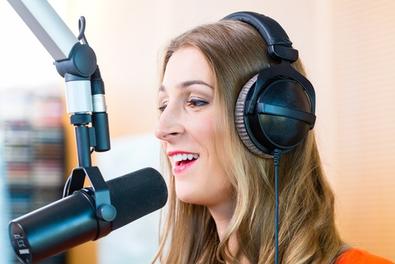 To be a voice actor, you need a few key things: a malleable, one-of-a-kind set of pipes, a willingness to learn and grow, and someone to help you hone your craft. Of course, as with any area of acting, your skills will need some work. If you've been thinking about taking some voiceover classes or workshops, one of these might be perfect for you.
The voiceover workshop at Herbert Berghof Studio in New York City is meant to introduce students to specific techniques necessary for commercial and radio voice acting. The material is taught over a period of two weekends by veteran actor Mark Blum (Broadway's "Lost in Yonkers," "The Graduate"). For $160, students acquire vital tools to help them translate commercial copy into a compelling voice performance. The next course begins March 29.
Voice One in San Francisco has an extensive program of classes for the aspiring voice actor. Led by Elaine Clark, author of "There's Money Where Your Mouth Is," the studio has more than 30 instructors; a recording studio, 30-seat theater, and classroom; and offers classes for beginners to pros (including Home Recording, VO Boot Camp, Bringing Voices to Life, and Video Game Challenge). Additionally, it offers several online videos and tutorials.
Edge Studio has coaches all over the country (New York, Los Angeles, Atlanta, Washington, D.C., and Connecticut included) so that voice actors can obtain proper training no matter where they're located. With nearly three dozen instructors, there's someone for everyone. Its courses are separated into four phases, in addition to Spanish voice training and a class for teens and kids. Those interested can also register for webinars if they're unable to attend a certain workshop. To make training even more accessible, Edge offers teleclasses—students dial a number a few minutes before the class starts, and it's as if they're in the room!
Commercial casting director Ed Lewis heads NYC's Shut Up and Talk. Lewis offers a six-week program called Cracking the Voice Over Code, which is currently in session. The course teaches VO actors—from amateurs to veterans—what clients are actually looking for in a voiceover casting. Hosted by Hyperbolic Audio, the class will provide real-life studio experience to its participants. Lewis also offers one-on-one coaching for those who might prefer a more intimate learning experience.