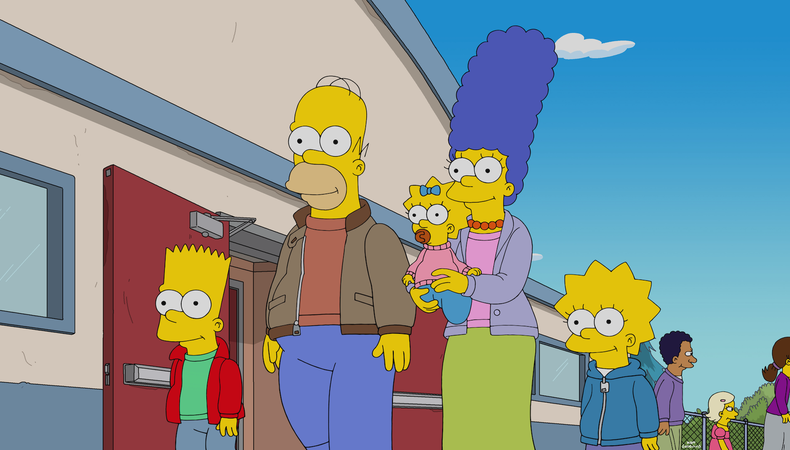 Bugs Bunny. Bart Simpson. Moana. BoJack Horseman. Phineas. Ferb. Whether on kids' cartoons or adult animated series, these characters have all become household names. And it's the voices behind them that breathe life into these animated figures.
If you're wondering how to become a cartoon voice actor, know in advance that breaking into Toontown can be tougher than Roger Rabbit made it look. But we're here to help you along. Here's everything you need to know about the field, including tips from famous cartoon voice actors on how to audition and make a name for yourself in the industry and the truth about how much you can expect to make.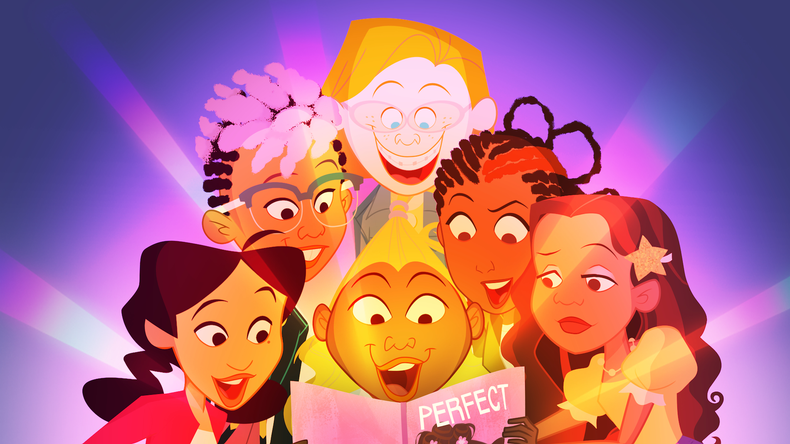 "The Proud Family: Prouder and Louder" Courtesy Disney+
Like anything else, voice acting is a skill—so anyone serious about making it in cartoons must train and practice. Nancy Cartwright, better known as the voice of Bart Simpson, recommends that all voice actors begin with a commercial foundation in voice acting, even if animation is your endgame. Compare it to a career in dance: If your goal is to become the next Misty Copeland, you should get ballet training.
"We all had a beginning," Cartwright says. "You take your baby steps, and as long as you keep on cultivating yourself and challenging yourself and doing what you love and putting yourself out there, as small as you might think it is, your confidence level will start to build."
Take an acting class
Jeff Bergman (best known for being the modern voice of Bugs Bunny, Yogi Bear, and Yosemite Sam) advises aspiring cartoon voiceover actors to start with "being in an acting class, if you can do that."
Once you've honed your acting skills, Bergman recommends finding a voice teacher and learning to sing, since cartoon actors are sometimes asked to sing on the fly.
Check out our list of voiceover training classes and workshops.
Read books on acting technique
Voiceover actors shouldn't only read about VO acting, specifically. Begin with craft-focused titles like "Respect for Acting" by Uta Hagen, "Meisner on Acting" by Sanford Meisner, "Improvisation for the Theatre" by Viola Spolin, and "An Actor Prepares" by Konstantin Stanislavsky.
Of course, there are plenty of great voiceover acting books as well, including "Voice-Over Voice Actor: The Extended Edition" by Yuri Lowenthal and Tara Platt. For tips on technical equipment, software, and the nuts and bolts of the craft, check out "Voice Acting for Dummies" by David and Stephanie Ciccarelli.
Listen to others' voiceover work
Listening regularly to radio commercials, audiobooks, TV spots, narration, and animated dialogue can help you train your ear and your voice for a career as a cartoon voice actor. Examine the layers of a voice and the nuances of their expressions and line readings. "BoJack Horseman" creator Raphael Bob-Waksberg specifically recommends listening to Arnett's "Free Churro" full-episode monologue.
"If you are a voice actor, I think it is really instructive to listen to what [Arnett] does and how he modifies and modulates his voice," Bob-Waksberg says. "I think he's such a pro when it comes to hitting jokes and finding the comedy in lines, but he's also an incredibly emotive, emotional actor, and he gives a very precise technical performance in that episode."
Don't be afraid to experiment
Record and learn from your own voice. "You can do it from your iPhone," Cartwright told us. "You see people giving voices to their pets, to their fish, to their dogs, their cats. You can get creative; you can take something that's inanimate and make it animate. I think your imagination is everything. You just start doing it at home and have fun with it."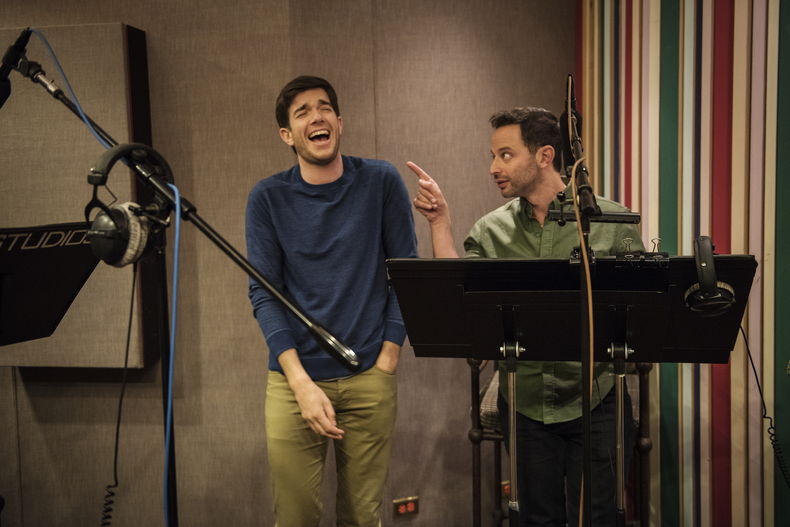 John Mulaney and Nick Kroll recording "Big Mouth" Courtesy Brandon Hickman/Netflix
Casting directors are interested in your interpretation of the script, not just your reading of it. Develop your character: Who are they? How old are they? Where are they from? Be specific, and make sure the voice reflects these details. If a visual representation of the character is provided, use that as a guide. What is the essence of that illustration?
A cartoon voiceover audition should showcase your imagination, your ability to improvise, your versatility, and your timing. Pronunciation and clarity are key, so make strong sonic choices. Use your vocal tone and inflections to communicate the character while maintaining precise diction.
Find auditions on our casting call boards, as well as on other sites. You may wish to upload a profile to Upwork, which is essentially a LinkedIn for artists. If you're self-taping, be sure to test out your equipment first. (Find suggestions for recording equipment here.) Wear clothing that doesn't make noise when you move, and remove jewelry that does. Be sure that you are fully warmed up before a take, just as you would before walking into an audition room.
For recorded auditions, it's important to take written directions seriously. Pay attention to the number of takes requested, how to slate your name, and which takes to put on the same .wav file. Delivering your materials as requested will show that you take direction well and are detail-oriented.
Finally, don't over-edit your submission in postproduction; it's easy to tell when actors have done this. As your career progresses and you book more cartoon voiceover jobs, make an industry-correct animation demo reel.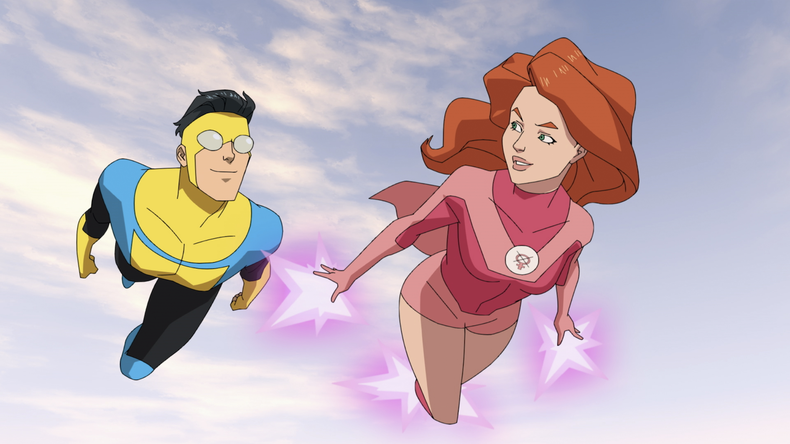 "Invincible" Credit: Courtesy of Amazon Studios
1. Prepare to act alone
You may or may not have a scene partner while recording, so practice delivering your side of the dialogue solo.
2. Be animated but contained
If it helps you get into character, get physical in the recording booth, but don't lose track of your physical distance from the microphone. Use your hands more than your body so that you feel freer without actually moving too much.
3. Set up an at-home studio
Considering that VO work has increasingly become remote, professional cartoon voice actors should consider putting together a voiceover home studio to rehearse and record their work.
4. Rest your voice
Between auditioning, practice sessions, and recording, it's essential to rest your voice. Bergman, for instance, has a "no talking after 10 p.m." rule and has been known to go 15–18 hours without speaking to preserve his moneymaker. He also stays hydrated before, during, and after work.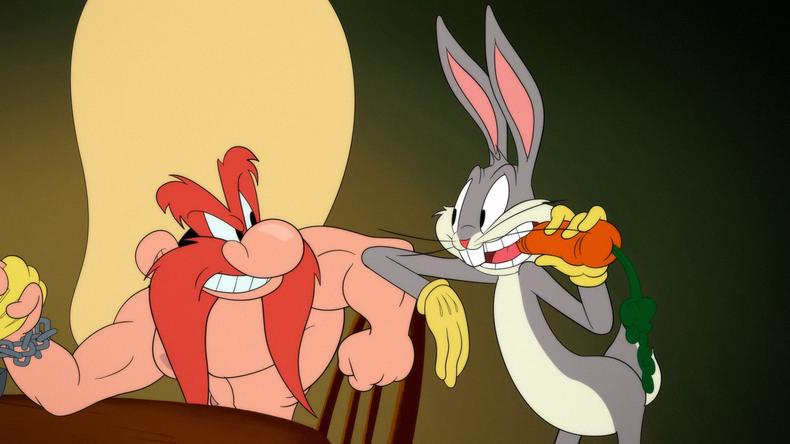 "Looney Tunes Cartoons" Courtesy Warner Bros. Animation
According to SAG-AFTRA standards for television animation series, the minimum "per film or segment of a film more than 10 minutes in length" is $1,082 as of July 2022. For a film or a segment of a film less than 10 minutes in length, the minimum is $981.
Actors working on Legacy AFTRA series make slightly more, at $1,120 for more than 10 minutes and $1,014 for less than 10 minutes, plus additional compensation for each voice after the third. You or your agent can always negotiate a higher rate.
Compensation for nonunion cartoon voiceover jobs varies, but using the baseline union rates as a guide should help you and your employer reach a fair agreement.
Top cartoon actors can earn six-figure salaries per episode if their show becomes a hit. The principal cast of "The Simpsons," for example, made between $5,000 to $30,000 per episode in 1998; by 2011, that number had grown to $440,000 per episode.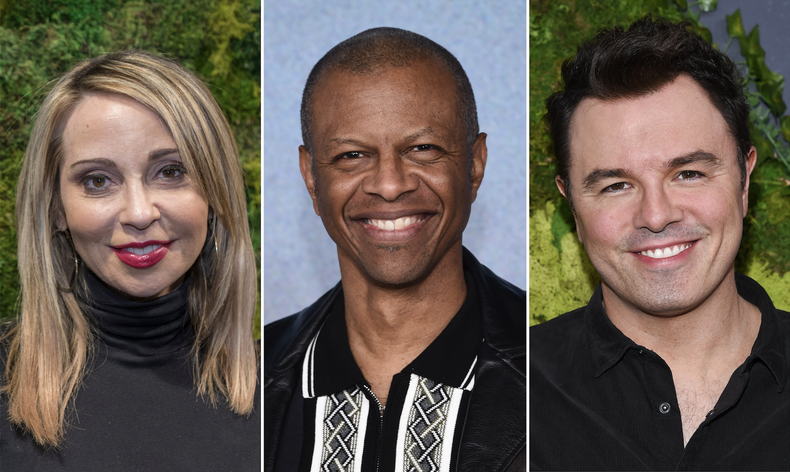 Eugene Powers/DFree/Shutterstock
Mel Blanc:

This legend originated the voices of Bugs Bunny, Daffy Duck, and Woody Woodpecker, to name just a few. He voiced more than 100 "Looney Tunes" characters in his day, plus Barney Rubble on "The Flintstones" and many more. Bergman has since inherited much of Blanc's roster.

Tara Strong:

Strong is best known for voicing Dil Pickles on "Rugrats," Bubbles on "The Powerpuff Girls," and Timmy Turner on "Fairly OddParents."

Cree Summer:

Summer voiced Rugrat Susie Carmichael and has worked on "Teen Titans Go!" "Clifford the Big Red Dog," and "Danny Phantom."

Elizabeth Daily:

Daily played Buttercup on "The Powerpuff Girls" and Tommy Pickles on "Rugrats." She also voiced the titular pig in "Babe: Pig in the City" (taking over the role from the late Christine Cavanaugh).

Phil LaMarr

: This formidable voice actor's credits include "Futurama," "Samurai Jack," and "King of the Hill."

He's also played multiple superhero roles in series including "Justice League Unlimited"

and "Wolverine and the X-Men."

Seth MacFarlane:

Multihyphenate MacFarlane is a voiceover staple for his work on "Family Guy" and "American Dad!" both of which he co-created.

Carlos Alazraqui:

Taco Bell lovers know Alazraqui as the famous chihuahua mascot; Nickelodeon fans know him as the title character on "Rocko's Modern Life."

"The Simpsons" cast:

The regular cast of "The Simpsons"—including Cartwright, Dan Castellaneta, Julie Kavner, Yeardley Smith, Hank Azaria, and Harry Shearer—are among today's top talent and earners.