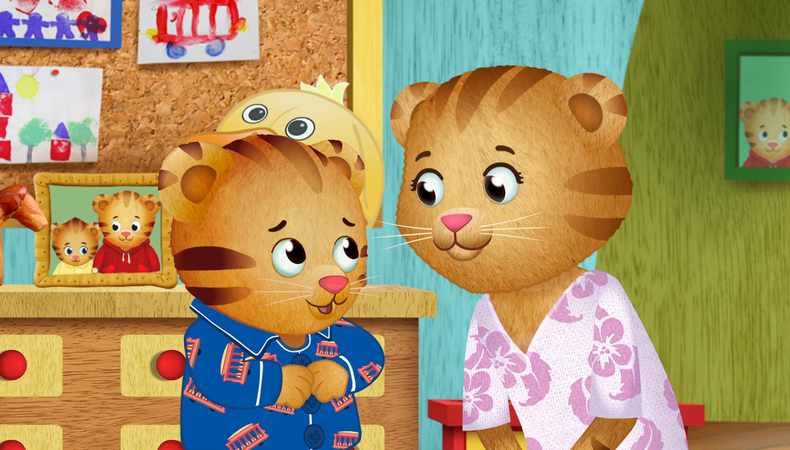 It's a beautiful day in the neighborhood...won't you be in it? PBS Kids' "Daniel Tiger's Neighborhood" (commonly known as "Daniel Tiger") is an American-Canadian flash animated children's show based on the Neighborhood of Make-Believe from "Mister Rogers' Neighborhood."
Centered around four-year-old Daniel Tiger and his friends (Katerina Kittycat, Miss Elaina, O the Owl, Prince Wednesday, etc.), the show's episodes provide life lessons for preschool-aged kids, namely emotional intelligence, kindness, human respect, acceptance, and diversity. These socio-emotional themes, along with sadness, disappointment, anger, joy, and thankfulness, are often telegraphed through songs. The legacy of its source material, created and developed by Fred Rogers, has prevailed now for five seasons.
Despite production setbacks across the industry due to COVID-19, the show was active throughout August, helping kids deal with the difficult situation with its extremely relevant Season 5, which debuted August 17. The new season kicked off with an entire COVID-19 special, titled "Won't You Sing Along with Me?" that aimed to help kids with feelings that arise from quarantine, as well as adjusting to this "new normal."
"Season 5 of 'Daniel Tiger's Neighborhood' will showcase even more relatable storylines and fresh musical strategies to help keep preschoolers learning, growing, and navigating the world around them," said Paul Siefken, the president and CEO of Fred Rogers Productions, ahead of the season premiere. "In addition to the upcoming special, the season will include episodes about sudden changes at school, separation from family members, staying safe, hospital stays, respecting one's personal space, disappointment, generosity, and grown-ups taking care of you."
"Daniel Tiger's Neighborhood" was created by Angela Santomero, co-creator of "Blue's Clues," based on characters created by Fred Rogers. It is produced by Fred Rogers Productions, 9 Story Media Group and Out of the Blue Enterprises, and has long been executive produced by Santomero, Kevin Morrison, and Vince Commisso. The series debuted on September 3, 2012 on PBS Kids and was renewed for Season 5 in 2019.
Although Season 5 of "Daniel Tiger's Neighborhood" has been on hold since the airing of its fifth episode, it has not yet been announced whether production has been maintained or casting/auditioning is being done for future episodes. However, be sure to stay updated through Backstage for opportunities to join the neighborhood as well as other animated and kids productions. With a show like "Daniel Tiger," on which many new friends and voices—especially younger ones—are introduced from episode to episode, any fun, expressive kid with talent should keep an eye on postings.
"The show has been on the air for six years now, and we do use children in all the main roles, so we have had to recast," said the show's producer Chris Loggins. "[Finding a replacement actor] is a challenge. We want to keep a level of continuity because that's important for our fans."
When it comes to the rotating principal cast, it mostly consists of working/auditioning child actors who have navigated the theater/commercial/TV/film circuit. The actors, who have generally ranged from 10 to 13, landed the jobs through the normal routine of agents, open casting calls, and/or auditions.
"Daniel was my first voice acting role really and I think he's really shapeshifted my career," says Keegan Hedley, who has helmed the title role since 2018. He has since voiced Rubble in "PAW Patrol," but before "Daniel Tiger," was performing in plays and auditioning for commercials. "I was kind of fed up with commercials, and I got into doing TV and movie auditions with my current agent. I just kept auditioning and then I got 'Daniel Tiger.' That's all you need to do. That's what this business is; it's audition, audition, audition...rejection, rejection, rejection, rejection...then a small chance you're gonna get a job. Daniel kind of kick-started my career; I love all the people that work there, it's such a fun show to work on, and it's so, so great."
It should be noted that every animation casting process is different. However, most of them—even prior to quarantine—are done remotely, with CDs and producers listening more for the actors' performances (emotions, personalities, attitudes) rather than precise line readings. This is even more so the case with less finessed/experienced younger actors.
According to Theresa Fowler Pittius, a VO coach for actors who have been in Nickelodeon and Disney animation series, the surefire steps for booking your child this type of work are:
"[Enroll them] in

acting classes

if they're not already."

Put together a "

professional demo

to help book voiceover gigs."

Make sure they're ready to sing (this is a big component for any animated series, but especially "Daniel Tiger," which serves as part musical.

Submit to youth agencies "by looking up the email addresses of their youth department, commercial, VO, and print agents."

Make sure you have a quality microphone and recording software (this is even more crucial with the pandemic as all auditions and performances will be done remotely going forward). Check out Hedley's at-home VO preparation process and recording booth set up

here

.
"Remember to be patient and consistent, and keep the stress level for your child to a minimum," Pittius says. "This is fun and should always be a positive, enriching experience for them no matter what skill level they may be. The voiceover business can be challenging to break into, but once you book a job or two, it becomes easier and will be an impressive addition to your child's résumé and overall abilities."
For more information on Fred Rogers Productions and any and all filming that occurs, check out its official site.
Because the show features many young voices and has been on the air since 2012, there have been many casting changes over the years. Since 2012, there have been three young actors in the booth as Daniel Tiger, two for Miss Elaina, two for Katerina Kittycat, and three playing the part of Prince Wednesday. The current cast consists of:
Keegan Hedley as Daniel Tiger

Heather Bambrick as Mom Tiger

Ted Dykstra as Dad Tiger

Markeda McKay as Miss Elaina

Callum Shoniker as Prince Wednesday

Jenna Weir as Katerina Kittycat

Benjamin Hum as O the Owl

Laaibah Alvi as Jodi Platypus
Nathalie Toriel is the casting and voice director for "Daniel Tiger's Neighborhood." Based in Montreal, Toriel has worked as a voice actor, director, and acting coach on a variety of animated series, TV, video games, and short films. As a voice director, she has spent many years shaping great performances out of active VO actors.
In addition to Toriel, the casting for "Daniel Tiger" is conducted by the producers. However, the specifics of the process, in terms of what exactly is required during an audition, is relatively unknown. In the comments section on her website, Angela Santomero responded to a mother who asked about her daughter being on the show: "Though I'm not involved in the casting, I'll pass your note over to my producers & they can take it from there."
In regards to casting Jake Beale as Daniel Tiger when the show first started, Santomera said, "voice is quite tricky to cast, especially for this age demographic, but when we heard Jake, we knew we had a winner!"
Come in and bring a lot to the table: "Actors that I have found to have the most skill in the recording booth are those who have theater, improv, and sketch comedy training and experience," says Jamie Sparer Roberts, head of the Walt Disney Animation Studios casting department. "We are looking for actors with real acting chops who are able to transmit emotion through voice only, think on their feet, and really come ready to dig in and collaborate."
Go beyond the page: According to VO CD Mary Hidalgo, who cast the "Lego Movie" franchise and "Spider-Man: Into the Spider-Verse," among others, "Sometimes, when I audition actors, they just give me what's on the page and they don't dig any deeper. I do like a deeper dig. Read between the lines or do something that just kind of pops away from all the other performances. When I have to do auditions for things, I audition a lot of people. It's nice to hear something that feels like an oddball take on the character or an interesting voice or emotion. Just reading what's on the page most of the time doesn't work for me."
Make 'em laugh: Hidalgo continued, saying that a memorable voiceover audition is one in which she laughs. "If I laugh at the audition because it's just weird, then I'll remember them. I hear so many auditions and everything kind of starts sounding the same until somebody does something really weird or unusual and you just think, Ah, I'll remember that; even if they're not right for this, I'll remember that person."
As much experience as possible is key: Hedley says, "I do suggest a couple [of] classes you can take. Like I'm doing LeBlanc School of Acting [in Vancouver, British Columbia] through Zoom and online classes...and it's been really great. And actually, I'm doing a Second City camp, a big improv camp, and I'm doing that with my good friend Callum Shoniker (Prince Wednesday)."
Currently, there's no information regarding auditions for the remainder of Season 5 or future seasons of "Daniel Tiger's Neighborhood." But be sure to keep your eyes out for notices regarding casting calls/video submissions/auditions on the show's website and the Fred Rogers Productions website, as well as Backstage. Additional links to keep updated include the show's Twitter and Instagram pages, and creator Angela Santomera's website/blog. Those with singing and dancing backgrounds can stay connected here in regards to "Daniel Tiger's Neighborhood Live."
In the past, Backstage has hosted several casting calls for live performances of "Daniel Tiger's Neighborhood," including: