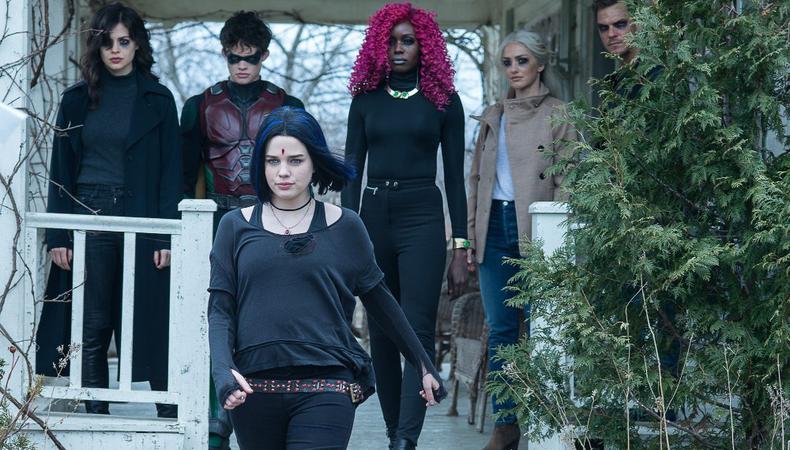 DC Universe's "Titans" brings the mightiest of heroes to the small screen—namely, a group of young superheroes who band together as the Teen Titans to defend Earth against the forces of evil. Based on the eponymous comic books, this gritty action-drama series features a wide range of DC characters, including Batman's sidekick Dick Grayson (Nightwing), extraterrestrial Koriand'r (Starfire), half-demon Rachel Roth (Raven), and animal shapeshifter Gar Logan (Beast Boy).
Could you be the newest addition to the team? In this in-depth guide to getting cast on "Titans," we'll share audition tips from current cast members and casting directors—plus the latest news about HBO and DC Universe casting calls and auditions.
Season 1 of "Titans" follows along as a new iteration of the superhero group comes together. Rachel, seeking protection from dark visions, turns to one of the Teen Titans' original members, Dick (formerly Batman's sidekick, Robin). The two team up with Koriand'r and Ryan to fight crime, eventually discovering that Rachel's demon father is hunting her down—with a plan to bring Hell to Earth and dominate the universe. By the season's end, Dick has reconciled with his old mentor, Bruce Wayne. The iconic billionaire grants him access to the original Titans' base of operations, Titans Tower in San Francisco—on the condition that the new Robin, Jason Todd, can come along.
In Season 2, Dick trains Rachel, Ryan, and Jason to hone their abilities (supernatural or otherwise). The new group teams up with several of the original Titans—Hank Hall, Dawn Granger, and Donna Troy—against the brutal assassin Deathstroke, who precipitated the original team's split. With the villain's return, and the emergence of new threats, the Titans are forced to be stronger than ever before.
"Titans" was created by Akiva Goldsman (writer of "Batman Forever" and "I, Robot"), Geoff Johns (producer of "Suicide Squad" and "Wonder Woman"), and Greg Berlanti ("Supergirl," "Legends of Tomorrow," "You"). It is executive produced by the creators, as well as Sarah Schechter, Greg Walker, and John Fawcett.
"Titans" began airing on DC Universe in October 2018 and was renewed for a third season in November 2019. Production on Season 3 was postponed due to COVID-19 and resumed in October 2020 and is set to wrap by June 2021.
Season 3 of "Titans," which is slated to premiere sometime in 2021, will be the first season to be released on HBO Max. The streaming service has reportedly already renewed the superhero series for a fourth season, as well.
With production on Season 3 already underway, there are currently no casting calls for "Titans." If you're interested in auditioning for other HBO or action-adventure gigs, check out these projects similar to "Titans" that are casting now—and keep an eye on Backstage for future opportunities to join the series in Season 4. Plus, follow the show's official Twitter and Instagram pages for even more updates.
Past casting notices can give us a sense of what producers and casting directors are looking for when it comes to guest stars and series regulars. Casting calls for "Titans" Seasons 1 and 2 have included:
Jax

: "Male, 13-15 years old, Asian, funny, self-deprecating, and charming. All shows produced, series regular." (This notice ran for several weeks in 2017 and turned out to be an audition for Gar Logan/Beast Boy.)

Monica Saini

: "Female, early 20s-early 30s, East Indian. Has the mentality of a survivor and the scars along with it. Unsettled and a little unusual. Orphan. Limited dialogue in her first appearance. Must be familiar with Hindi. Possibly recurring guest star."

Max:

"Male, 21-24, Mixed Latino or Mixed Asian. As a young boy, Max was a kind-hearted soul who never measured up to the expectations of his domineering military father. Bullied by his peers, he retreated even further inward... 7/13 series regular." An additional note from the casting associate: "Because of the context of the role, we would really like to look for actors who are deaf or hard of hearing, and are fluent in ASL." (This role, which was revealed to be Deathstroke's son, Jericho, went to YouTuber and trans activist Chella Man.)
It's clear that the creative team behind this new iteration of the Teen Titans are making representation a key element in their casting process. "I think DC has done a pretty damn good job of casting the right person for the right role," says Ryan Potter, who plays Garfield Logan/Beast Boy. "In terms of their inclusion of diversity and branching out in terms of where they find their talent, I think they've done a far better job in representing what humanity looks like in today's world. It's cool to join a team that doesn't necessarily look like one tone, or one palette, or just all very single-ethnicity."
And remember: auditions for teen actors often come through their agents. Don't have one? Here's how to get started.
The primary cast of "Titans" includes:
Brenton Thwaites as Dick Grayson/Nightwing

Anna Diop as Koriand'r/Starfire

Teagan Croft as Rachel Roth/Raven

Ryan Potter as Garfield Logan/Beast Boy

Curran Walters as Jason Todd/Red Hood

Minka Kelly as Dawn Granger/Dove

Alan Ritchson as Hank Hall/Hawk

Joshua Orpin as Conner/Superboy

Chelsea Zhang as Rose Wilson/Ravager

Conor Leslie as Donna Troy/Wonder Girl

Damaris Lewis as Blackfire

Iain Glen as Bruce Wayne
Season 3 will see the addition of Jay Lycurgo ("I May Destroy You") as Tim Drake.
The team of casting directors behind "Titans" includes:
David Rapaport and Lyndsey Baldasare of

Rapaport/Baldasare Casting

, the Los Angeles-based team behind "Legends of Tomorrow," "Supergirl," "Riverdale," and "Chilling Adventures of Sabrina"

Jason Knight ("American Gods")

John Buchan ("Killjoys")
Rapaport, whose casting résumé also includes "Arrow," "The Flash," and "Batwoman," knows a thing or two about finding talented superheroes for TV. He describes the casting process for such shows as "fast, furious, and you see a ton of people." What can you expect as an actor? "Most auditions are the pre-read, the producer session, and then a choice is made," Rapaport explains. "[I]f the network signs off on them, you make the deal."
Casting superheroes for a TV show like "Titans"—as opposed a movie—offers the "opportunity to discover more novice talent," Rapaport tells Backstage. "I think, for the most part, films focus on established actors. In TV, I'm casting [up] to 15 roles a week on each show, and the actors are typically pretty unknown. They're not household names. It gives me a chance to really discover and audition people who are closest to the character for a show like 'Riverdale,' 'Arrow,' or 'Supergirl' as opposed to casting them for name recognition or face recognition. It's really about who gives the best performance, so to me it's exciting in TV on a weekly basis to be able to really put forth the best talent I've been seeing."
If you're wondering what to expect from the "Titans" audition process, look no further than the current cast members for audition tips and advice. For Potter (Gar Logan/Beast Boy), the transition from auditioning to landing the part happened quickly. His did his first audition over Skype, after which he was called back to L.A. to test for the project. "I kind of left there thinking like, 'Okay, that went all right. We'll see.' I don't want to dwell too much on auditions because it'll tend to ruin an actor's mood if they get too invested," he says. Later, he got a text asking him to schedule a fitting with the costume design team. "I never got that message of, 'Congrats. You got the role. We look forward to working with you.' Blah, blah, blah. That's usually what you get. And it wasn't that. I just got, 'Alright, this the address of the costuming. Fittings start on this day.' It was like, 'Alright, straight to work.' No time to take a moment, we're getting right into it."
Here's what the rest of the "Titans" cast—and the casting directors—have to offer when it comes to on-camera audition tips:
Your self-tape doesn't have to be perfect, but it can't be distracting. "Basically, it takes good lighting and good sound to make a good taped audition," Rapaport says. "I watch literally thousands of self-tapes and I'm not too picky about quality, but when I show them to the producers, anything that distracts them—such as props or not being centered on camera—can hinder chances. You want to mimic the audition process as much as possible for a self-tape. It should be mid-chest to right above the head, centered in the frame, with good lighting, and we should be able to hear them properly. But it can be tough. I understand some actors are on location or at home with their parents and can find it hard to read lines with somebody but a reader can make a big difference."
Make the character your own. In the audition room, casting directors want to see what makes you special. "A big mistake a lot of actors tend to [make] is they try to impress me or the producers by guessing what we want," Rapaport says. "The whole purpose of auditions is to see what they can come up with and discover what they can bring to the game. If we knew what we wanted, we wouldn't be doing auditions, we'd be making straight offers. It is high pressure, scary, and overwhelming, but those few minutes are your few minutes and we want you to shine. It's a big misconception that casting directors and producers don't want you to do well but we want the exact opposite. I want you to feel safe, to feel comfortable and be an answer to my problem."
"They shouldn't try to be something they think the director or showrunner wants them to be," "Titans" executive producer Greg Berlanti adds. "The thing that's unique about them is them." Wondering what, exactly, that looks like? Check out this audition tape for a new character on Season 3 of "Titans."
Go in prepared. Curran Walters, who brings the role of Jason Todd to life, says of his audition: "I was familiar with the show, but I wasn't all that familiar with the character. I grew up watching 'Teen Titans,'' which was pretty cool, so I was pretty ecstatic to go in for that, but [was unfamiliar] with the character, but I did a little research before I auditioned."
You don't have to live in L.A. "I look everywhere," Rapport says of his casting process. "When working episodically, we mostly look for represented talent because that process is so short, but we just did a worldwide search for [a new series]. We did an online open call where anyone in the world could film and upload their own audition, and I watched [them]. I can't even tell you how many auditions I watched for that. When we do a pilot, we also have CDs working for us in Vancouver [and] Toronto, usually in the U.K. and Australia, and New York City, in addition to Los Angeles. It's a team effort."