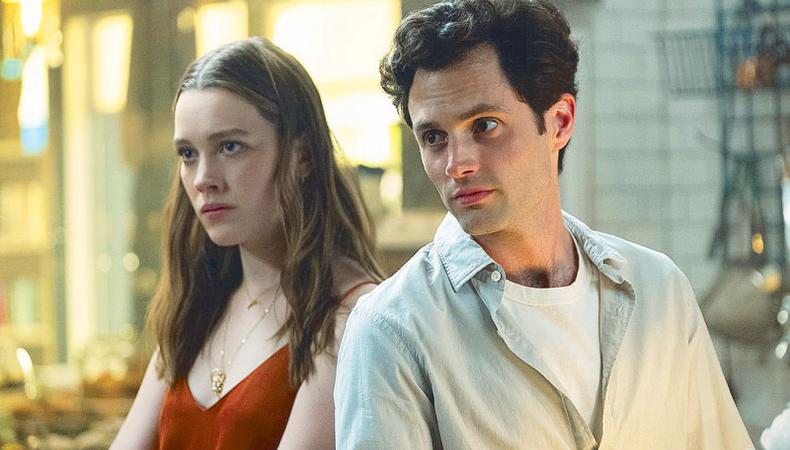 You'd better watch out. The Lifetime/Netflix psychological thriller "You"—about serial killer Joe Goldberg and his complicated love life—is slowly but surely returning to the streaming service with a third season, with production currently underway in Los Angeles.
In this in-depth guide to getting cast on the hit Netflix series, we'll share audition tips from casting directors and current cast members, including Penn Badley and Victoria Pedretti—plus the latest updates about open Netflix auditions and casting calls for "You" Season 3.
Season 1 of "You," based on Caroline Kepnes' novel of the same name, follows NYC bookstore manager Joe (Badley). His obsession with customer Guinevere Beck (Elizabeth Lail) quickly turns sinister, as he uses social media and other technology to monitor her every move. The first season ends with Joe killing Beck and framing her therapist, Dr. Nicky (John Stamos).
In Season 2, loosely based on Kepnes' sequel novel "Hidden Bodies," Joe has moved to Los Angeles to make a fresh start. While he strives for a normal relationship with aspiring chef Love Quinn (Pedretti), it doesn't take long before his old habits re-emerge. However, Love is not who he thinks she is—in the final episode, it's revealed that she is just as obsessive and murderous as Joe. In fact, he has been her prey all along.
While the plot of the third season is still under wraps, Season 2 ended with Joe and Love moving in together with a baby on the way (and a new victim in sight). "I will say that we have an idea for Season 3 that is so exciting that people talk about it in the [writer's] room everyday," developer and showrunner Sera Gamble told Us Weekly's "Watch With Us" podcast. "I'll just say, I hope we get the chance to keep making the show."
In August 2021, a teaser trailer for Season 3 dropped. The trailer features Joe's voice talking to his new baby—a son—who they have decided to name something "literary, of course": Henry.
First comes Love. Then comes baby.

You Season 3 premieres October 15. pic.twitter.com/hiGs2MEdVv

— Netflix (@netflix) August 30, 2021
"You" was developed by Greg Berlanti ("The Flash," "Legends of Tomorrow," "Riverdale") and Sera Gamble ("The Magicians," "Supernatural"), the latter of whom is the showrunner. The two also serve as executive producers, alongside Marcos Siega, Gina Girolamo, Les Morgenstein, Sarah Schechter, Lee Toland Krieger, Silver Tree, Michael Foley, and Azalea Brooke.
Season 1 of "You" started airing on Lifetime in Sept. 2018. The show moved to Netflix as a 'Netflix Original' for Season 2, which premiered in Dec. 2019. The following month, Netflix ordered a 10-episode third season. Production on Season 3 began in November 2020, although it was halted for several weeks in December and January due to COVID-related concerns.
We recommend you stay at least 6 feet from Joe Goldberg at all times.

YOU Season 3 is back in production. pic.twitter.com/ijti25tPFk

— Netflix (@netflix) November 2, 2020
Season 3 will drop on Netflix on Oct. 15, 2021.
There are currently no new casting calls or auditions for the series. Check out our list of thriller and horror projects similar to "You" that are now casting—and keep an eye on Backstage for future opportunities to join the cast.
Casting notices for "You" have appeared on Backstage before. One for extras casting in 2017 called for a wide variety of character types, including:
Hip, eclectic NYU-types. All genders and ethnicities, 18-25

Model types. All genders and ethnicities, 18-30

Upper East Side types. All genders and ethnicities, 18-70

SAG-AFTRA actors with bicycles. All genders, 18-60

Hip Williamsburg Types, All Genders, 18-45

Actors with Tattoos, All Genders, 18-40

Featured Bartender, All Genders, 18-40

Trans Woman, 35-65
Over the past year, producers and casting directors have been on the hunt for more than 10 additional actors to join Season 3, including three series regular roles. One casting notice for a "major recurring guest star" called for an actor to play Dante: "A veteran whose sight was damaged in combat, Dante works at the local library. A step-father to his partner Ted's two boys, Dante is sarcastic, world-weary, and unfailingly dependable. We are looking for an actor who is visually impaired—this includes LOW VISION (degenerating vision), LEGALLY BLIND or Totally BLIND." While these roles have already been cast, "You" is a show about a killer, after all—each new season so far has come with a whole new rolodex of characters. While the show hasn't yet been renewed for a fourth season, showrunner Sera Gamble says her team has plenty of material: "I am not scared at all of saying that we definitely could follow Joe for several more seasons."
Keep in mind that for larger speaking roles—series regular, recurring, guest star, co-star, contract—you'll likely need to go through your agent. Don't have an agent? Here's how to get one.
The announced cast for Season 3 of "You" consists of:
Penn Badgley

as Joe Goldberg

Victoria Pedretti as Love Quinn

Saffron Burrows as Dottie Quinn

Dylan Arnold as Theo

Tati Gabrielle as Marianne

Travis Van Winkle as Cary

Shalita Grant as Sherry

Scott Speedman as Matthew

Michaela McManus as Natalie

Shannon Chan-Kent as Kiki

Christopher Sean as Brandon

Ben Mehl as Dante

Chris O'Shea as Andrew

Bryan Safi as Jackson

Mackenzie Astin as Gil

Ayelet Zurer as Dr. Chandra

Jack Fisher as Young Joe

Mauricio Lara as Paulie

Scott Michael Foster as Ryan
For its first two seasons, the casting directors behind "You" were David Rapaport and Lyndsey Baldasare of L.A.-based Rapaport/Baldasare Casting, who also assembled the talents on "Legends of Tomorrow," "Supergirl," "Riverdale," and "Chilling Adventures of Sabrina," among many others. CDs Beth Bowling and Kim Miscia, of Bowling/Miscia Casting ("Blue Bloods," "Mr. Robot," "Gotham"), were also involved in casting Season 1.
When it came to casting "You," the process "was extensive," showrunner Sera Gamble says of assembling the actors for Season 1. "We were adamant that Joe is neither Mr. Robot nor Dexter. He's an amateur. He's a smart guy, he's well-read and not that different from you and me."
The role eventually went to "Gossip Girl" actor Penn Badgley. "As a casting director, I always keep an eye out for people that have sort of been in the family, so to speak," says Rapaport, who served as the CD for "Gossip Girl." "I love to use a lot of the same actors or see the same actors over and over again and give them a lot of opportunities. And so with ["You"], we read a lot of men for that role that we had seen before or cast before. And so it's just a matter of timing and kind of finding that perfect fit."
When it comes to TV talent, Rapaport tells Backstage he "looks everywhere. When working episodically, we mostly look for represented talent because that process is so short, but we just did a worldwide search for the role of Beast Boy on the new series "Titans." We did an online open call where anyone in the world could film and upload their own audition, and I watched [them]. I can't even tell you how many auditions I watched for that. When we do a pilot, we also have CDs working for us in Vancouver [and] Toronto, usually in the U.K. and Australia, and New York City, in addition to Los Angeles. It's a team effort."
Hoping to audition for the next season of "You"? These audition tips from the cast members and casting directors will ensure you go in prepared:
Be yourself in the room. "As a casting director, I'm looking for actors to offer up their unique selves," Rapaport stresses. "I want actors to come in and share their unique perspective on material and their unique personalities. I can see right through someone when they are putting up a facade. Those fake performances are boring and inauthentic. Think about your favorite artists and musicians. They don't hold back. They let you inside. It takes a tremendous amount of courage to walk into any casting room. To share yourself and be vulnerable. I get it. But those that are willing and able to share are the ones who excite me most."
Berlanti echoes this advice: "They shouldn't try to be something they think the director or showrunner wants them to be. The thing that's unique about them is them."
They're looking for new faces. For most of his projects, Rapaport casts a lot of younger actors. "But what I like most about that is the opportunity to discover new talent," he says. "There are times when the roles feel similar in type, but no actors are the same, and I take joy in really digging deep in my quest to find new breakout talent. I think the shows are varied enough that I'm never bored creatively. The characters and actors required for a show like 'The Flash' can be so extremely different than those I cast on 'You,' for instance...That contrast keeps me interested."
Even a "no" can be an opportunity. Victoria Pedretti wasted no time after graduating from college—she moved straight to NYC and jumped headfirst into auditions. "And I was getting close already, pretty early on to roles that I ultimately didn't get but I was like, 'Damn, this is feeling good. Something's working. People are responding,'' Pedretti recalls. "Then, I'm like, 'Okay, let's just keep it going.'" One of those early unsuccessful auditions was for Season 1 of "You." "It was the first callback I ever had for a show," she says. Her hustle ultimately paid off with roles in "The Haunting of Hill House," "Once Upon a Time in Hollywood," "The Haunting of Bly Manor"—and, of course, Season 2 of "You."
Don't let the audition process limit you. Remember that auditions aren't the sole measure of your ability as an actor. "I hate auditioning," says Badgley. "It is a really hard process that I don't think has as much to do with acting as it has to do with the audition...The advice I would give to any young actor, and I would include myself in this, is don't let the conventions and the desires of the industry and the people you are auditioning for become the thing you're most concerned with. Don't let the limitations of the industry become limitations for your expression as an artist and as an actor."
Find the darkness in yourself. On a show like "You," there's no guessing who will end up murderous, manipulative, or just plain creepy. It's not easy to play the villain—just ask Badgley. "I didn't want to do it—it was too much," Badgley says. "I was conflicted with the nature of the role. If this is a love story, what is it saying? It's not an average show; it's a social experiment. And then what was key in me wanting to jump on board were my conversations with Greg Berlanti and Sera Gamble, the creators, and understanding Joe's humanity. I knew that I would be conflicted about the role from day one till the last day, and that is why they thought I would be good for it, is that I'm not psyched to play somebody of this nature."
When it comes to unlocking your inner baddie, acting coach Michelle Danner suggests a deep dive into your character's psyche. "Is your character a sociopath, a psychopath, a person who snapped and became psychotic, or just someone who is plain evil?" she asks. "To know exactly how they would be diagnosed will help you to understand their pathology. Literally do the medical research on the person. People can have flaws they've acquired, or the defects can be ingrained in their nature. Know the case study that applies to them and how they are wired."