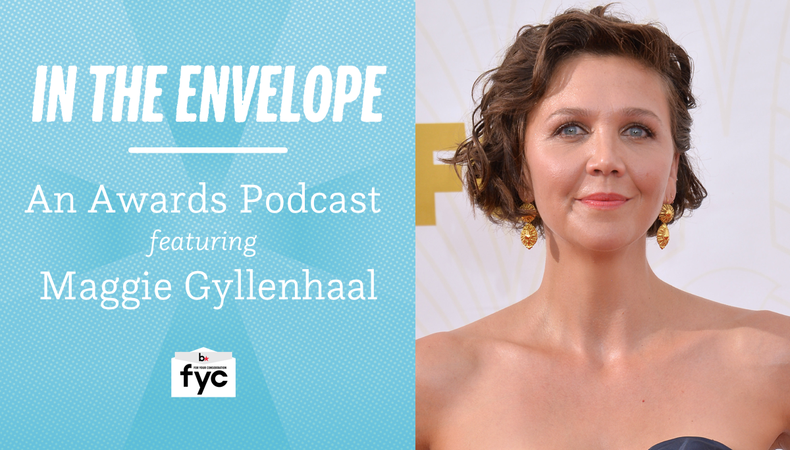 "In the Envelope: An Awards Podcast" features intimate interviews with award-winning actors and other creatives. Join host and Awards Editor Jack Smart for a front row seat to the industry's most exciting awards races, and valuable acting and career advice from contenders!
Between her award-worthy roles in Netflix's "The Kindergarten Teacher" and on HBO's "The Deuce," now is a pretty great time to be Maggie Gyllenhaal—and to be a fan of hers.
An actor and activist who has turned in thoughtful work in her every film project, from "Donnie Darko" and "Secretary" to "Sherrybaby" and "The Dark Knight," Gyllenhaal seems intent on never taking on a role that isn't challenging, complex, or downright provocative. Her résumé is representative of an artist subverting expectation at every turn; in her "In the Envelope" interview, she describes that approach as a fascinating "tightrope walk." It's why she earned a Primetime Emmy nomination and won a Golden Globe for the miniseries "The Honourable Woman," and has an Oscar nod for her supporting role in "Crazy Heart" opposite Jeff Bridges. (Those familiar with her work agree one Oscar nod is not enough.)
In 2018 she was both producer and star on Season 2 of "The Deuce," George Pelecanos and David Simon's portrait of seedy New York City streets in the 1970s during the birth of the pornography industry, and in writer-director Sara Colangelo's Netflix film "The Kindergarten Teacher," which follows a woman's growing obsession with the poetic talents of one of her 5-year-old students. Gyllenhaal's performances as Candy and Lisa, respectively, together provide invaluable insight into not only her artistic process, but also the state of Hollywood today, particularly for women.
As film and guild awards season approaches—and the Screen Actors Guild Awards' nominating committee begins to name their picks—tune into Gyllenhaal's interview below. And subscribe to Backstage's "In the Envelope" wherever you get your podcasts!
Listen now on: