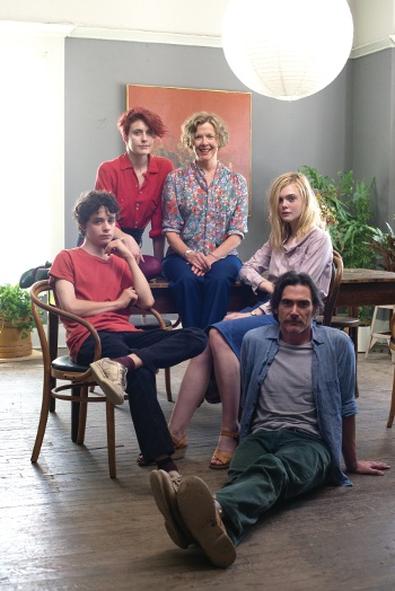 The indie film sphere is stepping up its ensemble game this year with some exciting casting choices that pair well-known but never-before co-starring players. From Annette Bening and Greta Gerwig, to Molly Shannon and Jesse Plemons, these narratives and their actors bring an altogether new experience to the big screen.
"20th Century Women" (A24)
Just like the youth it so beautifully depicts, "20th Century Women" defies convention. Writer-director Mike Mills ("Beginners") creates feelings and moments, and in turn, he and his cast conjure a film that's as much about nothing as it is about everything.
Set in the summer of 1979, "20th Century Women" features the fictional Dorothea Fields as its hero. Played by a never-better Annette Bening, the role seems destined for awards attention. She's a Great Depression baby, now a single mother in her 50s with a young teenage son, Jamie (Lucas Jade Zumann). But she doesn't know how to raise him in the modern world, one that is so different from when she was a teen. So while he's listening to the Talking Heads and doting on his lifelong friend and neighbor Julie (Elle Fanning), she's smoking like a chimney and perpetually remodeling her 19th-century home, hoping Julie and her tenant, Abbie (Greta Gerwig), can help lead him to manhood.
While these characters are all rightfully compelling in their realistic day-to-day, it's how they react to external social expectations and their nation's shifting political climate that really packs the emotional punch. As homages to the women in Mills' own life growing up, Bening, Fanning, and Gerwig are simply astounding, bringing intention and wisdom to characters who on the surface seem out of place and lost. They'll have you feeling right at home. —Benjamin Lindsay
"Always Shine" (Oscilloscope)
Sophia Takal's sophomore directorial effort stands as one of the year's most compelling indie thrillers, and will hit close to home for any actor who's looked on as a friend's career moves forward. Fueled by a toxic rivalry, "Always Shine" is a spiraling descent into passive-aggressive exchanges that eventually implode—with gorgeous performances throughout. Starring Mackenzie Davis ("Halt and Catch Fire") as the "unladylike" agitator Anna, desperate for a role, and Caitlin FitzGerald ("Masters of Sex") as Beth, the budding slasher film ingenue, this meta-Tinseltown mindfuck takes place over a weekend in Big Sur where the two estranged best friends are attempting to catch up. Tensions rise and competitive edges sharpen as the trip has the women vying for the same things—from acting roles to men.
A collection of players, including Lawrence Michael Levine, Khan Baykal, Alexander Koch, and Michael Lowry, drift in and out of their days, providing points of contention for the women. But the film's standout scene sees Anna and Beth going over lines together for a lackluster horror flick Beth has booked. Accusing her of being "weak" in her read, Anna shows her exactly how she would play the part. Suddenly, the script's fictional fury is lifted off the page and focused on Beth, making for an electric interaction that solidifies the characters' as well as Davis and FitzGerald's talents. —Briana Rodriguez
"Don't Think Twice" (The Film Arcade)
One of the year's breakaway indies, Mike Birbiglia's "Don't Think Twice" and its critical success came as a surprise to everyone outside the project itself. Depicting the lives of six improv artists scraping by in the competitive world of comedy, the film works because of its cast's degree of separation from the story they're telling; each actor in the movie has clearly experienced the joy and struggle of forging a career in improvisation.
But the other reason "Don't Think Twice" successfully fires on all cylinders comes down to many of the rules of the sketches depicted in it. A great improv team listens and responds to each other as a singular unit, breathing together. When one actor begins a thought, another finishes it, then another riffs on it, and on and on. Group-based comedy is artistic collaboration at its most immediate, and it's exactly what Keegan-Michael Key, Gillian Jacobs, Kate Micucci, Chris Gethard, Tami Sagher, and Birbiglia accomplish here. In sequences that capture their group dynamic—driving home from visiting Gethard's character's sick father, for example (a bittersweet and uproarious scene)—the six actors gel like no other ensemble this year. They don't just need each other as actors; often, they're so seamless it's like they're all extensions of one person. —Jack Smart
"Manchester by the Sea" (Roadside Attractions and Amazon Studios)
When it comes to telling a regionally specific story, a cast's main challenge is to get the voice correct—both literally and figuratively. One New England accent out of place in Kenneth Lonergan's "Manchester by the Sea," a film made in and about the titular Massachusetts town, and audiences will call foul. But more importantly, this searing drama is about a family; all the usual rules apply in terms of assuring every actor is on the same page. Casey Affleck and Kyle Chandler can't just look and sound like brothers as Lee and Joe Chandler, respectively. They have to share that intangible quality that makes them feel like brothers. Lucas Hedges, who plays Joe's son Patrick, must not only pronounce his vowels the same way, he must fit in seamlessly with this story's family. All three actors capture the energy of their fishing town in distinct ways, and you can't help but feel that off-camera, Hedges must have grown up under Affleck and Chandler's wing. Lonergan also cast the superb Michelle Williams and Gretchen Mol as the men's erstwhile wives; both women hint at complex and specific lives in only a handful ofscenes. Together, this broken family is at once specific to their surroundings and, in fleeting moments of gorgeous honesty, universal. —JS
WATCH: "Casey Affleck Seeks Oscar Gold in 'Manchester by the Sea' "
"Moonlight" (A24)
The Gotham Awards have kicked off awards season by giving the entire cast of Barry Jenkins' breakthrough indie a special Gotham Jury Award for ensemble performance. In a year full of superb acting on the big screen, Mahershala Ali, Alex Hibbert, André Holland, Jharrel Jerome, Janelle Monáe, Jaden Piner, Trevante Rhodes, Ashton Sanders, and Naomie Harris are especially deserving of recognition. Driven by their bold, assured performances, the film washes over you like the Miami waves depicted in it; you could freeze practically any frame of "Moonlight" and catch a moment of gripping honesty.
Some of Jenkins' cast, amazingly, are somewhat new to working in front of a camera, including Hibbert, Sanders, and Rhodes, who play Chiron at three different ages. The shared characteristics and mannerisms that resonate through all three performances speak volumes for this quiet black boy struggling to come to terms with his sexual orientation; it's a collective portrait sketched by three young masters of their craft, a portrait of desperate loneliness that strives for universality—and achieves it. —JS
READ: " 'Moonlight' Star Naomie Harris Has the Answers Actors Need"
"Other People" (Vertical Entertainment)
Bring the tissues for "Saturday Night Live" head writer Chris Kelly's directorial feature debut. Molly Shannon deserves the attention her devastating performance as a jovial mother dying of cancer has received, but we'd be remiss not to pay homage to the rest of this stellar ensemble.
Jesse Plemons stars as David, a gay, 20-something comedy writer living in New York City who's forced to move home to care for his mother, Joanne (Shannon), in her final months. His small-town homecoming forces David to reconnect with his two sisters and estranged father, Norman (Bradley Whitford), who never really came to terms with his son's sexuality. Also in the mix are long-lost high school friends and flings, including a memorable John Early as a hometown voice of wisdom. But "Other People" is truly about the interplay and bond between a mother and son, the latter of whom must say goodbye to his lifelong rock.
The film opens on Joanne's death, and from there rewinds to highlights from their last weeks together, including a trip to New York to see David at work. The players behind these characters bring a gravitas and unfettered sincerity to the fragile matters at hand. Though the film risks falling into saccharine melodrama, Kelly, Shannon, and Plemons avoid the clichés and work wonders together. —BL
READ: "Director Robert Eggers Talks Terrorizing Actors in 'The Witch' "
"The Witch" (A24)
If this film is anything to go by, the horror and thriller genres are playing host to some of the year's best performances. Breakout star Anya Taylor-Joy leads this dark 1630s tale as a teenage girl who finds her younger siblings and Puritan parents—played with devastating brilliance by Ralph Ineson ("Guardians of the Galaxy") and Kate Dickie ("Game of Thrones")—pitted against her after the family's youngest child goes missing at the edge of the wilderness. Production designer-turned-helmer Robert Eggers, in his directorial debut, unearths a gem of a film that delivers both on the visual and narrative fronts; it's a stripped-down horror that forsakes easy jump-scares and gore to instead gnaw at our basest instincts. As it draws to a close and the forest's sinister forces begin to reveal themselves, our characters descend deeper into hysteria, and the true breadth of the story and these actors' talents bubble to the surface for a superb, ensemble-driven folktale that chills to the bone. —BR
Want to star in an independent film? Check out our film audition listings!