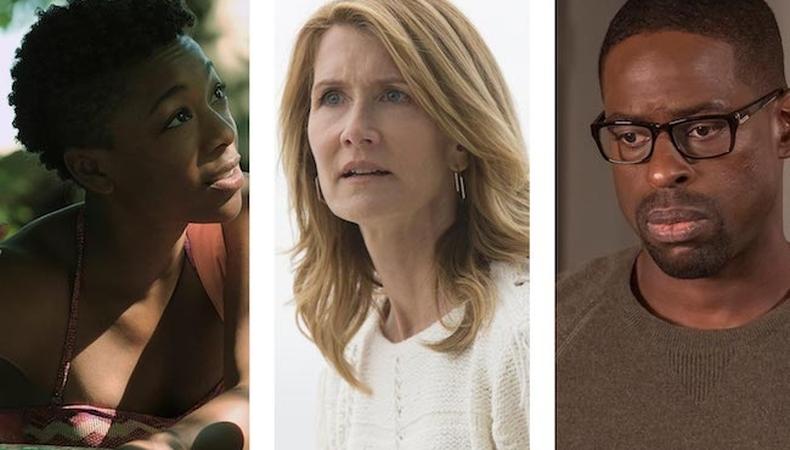 In a Jan. 21 ceremony hosted by Kristen Bell, the winners of one of the acting industry's highest honors will be announced. The nominees for the 24th annual Screen Actors Guild Awards will be decided upon by Guild members across the country, tasked with weighing both collective and individual film and TV performances in the calendar year of 2017. Backstage is once again here to provide a cheat sheet to all the superb acting seen on the big and small screens: who is nominated, why the performance matters, and what makes them worthy of a win.
For your consideration, here are the TV nominees for the 2018 SAG Awards.
OUTSTANDING PERFORMANCE BY AN ENSEMBLE IN A COMEDY SERIES
"Black-ish"
Few TV series are sillier than Kenya Barris' "Black-ish." But even when putting its spin on tried-and-true sitcom tropes, the hit ABC comedy features the most tightly knit family on the small screen. The Johnsons may be goofy, or even chaotic, but no more or less so than any other American family trying to make it work in the 21st century. Anthony Anderson, Tracee Ellis Ross, and the other actors portraying the Johnson clan have clearly been a loving family for four years, too.
"Curb Your Enthusiasm"
While Larry David is obviously front and center on his semiautobiographical, heightened-Hollywood dark comedy, his deep bench of guest stars is an integral part of what works in this year's revival of the HBO hit. The brilliant Cheryl Hines plays his ex-wife, while a slew of supporting comedy titans pepper each indelible episode: Mary Steenburgen, Ted Danson, Bryan Cranston, Elizabeth Banks, Damon Wayans Jr., and so many more.
"GLOW"
From the final moments of its first episode—in which two bickering friends (Alison Brie and Betty Gilpin) are wrestling in full 1980s-kitsch regalia before a roaring crowd, a vision dreamed up by their would-be director (Marc Maron)—it's obvious Netflix has another hit comedy on its hands. Much of this show's success is due to its eclectic ensemble of wildly different but equally convincing women.
"Orange Is the New Black"
The actors portraying the inmates at Litchfield women's prison were in top form in 2017, returning to the honest and compelling storylines that made this Netflix original a hit. The dramedy's deep bench of eclectic jailbirds gave its central question—do actions or moral character determine criminality?—unexpected layers of depth both quirky and brutal in what felt like the most ambitious season yet.
"Veep"
Has any series delivered scathing satire more consistently? Thanks to Julia Louis-Dreyfus, who somehow manages to up her performance in each installment of the misadventures of one-time veep, one-time president Selina Meyer, plus her cabinet of supporters—Anna Chlumsky, Tony Hale, Reid Scott, Timothy Simons, Matt Walsh, Kevin Dunn, Gary Cole, and Sam Richardson—the show has held a mirror up to our cynical political landscape and refracted it into a painfully hilarious fiction(ish).
OUTSTANDING PERFORMANCE BY A FEMALE ACTOR IN A COMEDY SERIES
Uzo Aduba, "Orange Is the New Black"
On Season 5 of Netflix's increasingly ambitious prison dramedy, Aduba's Suzanne "Crazy Eyes" Warren was put through rather a lot. For most actors, the panic attacks verging on full-blown identity crises that Suzanne faces would present massive challenges. Audiences can rest easy thanks to Aduba, who navigates alarming twists and turns in ways both compelling and believable.
Alison Brie, "GLOW"
One of the best new comedies of the year was led by one of Hollywood's most charming stars. Fans of the multitalented Brie knew her performance as a struggling actor-turned-"professional" wrestler in 1980s Hollywood would be unmissable; no one could have predicted, however, that her alternately frazzled, fabulous, and hilarious Ruth (aka "Zoya the Destroya") would exhibit such intelligence and depth.
Jane Fonda, "Grace and Frankie"
A master at everything from acting to exercising, Fonda continues to show off her skills in Season 3 of "Grace and Frankie." Portraying a woman coming to terms with her age, lucidity, and wellness is never easy, but Fonda delivers her dry humor with poise and dignity, proving time and time again that this actor has still got it.
Julia Louis-Dreyfus, "Veep"
The perfect calibration of timing and tone in Louis-Dreyfus' portrayal of HBO's flailing former president Selina Meyer reached new levels in a sixth season that found her cast into civilian life. The actor also continued to prove there may be no depths to which Selina won't stoop in her bid for political redemption. Is it any wonder she has six consecutive Emmys for this role?
Lily Tomlin, "Grace and Frankie"
Tomlin is a straight-up legend, and she proved why once again this year. Rarely are women her age visible in media, but in this Netflix favorite, Tomlin continues to delight as a woman with a tenuous grasp on her sanity and social standing. No one can deliver a punch line quite like her.
OUTSTANDING PERFORMANCE BY A MALE ACTOR IN A COMEDY SERIES
Anthony Anderson, "Black-ish"
Juggling a growing family, career, and his kids' sense of blackness in the lily-white surroundings of upper-middle-class suburbia, Dre is equal parts modern philosopher and swaggering goofball. The naturally funny Anderson's ability to pull off both continues to impress, as do those moments where he digs deeper—into Dre's anger at Trump's America, or fear for his family's well-being.
Aziz Ansari, "Master of None"
Ansari's ode to cities, food, and the quirks of modern life became more specific, empathetic, and ambitious in form during its banner second season. Audiences laugh at Dev as he navigates love in the digital age and working as an actor (and cupcake reality show host!), but in him we see ourselves; his exploits feel true to life and remarkably relatable.
Larry David, "Curb Your Enthusiasm"
As much as we hate the fictionalized Larry David, we love the performance given by the real David. Over a decade after HBO's "Curb" first began, we find ourselves truly elated to have his dumbfounded face wreaking havoc in Hollywood again.
Sean Hayes, "Will & Grace"
The genius of Hayes' performance as Jack McFarland, during the series' pioneering original run and now, 10 years later, is that he never turns the character into a clown despite drawing consistent laughs. The gay man Hayes has created—manic, over-the-top, expressive to a fault—is too specific to be dismissed as stereotypical or contrived. If anything, Jack remains the most true-to-life of this show's sassy quartet.
William H. Macy, "Shameless"
Macy's Frank—a role for which he's collected accolades aplenty, including last year's SAG Award—was in rare form this past season, showing us new elements of this legendary actor's ability. Frank is still a bumbling deadbeat of a dad, but Macy is entering more calculated territory, finding fresh ways to ground his often high-as-a-kite character.
Marc Maron, "GLOW"
Maron's particular mastery of the irascible curmudgeon has finally been paired with his compelling opportunist in this '80s wrestling comedy. He's a smart enough actor to know when to yield the spotlight to his fiery female co-stars in their blindingly colorful costumes and when to display in Sam Sylvia, his middling film director with a sudden hit-in-the-making, the empathy that endears us to him.
OUTSTANDING PERFORMANCE BY AN ENSEMBLE IN A DRAMA SERIES
"The Crown"
Even when compared to tried-and-true costume dramas like "Downton Abbey" and "Game of Thrones," "The Crown" holds its own. Grounded by a collective of British stage and screen acting royalty, the series charts the personal dramas surrounding Queen Elizabeth II while she finds her footing as monarch. What could feel drab and slow in the wrong hands instead blossoms in the hands of this expert cast.
"Game of Thrones"
With the White Walkers finally at the wall, the Season 7 stakes of HBO's critical darling boasted series-best performances from Lena Headey, Peter Dinklage, Kit Harington, Nikolaj Coster-Waldau, Sophie Turner, and Maisie Williams. The final season, with its promise of even more undead, dragons, and unmissable human conflict, can't come soon enough.
"The Handmaid's Tale"
As this Emmy-winning Hulu hit has proven, Margaret Atwood's 1985 novel of the same name remains depressingly urgent. To be fair, the eerie dystopian world she created, a military theocracy using female bodies as breeding vehicles, never quite lost its political punch. With the help of showrunner Bruce Miller, producer-star Elisabeth Moss, and Ann Dowd, Samira Wiley, Joseph Fiennes, Yvonne Strahovski, and Alexis Bledel, that world has been rendered disconcertingly real.
"Stranger Things"
It's safe to say few streaming series received as much buzz in 2016. And as its spectacular sophomore season proved this past Halloween, the nostalgia-rich homages and Winona Ryder's headlining credit weren't the only elements the '80s-set hit had going for it. Child actors Millie Bobby Brown, Noah Schnapp, Finn Wolfhard, Gaten Matarazzo, and Caleb McLaughlin deliver star-making performances, as do David Harbour, Natalia Dyer, Charlie Heaton, Joe Keery, Sean Astin, and, of course, Ryder.
"This Is Us"
NBC's "This Is Us" requires unflinching, gutsy performances from its actors, who with every melodramatic twist risk sacrificing honesty for sentimentality. All rise to the occasion; when Sterling K. Brown, Mandy Moore, Milo Ventimiglia, Chrissy Metz, Justin Hartley, and Susan Kelechi Watson crank up the emotions, just try to keep your eyes dry.
OUTSTANDING PERFORMANCE BY A FEMALE ACTOR IN A DRAMA SERIES
Millie Bobby Brown, "Stranger Things"
You'd be hard-pressed to name a role as engrossingly and beautifully drawn by a youngster on the small screen as Brown's Eleven. The mysterious psychokinetic girl who may hold the secret to defeating the terrifying Upside Down became more focused and nuanced in "Stranger Things 2." This powerful young actor switches with ease between adolescent frustration, raw vulnerability, and fearsome, growing strength.
Claire Foy, "The Crown"
It's no small feat to portray a real person onscreen—let alone one who is still alive—but in Netflix phenom "The Crown," Foy does so with grace, nuance, and a subtle fire as Queen Elizabeth II. Last year's SAG Award winner, Foy makes for a thoughtful study on the meaning of power, all while balancing a 3-pound crown on her head.
Laura Linney, "Ozark"
Wendy Byrde is a dissatisfied suburban housewife—until she's an on-the-run, money-laundering mastermind. In this dark, twisted Netflix drama, Linney excels at adaptation; when the series begins, she's wrapped up in an affair while making sure her kids get to soccer practice on time. By the second episode, she pivots to coping with a devastating loss of stability and comfort. Count on Linney to ground those twists and turns with her shrewd yet fascinating style.
Elisabeth Moss, "The Handmaid's Tale"
Peering out from between the bone-white wings of her handmaid's bonnet, Moss takes on the role of a lifetime, navigating the despair of an oppressive dystopian world with dignity—and a wickedly dark sense of humor. The Emmy winner is at her most subtle when the stakes are highest, and watching her handle the potential pitfalls served up by the distressingly tangible Gilead can be revelatory.
Robin Wright, "House of Cards"
While "House of Cards" began as the story of Frank Underwood, Season 4 showed audiences that the other Underwood was really the one to watch. Starting out as the wife of a congressman, Claire finds herself boosted to the highest level of government in Season 5, proving just how prepared she is for the position. With an unstoppable performance, Wright shows us what it means to be an unstoppable woman.
OUTSTANDING PERFORMANCE BY A MALE ACTOR IN A DRAMA SERIES
Jason Bateman, "Ozark"
It may have taken Bateman most of his acting career to prove he can do drama as well as he can do comedy, but his performance as Marty Byrde, a cuckolded financial advisor whose idyllic life becomes a money-laundering nightmare, was worth the wait. That classic Bateman dryness provides the perfect mold for the unsettling world of "Ozark," where middle-class banality becomes menace.
Sterling K. Brown, "This Is Us"
A person dealing with meeting their formerly drug-addicted biological father might sound more cringe-worthy than riveting. But you can't look away from a performer like Brown. Playing the multifaceted Randall Pearson means the Emmy winner gets to throw out solid one-liners, have mental breakdowns, and preach the truth, allowing him to craft a character so enthralling, it's no wonder his star is on the rise.
Peter Dinklage, "Game of Thrones"
Outstanding as always amid a crowded field of scheming royals and zombie-slaying warriors, Dinklage continued on HBO's hit fantasy series to somehow elevate the work of his every scene partner. This season, Tyrion has to navigate between two queens: one whose trust may be waning and the other whose familial bond he can't seem to shake. But the guy remains at his best in high-pressure situations (like watching his brother charge toward a raging dragon).
David Harbour, "Stranger Things"
Harbour is given juicy material on "Stranger Things": an irascible, tough-guy character complete with a secret, mournful past. But pure charisma and chemistry with co-stars like Millie Bobby Brown are what elevate police chief Jim Hopper on the screen. Amid all the monsters and skin-crawling suspense, it's this actor's well-balanced approach that legitimizes this drama. You get the sense that even reading a phone book, Harbour would be absolutely engrossing.
Bob Odenkirk, "Better Call Saul"
As this riveting spinoff delves deeper into the thorny morality of ambition and survival, Odenkirk continues to show us streaks of the "Bad" habits that built his character's rascally reputation. With the knowledge of that final meth-charged outcome in the back of the audience's minds, Odenkirk gives an increasingly refined performance, adding new layers to the dodgy lawyer's present tense.
OUTSTANDING PERFORMANCE BY A FEMALE ACTOR IN A TELEVISION MOVIE OR MINISERIES
Laura Dern, "Big Little Lies"
Part of what made "Big Little Lies" such a sensation was its dark sense of humor, straddling the line between drama and camp. Nobody understood that better than Emmy and Golden Globe winner Dern as the indomitable Renata Klein. Her tendency to drop the sweetly confident façade to spit scathing profanities at other alpha moms was downright alarming—and so much fun to watch. More roles for this genius actor, please!
Nicole Kidman, "Big Little Lies"
We can only hope Kidman continues to grace TV with her talents. In addition to bringing "Big Little Lies" to HBO as co–executive producer, Kidman's award-winning performance grounded its most powerful plot line, turning what could have been a pulpy murder mystery into a haunting meditation on domestic abuse. The therapy scenes in particular, in which Celeste struggles to confront the truth of her marriage, showcase some of the finest acting of the year.
Jessica Lange, "Feud: Bette & Joan"
Watching the inimitable Lange bring Joan Crawford, a legend of Hollywood's golden age, to the small screen is just one of the plethora of joys on FX's "Feud." She exudes yesteryear glamour, from the precisely period hair down to her lacquered nails. Most poignant of all: her ability to portray Crawford as not just a demanding diva but a victim of sexism and circumstance.
Susan Sarandon, "Feud: Bette & Joan"
What at first seemed a spot-on impression of the legendary Bette Davis soon gave way to a full-blown, riveting embodiment of a screen icon. Sarandon complemented Davis' signature drawl and delivery with private moments of vulnerability and defeat. Her reaction to Crawford stepping up for her presumed Oscar may be the moment that makes Sarandon a winner herself.
Reese Witherspoon, "Big Little Lies"
"I'm not fucking perfect!" screams Madeline Martha Mackenzie at her daughter. The line is notable not just for the way Witherspoon delivers it, guilt and frustration finally bursting through the character's carefully cultivated persona. It's meta-commentary: The actor has made a career of fastidiously flawless types, but this latest iteration confirms her fearlessness. Her miniseries will be remembered for some of the best, most empathetic acting this season. You might even call it perfect.
OUTSTANDING PERFORMANCE BY A MALE ACTOR IN A TELEVISION MOVIE OR MINISERIES
Benedict Cumberbatch, "Sherlock"
With so many different versions of the iconic Sherlock Holmes out there, it's hard to create an original iteration, yet Cumberbatch portrays the detective with originality to spare. A quick wit, dry humor, and the ability to spring to action at any given moment—Cumberbatch fully brings to life the beloved character.
Jeff Daniels, "Godless"
This late-breaking Netflix miniseries earned every bit of its anticipatory buzz, particularly for its all-star cast. With the help of Daniels, bringing sinister life to Frank Griffin, an outlaw willing to sacrifice life and limb to enact vengeance, "Godless" may well help prestige shows like "Westworld" in a mission to reinvigorate and even reinvent the Western genre.
Robert De Niro, "The Wizard of Lies"
There's a school of thought that says great screen acting means letting an audience fill in the blanks of what a performer is thinking. De Niro's Bernie Madoff is an appropriate example, given the mysteries surrounding the man responsible for history's greatest financial fraud. Is he a sadist, swindling investors because he can? Was it all just the result of an unruly bad habit? This HBO movie portrays Madoff as going through the motions, but De Niro's inscrutability is exacting.
Geoffrey Rush, "Genius"
In National Geographic Channel's first scripted series, this award-winning actor imbues Albert Einstein with a heart as well as a brain. Count on Rush to replace our mental image of the legendary scientist with not only a convincing physical transformation—that poofy hair!—but also the notion that a historical icon of academic studiousness is just a man, flaws and all.
Alexander Skarsgård, "Big Little Lies"
Skarsgård's Emmy- and Golden Globe-winning performance in this limited series is not entirely unproblematic. The skill with which he conveys domestic abuse throughout the series—its toxic yet routine horrors, its cyclical nature—makes it difficult to ever look at the Adonis-like actor in the same way—a true testament to his skill as an actor.
Check out Backstage's TV audition listings!