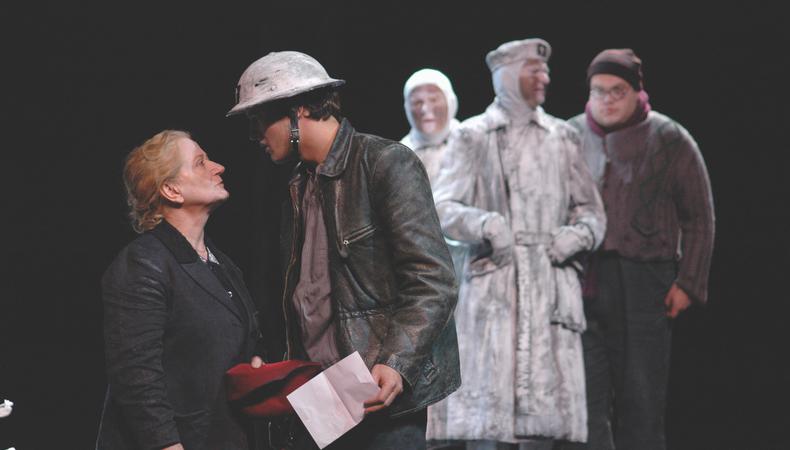 Sense memory. Objectives. Imaginary circumstances. The more acting techniques you have at your disposal, the more successful you're likely to be onstage or screen. But while a familiarity with different methods is important—how else will you know what works best for you?—it also comes in handy to know the history of the teachers and directors who initially created those fundamental tools. Below, we present a guide to the 10 acting teachers who led today's most influential schools of thought.
Konstantin Stanislavsky
The head honcho, the Russian granddaddy of all acting techniques, Stanislavsky pioneered the very idea that inhabiting a character onstage can become a discipline. Seeking to teach future thespians—including directors—how to harness emotion, he developed his famous "System": placing an actor inside a character's "magic if," establishing motivation, and identifying both objectives and obstacles. Most of the teachers below draw from his influence, so study up!
Michael Chekhov
Stanislavsky taught plenty of accomplished actors, but none more so than the nephew of playwright Anton Chekhov. Using dynamic physical movements—including "molding," "floating," and "radiating"—to achieve a character's complex inner life, Chekhov brought Stanislavsky's system further into 20th-century America, inspiring such students as Clint Eastwood, Anthony Hopkins, and Marilyn Monroe.
Jacques Copeau
First as a theater critic and then as the founder of the Théâtre du Vieux-Colombier and its school, Copeau elevated stagecraft from mere entertainment to art. In the early 20th century he produced shows in Paris and NYC featuring bare stages, rejecting the tenets of commercial theater and putting the audience's focus on actors' work.
Bertolt Brecht
Germany's most game-changing dramatist, Brecht gave rise to "epic theater," or using the stage as a tool for political change. His followers renounced catharsis in favor of rationality, alienating audiences with a stylized version of reality and forcing them to critically examine society and themselves. The influence of this radical director, poet, and philosopher stretches all the way to Caryl Churchill and David Bowie.
Antonin Artaud
Don't forget the avant-garde movement! Taking Europe by storm in the first half of the 20th century, this French artist laid the groundwork for absurdist filmmakers and dramatists from Samuel Beckett to Sam Shepard. Under the philosophy of his Theatre of Cruelty, audiences were assaulted with sounds and images, helping them tap into their subconscious' unexpressed emotions; in Artaud's world, language is deemed insufficient and trauma is a gateway to joy.
Lee Strasberg
Co-founder of the groundbreaking Group Theatre, director of the Actors Studio, and creator of the Lee Strasberg Theatre and Film Institute, this man is responsible for the term "Method acting." Inspired by but diverging from Stanislavsky, Strasberg introduced us to psychological truthfulness through affective memory, or using personal recollections and replicating sensations to color a character's emotions. Disciples include Dustin Hoffman, Jane Fonda, Elia Kazan, and many other die-hards.
Stella Adler
A prolific actor herself from the age of 4, Adler disagreed with Strasberg in that she favored the power of imagination over personal emotions. Among the countless students of her renowned studio are Robert De Niro, Elaine Stritch, and most famously, Marlon Brando. Adler also championed strong choices, using a simple principle every actor should keep in mind: "Don't be boring."
Sanford Meisner
By emphasizing instinct over affective memory, reacting to a scene partner over inner turmoil, and "the reality of doing," Meisner shook up the craft more than any other American. If you're not sure how repetition and "living truthfully under imaginary circumstances" can help your work, look him up. The Meisner/Carville School of Acting taught Diane Keaton, Sandra Bullock, and Christoph Waltz, while NYC's William Esper Studio, run by Meisner's protégé, boasts alumnae Tracee Ellis Ross and Kathy Bates.
Uta Hagen
Best known for originating Martha in Broadway's "Who's Afraid of Virginia Woolf?," Hagen co-founded the Herbert Berghof Studio and authored several books to which many famous actors still cling. Her approach emphasized substitution or transference, the notion that a character's actions can be contextualized with an actor's approximated personal experiences. It works for her students Al Pacino, Liza Minnelli, and Whoopi Goldberg!
Viola Spolin
If you prefer making your acting choices off the cuff, research the mother of improvisational theater. An acting teacher and academic, Spolin pioneered the focus on a performer's present moment through Theater Games—spontaneously playful exercises geared toward reducing anxiety and creative blockages. Her son, Paul Sills, formed Chicago's Second City, launching the careers of many of your favorite comedic actors.