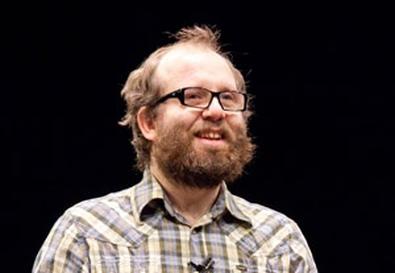 Inventively written and winningly performed by Daniel Kitson, "The Interminable Suicide of Gregory Church" takes an audience through circles of loss and redemption. Part curiosity, part mystery, the one-man, 90-minute, intermissionless work is an incredibly detailed journey from darkness to light. Told on many levels with dizzying, rapid-fire repartee, it eventually makes sense as a portrait of both its subject and its teller.

Starting as a more or less nonfictional account of Kitson's search for a new house, the piece devolves into a fictional yet credible account of one man's preparing for suicide. Kitson claims to have found 30,659 letters in an attic while on his house hunt. The massive correspondence is between the titular Church and all the people he wants to bid goodbye. Among them are the hardware salesman who sold him the rope he'll use for a noose, the newspaper editor who chides him for bad grammar, a woman with whom he has a platonic relationship, and the anonymous bullied schoolboy he sees at a bus stop and whom he eventually mentors.

"Not one human being has chosen to speak to me for six months," he writes in one of the missives. But then, a peculiar thing occurs. He begins to get replies that will keep him occupied for the next 24 years, postponing his date with the noose. The replies put him in contact with others, make him friends, and impart a sense of community.

Kitson says he spent two years poring over the thousands of letters, in the "exhilarating, comforting" task of trying to fit the jigsaw puzzle together. He keeps the memory of Church alive just as the man's letters and replies apparently did. Church becomes "a man who died, survived, then lived," someone who admits, "If I don't write, I'm alone."

This is an affectionate tour de force, amusing and poignant, revealing man's implacable desire for endurance. The bearded, sloppily dressed Kitson, in his whirlwind, dense, sprawling narrative, takes pains to assure us this is not an existential or metaphorical tale but one steeped in reality. When Church wrote, "Something hangs over me," he referred, says Kitson, not to the noose but to an actual feeling of insecurity and dread. Still, it is basically an epistemological tale, rooted in our inability to truly know each other or ourselves. Ironically, by evening's end, we not only know Gregory Church; we feel for him, a perfect stranger, a fictional construct yet as real as this morning's newspaper.



Presented by and at St Ann's Warehouse, 38 Water St., Brooklyn, N.Y., as part of Under the Radar. Jan. 12–30. Tue.–Sat., 8 p.m.; Sun., 4 p.m. (718) 254-8779, (866) 811-4111, or www.stannswarehouse.org.