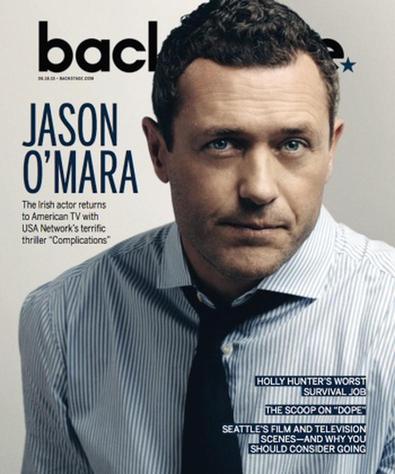 When it comes to the profession of acting, Jason O'Mara has some tough advice.
"You decide whether you're a success or a failure," he says. "Coming up through the ranks and going through the school of hard knocks and having bounced from network to network, there was a time when lack of commercial success would upset me. And then I realized that's not why I signed up for this. I didn't become an actor because I wanted to be in a hit. I became an actor because I couldn't do anything else. So I can't put those limitations on myself or on my career."
The man knows of what he speaks. By his own laughing admission, the Irish actor has taken a stab at a series on every major television network. First there was ABC's 2008 remake of the British series "Life on Mars." Then came Fox's ambitious dinosaur/family drama, "Terra Nova," in 2011. After that, O'Mara spent a season lending Dennis Quaid and Michael Chiklis support on CBS' "Vegas." And now he finds himself headlining the ambitious "Complications" for USA Network, which, he is quick to point out, is part of the NBC Universal family.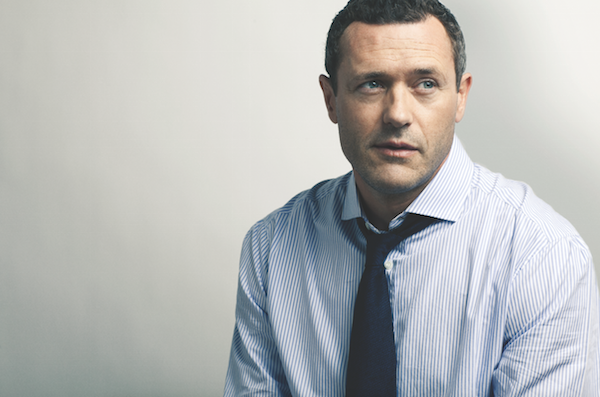 "I sort of felt like I gave broadcast television a good whirl over the last few years," O'Mara says in a Midtown Manhattan photography studio, shortly after completing a shoot. "And I was sort of entertaining the idea of playing a lead role again because it had been a little bit of time. It's a little bit of a compulsion [to lead a series]. It is a huge challenge to work 14 hours a day, carry the show, and do your best work. It's an entirely involving, demanding experience."
Particularly on "Complications," which shot its 10 episodes in Atlanta almost a year before its June 18 premiere. O'Mara stars as Dr. John Ellison, whose home life with his wife, Samantha (Beth Riesgraf), is still tentative after the death of their daughter, and who finds himself sucked into a world of vice and crime when he unthinkingly shoots a drive-by shooter while saving a young boy's life. Tasked with protecting the child—who is the son of a gangster—he turns to Gretchen (Jessica Szohr), a nurse at the hospital who requires some slightly illegal quid pro quo of her own.
"Complications" is a change from USA's cheerful series like "Burn Notice"—which is somewhat less surprising when one learns that both were created by Matt Nix. "In a sense, he perfected his own USA drama series with 'Burn Notice,' " O'Mara says. "[Those characters] were experts so they could afford to be confident and sexy and believe they were going to save the day, whereas John Ellison and his family are not comfortable in this world they have been sucked into mostly against their will. There are recognizable tropes—drugs and gangs and guns are being shot and cars are being chased—but it's done in such an original way."

Though there are dramatics aplenty on the series, O'Mara and his cast mates also excel at living within the uncomfortable silences and fumbled lies, particularly when it comes to his scenes with Riesgraf, to whom he must lie repeatedly in order to protect her. Those quiet moments are what O'Mara has long struggled to accomplish without resorting to tricks or pushing, something he learned the hard way during a scene with Harvey Keitel on "Life on Mars."
"We were getting into the 15th, 16th hour, I'd been there all day, and Harvey Keitel came in," O'Mara says. "I had this big speech and there wasn't really any time to block it. I was in my head about it, and trying to make it come alive with physical expression of gesture. And Harvey put his hand on my shoulder and said, 'I don't want to give you notes but can I just give you a suggestion? Just stand there and talk to me.' And I did and the whole scene came alive." O'Mara laughs at the memory. "It's not easy to be told by an acting legend that you're sucking and you need to stop it right now and take a whole different approach, but you learn that stuff."
O'Mara's continued passion for his craft is surprising in an established actor, but that continued journey of discovery is one of the fundamental reasons he loves acting. "I've always liked the idea that an actor never stops," he says. "The muse, wherever that creativity comes from, it changes over time. I like to keep checking in on it. When I was younger I think I was very poor at accessing the stuff that's inside us that we need, and articulating that is what makes us performers. But as I've gotten older, I've discovered I have a whole range of stuff that I thought was not there that actually is there. And what's changed is, obviously more life experience, but also developing the tools I need."
A lot of those tools are highlighted by his work on "Complications," which O'Mara calls "probably my most truthful work to date." Among the happy results was a loss of that "Oh wait, I should have played the scene this way!" feeling on the drive home at the end of the day. "I felt like I was able to put a lot of myself into it and I had to be OK with whatever I'd done. As long as I was being honest and truthful, whatever happened happened."
His reactions were aided by scripts that he says kept getting better and better. "A lot of shows start off with great auspices and sort of derail," he says. "And 'Complications' got more on point every episode; more compelling, more exciting, more addictive. There was something pure about the experience. We shot all 10 episodes without having an airdate so we were just in this bubble, and now it's time to deliver our baby into the world!"
Want to read more? Check out our Backstage covers here!