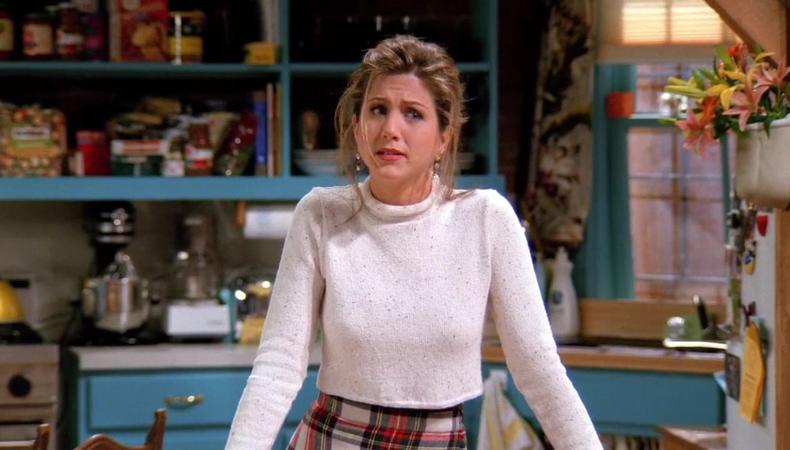 Let's call it, "The One Where Jennifer Aniston Gives Great Advice."
Grilled by her friend Sandra Bullock in Interview Magazine, Aniston opened up about everything from her childhood trauma (and how it made her a better actor) to her current work in "The Morning Show" and other goals for the future. But, notably, she also recalled what her early career days were like pre-"Friends," having arrived in Los Angeles from New York to start auditioning.
With helping her survive those tough days, the small screen icon credits—what else?—her friends.
"When I landed in Los Angeles at 20 years old and I fell into those girls who are still sitting around [my dining room] table today, they were on a different path. I'd never had a circle of women who got together and talked forever," she remembers. "I was like, 'God, these California people don't shut up. They talk about their feelings and cry in front of each other.' I said to myself, 'Here I am, a girl who grew up in New York City, and now I find myself in Laurel Canyon, wearing a flowery dress and someone put a crystal around my neck and is burning sage around my head. I have landed on Mars.'
"But I really think it was something that saved me," Aniston continues. "This is a really tough business that we're in that is not always kind or inclusive or supportive. A lot of the time, it's the opposite. I remember going to auditions and girls would never want to share anything. Or they would talk to you during your auditions to distract you when they knew you were trying to work on your stuff."
Aniston would, of course, go on to have wild success, but she still holds onto that holistic outlook. And hers is one, 10-season sitcom or no, that all actors can glom onto.
"Honestly, I think there was no attachment to a result, and I think that's a real key to success in life, to not worry about the landing, but enjoy the experience," she says of her current Apple TV+ series. "That's what we did. We were focused on making something really great and interesting and a bit daring, and trying to be as honest as we could. But I think it's about not having an attachment to the outcome.
"I've never been that person pacing around on opening night saying, 'What is the box-office?' I try to put it away when it's done," she adds. "We were having a writers' meeting yesterday, and I was saying, 'I feel so proud to be a part of something that people say so many nice things about'" It's so rare. I mean, for some people it's not that rare, but in my case, it's hit or miss, and that's OK. I've never had it take me down because, well, that's not gonna be the thing that takes me down."
In other words, when it hasn't been your days in weeks, a month, or even a year…Aniston's advice is to just keep going. That's how that song goes, right?