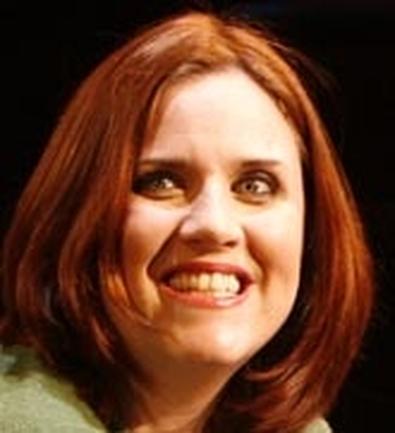 Poor Marcy: Not only is she a failed artist pushing 40; she's also trapped in a mediocre musical.
With a book and score by Nancy Shayne and based on a story by Shayne and Emmy-winning Sex and the City writer-director-producer Michael Patrick King, Marcy in the Galaxy is set in the Galaxy Diner — likely the one on the northwest corner of 46th Street and Ninth Avenue — on New Year's Day. Judging by Sandra Goldmark's tacky, whimsical split-level set, Marcy also occurs before the eatery's recent renovations. If only Marcy could renovate her life in fewer than the 90 minutes Shayne takes for it to happen, we could also have dessert.
But as this Transport Group production evolves — and as Donna Lynne Champlin's smart, instinctual performance as Marcy illustrates how superior her talent is to the material — the show's faults turn glaring. Most egregious: Shayne's airing of personal issues on other people's time. She simply hasn't dramatized those issues adequately for an audience.
Consider Dorothea (Janet Carroll) and Joyce (Mary-Pat Green), two older women sitting near Marcy in the empty diner. They feel their age, or least a perceived unattractiveness, as the implacable waiter (Jonathan Hammond) tends to them. Crabby as The Muppet Show's Stadler and Waldorf but lacking their hauteur, the ladies are the inexplicable focus of Marcy's first half. Despite a spirited rendering by Carroll and Green, their duet "Not a Consideration" should have been considered superfluous to Shayne's structure. After all, Marcy's career is nowhere, her apartment's electricity has been cut off, and she's basically broke. Is the point to confront Marcy with the kind of person she'll become? How does Marcy observing other losers offer her consolation or inspiration to forge on?
We thus greet Sharon (Jenny Fellner), Marcy's sister, with relief. Sharon may not possess Marcy's artistic gifts or ambitions, and she may — to Marcy's horror — be content living a traditional life back home in Michigan, but at least she's grounded. Still, Shayne writes only one book scene in which Sharon and Marcy interact directly: a flashback late in the show that clumsily reveals the source of their animus. Otherwise, when Sharon speaks or sings, Marcy doesn't respond.
Up until the flashback, we've endured this charming if scattered 40-year-old artist perhaps because we've lived her plight, or perhaps because we know of an artist who has. We've watched Marcy seem blissfully unaware of how to answer a cell phone, and we've somehow glossed over how odd that is. We've watched her reject the offers from her free-spirited, widowed mother, Peppy (Teri Ralston), of financial and emotional help. Through Ralston's fine performance, we've glimpsed the roots of Marcy's resilience and insistence on autonomy and located Shayne's best work, from the subtext-rich mother-daughter dialogue to the songs "Conversations With My Mother" and "Who Gets to Shine."
But the crux of Marcy's morass is found in the flashback. Long ago, it seems, Marcy lost her passport and money in the middle of Ireland and didn't care — this was freedom, this was the artist starting her journey. It was also in that moment that Sharon, who was there with her, realized that Marcy — the same Marcy now in the diner fumbling through piles of bills and sketches — is more than scattered. No, she doesn't need a reality check. She needs meds for ADD.
Where is director Jack Cummings III in all this? With only a few tables on stage, there's little blocking. While the lovely Champlin essays Marcy like a starburst of dysfunctional life, the writing floats among the asteroids.
Presented by the Transport Group
at the Connelly Theatre, 220 E. Fourth St., NYC.
April 6-20. Mon., Thu., and Fri., 8 p.m.; Sat., 2 and 8 p.m.; Sun., 3 p.m.
(212) 352-3101 or (866) 811-4111 or www.theatermania.com or www.transportgroup.org.
Casting by Nora Brennan Casting.