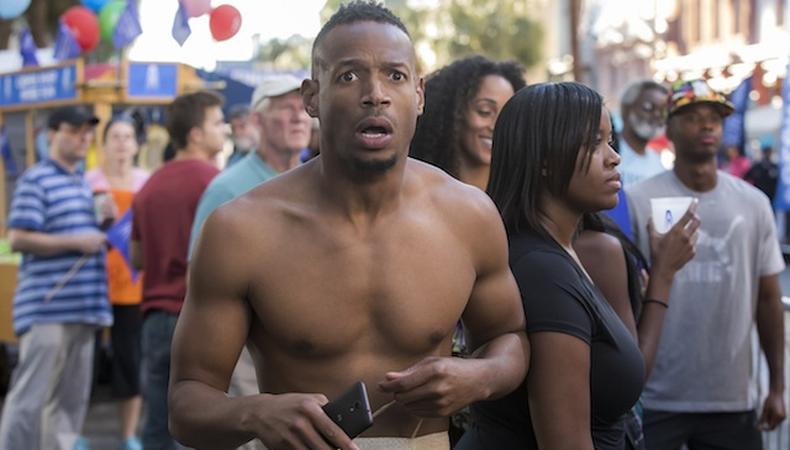 Marlon Wayans is having a big week. With his Netflix original film, "Naked," premiering Aug. 11 and his new NBC comedy, "Marlon," premiering Aug. 16, the actor-writer-producer and overall funnyman says, "it feels like life and my career has prepped me for this moment." Wayans spoke with Backstage about the gig that started it all, what it takes to nail it in the audition room, and why you have to just keep creating.
You've been fortunate to create and write your own projects throughout your career. What advice would you give an actor trying to do that?
Just do it. Think of it like this: if you want to work, then you should write. That's the only way to think about it, so you always ensure you're going to work. You're creating your vision and instead of waiting for roles, you're creating roles you're going to cast people in. So just write—and the more you write, the better you get.
What advice would you give your younger self?
Start stand-up earlier because what it's going to do is solidify your vision of yourself and your take on the world. And it'll teach you how to express story better, and you'll know how to be appropriate on stage and how to tell one joke that hopefully makes the whole world laugh.
What was the gig that broke you in to the business?
"Mo' Money" [in 1992]. I was in college. I kept auditioning and getting movie roles. I was turning them down, and I went back to college. "Mo' Money" was that role where I was like, "I'd love to do this." So I auditioned, and I was not even on the list. I came in, and [my brother] Damon [Wayans, who wrote the film] said, "Just make me laugh. If you make me laugh, everybody else is going to laugh. Trust me: The hardest critic is me." I said OK. So I went in there and took his lines and said here's what I think and here's how you can make it funnier. I trusted my instincts and got the part.
What is your worst audition horror story?
I don't know if I've ever really had a worst audition. I think I have a different take on auditions. I think to myself, How lucky am I to act today. So I look at auditions like that. I think every audition I've gone on I've learned something. I've gotten probably 85 to 90 percent of everything I've went out for. I would say, commit to the role. Be off-book but keep the script in your hand…just in case. If it's comedic and you have good comedic instinct, show how you can improve the material. Not just do what the script says, but bring something different and commit. Don't worry about the audition, and take the anxiety off. Show this is what you'll do with the part and go in and you live it. Don't try to impress, just impress yourself. Know your intention and know your objective. And be fearless in your choices to get your objective and overcome the obstacles in the scene.
What TV show should every actor watch?
Every TV show. Every one. It's all studying and being a student. You see what they're doing good and bad. The best way to learn to act is to watch actors. If you go to an acting class, you're not going to learn half as much in a classroom with people making mistakes and listening to the teacher correct them so by the time you get up, you've already acquired a lot of knowledge from just sheer advice, just watching. I've learned more from watching people on set and asking questions. When I watch Tom Hanks, for example, I notice how he manipulates camera. And this movement of the camera, how he's lit. He's very subtle. Just watch, be a student, be a fly on the wall and watch everything.
With 'Marlon,' were you able to take lessons you'd learn from working in TV earlier in your career and apply that to this show?
Absolutely. I learned about having a good relationship with your executive producers and being able to sit in the room, call the shots, and tell people early what you like and what you don't like. Also sitting in the writers room to help craft the material, how to improvise on set—it's all so inclusive. How to work with the audience, how to edit, and countless other things I've learned from "The Wayans Bros." To have that 20-something years leading up to this, it feels like life and my career has prepped me for this moment.
Want to star in a sitcom? Check out Backstage's TV audition listings!