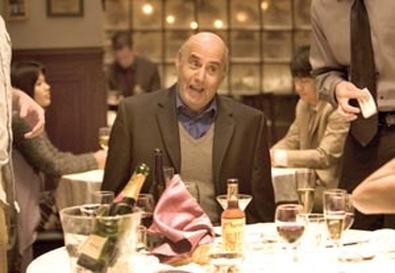 Giving supreme character actor and second banana Jeffrey Tambor a leading role worthy of his talents is reason enough to celebrate the screwball indie comedy "Meeting Spencer." But with a tight, funny script by Andrew Kole, Andrew Delaplaine, and Scott Kasdin that plays like a 1930s farce and sharp direction by Malcolm Mowbray, there are plenty of other reasons to cheer for this slight but undeniably entertaining cinematic bon mot that actors should especially love.
Shot almost entirely on two sets, the main dining room and men's room of a Broadway district restaurant, the story revolves around multi–Tony-winning director Harris Chappell (Tambor), who returns to New York after a series of flop films to revive his storied stage career with a new play from a legendary writer who just died.
Wooing a major theatrical star (William Morgan Sheppard) to play the 77-year-old lead, Chappell finds his plans turned upside down when he is joined by ex-flame Didi (Melinda McGraw) and young aspiring filmmaker/struggling actor Spencer West (Jesse Plemons), whom he agrees to meet as a favor to a friend. Needing financial backing for his new venture, Chappell also falls under the spell of slick, young Internet entrepreneur Emerson Todd (Julian Bailey), whom Didi bedded and invited to join Harris for dinner with the idea that this guy could bankroll the production.
Unfortunately, as in all good farces, things aren't always what they appear to be, and as the night wears on, new characters keep emerging and upping the stakes as Chappell's distinguished play morphs into a coal-miner-musical piece of fluff with the unwitting Spencer suddenly set to play the reconfigured lead role meant for someone 50 years his senior.
Expertly anchoring this frothy flick is Tambor, who underplays the beleaguered Chappell with such sterling deadpan precision that we can't help but sympathize with his plight. Swirling around him is a first-rate supporting cast that plays this soufflé with just the right amounts of comic skill. As his ex, McGraw is attractive and likable, and exhibits great timing. Plemons, who seems to be channeling a young Matt Damon, is low-key and winning in the crucial role of Spencer—and in a charming musical number shows he is a versatile performer.
Also standing out is Jill Marie Jones as a streetwise woman with ulterior motives and Yvonne Zima as the sweet coat-check girl. Bailey is sharply comedic as the Internet whiz who may be not be all that, and Sheppard is perfectly cast as the crotchety stage veteran whose diva-like demands send Chappell straight to the bottle.
"Meeting Spencer" is a modest, low-budget film that could probably work just as well on stage but has been given a touch of class and sweet sophistication by Mowbray and his brilliantly funny cast. Definitely an indie sleeper worth seeking out.
Genre: Comedy
Written by: Andrew Kole, Andrew Delaplaine, Scott Kasdin
Directed by: Malcolm Mowbray
Starring: Jeffrey Tambor, Melinda McGraw, Jesse Plemons, Yvonne Zima, William Morgan Sheppard, Jill Marie Jones, Julian Bailey.