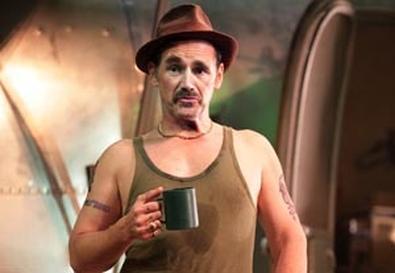 As 2012 commences, Back Stage's co–head critics in New York, David Sheward and Erik Haagensen, continue their tradition of eschewing a list of the top 10 shows of the past year in favor of a salute to actors. During 2011, Sheward and Haagensen reviewed close to 300 theater and cabaret shows, and thanks to their responsibilities as members of the New York Drama Critics Circle and the Drama Desk, they saw many other offerings they didn't review. What follows is each man's selection of 10 memorable performances—by five women and five men—seen in 2011. Not the "best," not the "most," not ranked in any order, simply 10 performances that were so outstanding, Back Stage's critics wanted to salute them. This year, there's a bonus: It's actually 11 performances each, as both men also wanted to salute an ensemble.
Both Sheward and Haagensen say that, as usual, it took a great deal of winnowing to arrive at their lists, thanks to the high quality of acting routinely seen on New York stages. Due to the arbitrary limit, many performances just as memorable as these could not be included. It's time once again to celebrate that shining phenomenon: the New York actor.
Haagensen's Heroes
(Photo by Joan Marcus)
Peter Bartlett, "The Illusion"
A singularly idiosyncratic comic presence, Peter Bartlett is clearly valued by directors for the merriment he can contribute to a production. Last year, however, he got a chance to go deeper in his role as an aging fop obsessed with the young heroine in "The Illusion," Tony Kushner's free adaptation of Pierre Corneille's 1636 Romanesque comedy, the capper to the Kushner season at Signature Theatre Company. Bartlett was a hoot going about his character's business of making ridiculous claims of physical derring-do in an attempt to scare listeners from physically challenging him. But what made his performance special was the bruised wonder beneath the antics, stemming from an inability to accept the harshness of the world, leading to one of the most memorable closing stage images of the season.
(Photo by Joan Marcus)
Olympia Dukakis, "The Milk Train Doesn't Stop Here Anymore"
Thanks to his superb work as both editor and director, Michael Wilson was able to make the case, in Roundabout Theatre Company's Off-Broadway production of "The Milk Train Doesn't Stop Here Anymore," for Tennessee Williams' much-derided 1962 play as a major work in the great playwright's canon. He couldn't have done that, however, without Olympia Dukakis' extraordinary performance as Flora "Sissy" Goforth, a filthy-rich gorgon dying of a cancer she refuses to acknowledge while sitting in isolated splendor one summer in a mountaintop villa on Italy's Divina Costiera. It's a star part if ever there was one, and Dukakis played it to the hilt, making the paranoid Sissy a glorious mixture of spiky intelligence, cutting earth-mother humor, and gluttonous love of life. The spellbinding Dukakis was in the end shatteringly vulnerable in the role, monstrous but not a monster. Somewhere Williams was undoubtedly smiling.
Angela Lin, "Chinglish"
David Henry Hwang's smart and funny comedy "Chinglish" was one of the highlights of the fall Broadway season, featuring a whole raft of fine performances under Leigh Silverman's sharp and subtle direction. Nevertheless, the hysterically funny Angela Lin broke out of the pack with two contrasting comic characters: a self-conscious interpreter whose skills aren't up to snuff and a gung-ho prosecutor who is nevertheless more impressed by malfeasance and notoriety than honest but unheralded industry. A loose-limbed picture of giddy mortification and grasping desperation as the first, and a portrait of ever-escalating industry and energy as the second, Lin rocks in every moment she's on stage. Don't miss her.
(Photo by Joan Marcus)
Joe Mantello, "The Normal Heart"
One of the top directors working today, Joe Mantello reminded us of just how good an actor he is as well, stepping back onto the Broadway boards for the first time since 1993's "Angels in America" to play Ned Weeks in Larry Kramer's indispensable AIDS drama "The Normal Heart." Ned is a thinly veiled self-portrait in a play that recounts the founding of the Gay Men's Health Crisis at the start of the epidemic, and Mantello excelled at mixing the personal and the political, moving in his depiction of Ned's relationships with his older brother and younger lover and electrifying in Ned's rage and relentless determination to fight back against the homophobic complacency of the establishment. I'm usually not one for superlatives, but in this case I have to say that I found Mantello's indelible performance easily the best from a male actor on Broadway last season.
(Photo by Karl Andre)
Alexandra Mathie, "Neighbourhood Watch"
In "Neighbourhood Watch," Alan Ayckbourn's latest exercise in suburban comic nastiness, the glorious Alexandra Mathie vaulted into the ranks of such stellar funny ladies as Patricia Routledge and Penelope Keith with her account of Hilda, a thoroughly religious 50ish virgin who lives with her unmarried brother and worries about the safety of their Bluebell Hill Development enclave. Under the author's knowing direction and featuring the incisive original English cast from Scarborough's Stephen Joseph Theatre, this production shook 59E59 Theaters with gales of laughter at these self-deluded would-be vigilantes who are soon setting up stocks on the traffic circle. Mathie was simultaneously demure and deadly in Hilda's implacable drive for order and control, never funnier than when letting her face go from beaming to bruised to baleful in one seamless slide. She's a comic goddess.
Pete McElligott, "Johnny Johnson"
As the numbers in the introduction attest, my job requires me to see a lot of shows. But every now and then, even I get to go to the theater just because I want to, and that's what I was doing at ReGroup Theatre's one-night-only staged reading of Paul Green and Kurt Weill's 1936 anti-war musical satire "Johnny Johnson." I'm a big Weill fan, and this was a rare chance to experience a show that has always fascinated me. I had no idea what level of performance to expect, so I was particularly delighted to encounter Pete McElligott's terrific work in the title role. In full and confident command of his instrument, McElligott invested Johnny with a pure core of innocence and humanity while walking the fine line of stylization required by this expressionistic, sometimes surreal show, climaxing in his haunting account of a final scene that in lesser hands could topple into maudlin banality. I'm sure it helped that his director, Estelle Parsons, is no slouch in the acting department herself. Nevertheless, the riveting McElligott is unquestionably a comer.
(Photo by Joan Marcus)
Howard McGillin, "Where's Charley?"
Across more years than I care to count, I have watched Howard McGillin do consistently excellent work in strikingly diverse projects, ranging from the Public Theater's mid-1980s productions of "The Mystery of Edwin Drood" and an English-language "La Bohème" to "Kiss of the Spider Woman," "She Loves Me," and "Bounce." He remains the best "Phantom of the Opera" I've seen. McGillin's singing is so fine that it can sometimes overshadow his considerable acting chops, which is why it was such a joy to see them on vivid display in director John Doyle's light-as-air concert rendition of "Where's Charley?," Frank Loesser's first Broadway musical, at Encores! last spring. Sure, McGillin and co-star Rebecca Luker sounded heavenly on Loesser's gorgeous ballad of love reclaimed, "Lovelier Than Ever." But it was McGillin's effortless expression of Sir Francis Chesney's very English sense of class and its concomitant duties that impressed this first-generation-American child of two Brits. That's not easy for an American to get right, but McGillin absolutely nailed it.
(Photo by Paul Kolnik)
Seth Numrich, "War Horse"
The Juilliard-trained Seth Numrich is another American actor who morphed into a completely believable English character last year. As young Albert Narracott, a farm boy from Devon who, though underage, enlists in the British army to fight in World War I so he can find and rescue his beloved horse Joey, Numrich is the emotional center of the National Theatre of Great Britain's elaborate, puppet-filled production of "War Horse," still playing to packed houses at Lincoln Center. The young actor commands the vast Vivian Beaumont stage like a seasoned pro, bringing a luminous emotional transparency to Albert and giving this great big show the great big heart that makes it such an unforgettable theatrical experience. (Numrich leaves "War Horse" on Jan. 8 to go into Daniel Talbott's new play "Yosemite" at Off-Broadway's Rattlestick Playwrights Theatre, where I first noticed his considerable talent as the lead in Talbott's excellent drama "Slipping.")
(Photo by Joan Marcus)
Alexandra Silber, "Master Class"
I initially encountered Alexandra Silber's outstanding work as Sophie De Palma—the young opera singer who hasn't counted on being required to act by teacher Maria Callas in Terrence McNally's sturdy 1995 Broadway hit "Master Class," which was suggested by a series of master classes the famous opera diva taught at Juilliard—in the play's Kennedy Center production. When the Washington, D.C., staging was remounted on Broadway at the Samuel J. Friedman Theatre by Manhattan Theatre Club this past spring, Silber once again arrested my attention, finding a depth and texture in the character that I hadn't seen before. Silber, who also turned in notable work in last season's Off-Broadway revival of Michael John LaChiusa's "Hello, Again" by Transport Group, especially shined when Sophie unexpectedly gets the approval she has given up hope of receiving. Silber's rendering of Sophie's not knowing what to do with Callas' sudden approbation was touching and true.
(Photo by Carol Rosegg)
Heather Alicia Simms, "born bad"
British playwright Debbie Tucker Green's 2007 Olivier Award–winning play "born bad" opened on my birthday in 2011 and proved to be the best present imaginable: an exhilaratingly original work of art. This thoroughly disquieting, relentlessly penetrating play about a family in which sexual abuse has occurred, and the suppressed secrets and accompanying lies that have resulted from it, is clearly the product of a unique voice, one that was given full expression in Heather Alicia Simms' performance in the central role of Dawta, who is no longer willing to ignore what has happened to her. Simms combined a volcanic rage with an underlying uncertainty and fear as Dawta relentlessly pushed her parents and siblings to acknowledge the truth whatever the cost. Heartbreakingly human and continually unpredictable, her performance was one you couldn't take your eyes off.
Ensemble Performance
(Photo by Peter James Zielinski)
Meghann Dreyfuss, Patti Goettlicher, John-Andrew Morrison, and Guy Olivieri, "The Greenwich Village Follies"
A delightful salute to Greenwich Village's history and denizens, "The Greenwich Village Follies," Andrew Frank and Doug Silver's refreshing breeze of a show, was tuneful, literate, sassy, and sharp, a delightful throwback to the days of whip-smart musical revues once produced in Village boîtes by the likes of Julius Monk and Ben Bagley. It takes a special kind of performer to float such material, and the quartet of Meghann Dreyfuss, Patti Goettlicher, John-Andrew Morrison (who also directed), and Guy Olivieri proved to have the perfect sweet-and-sharp mix of flavors required. Innate, unforced charm is a rare commodity these days, and they possessed it in spades. It's a shame then that Manhattan Theatre Source's first open-ended production in its longtime Village home turned out to be its last, as financial problems forced the company to give up its lease. It remains a producing entity, however, so hopefully we will hear more from these bright and very talented youngsters.
Sheward's Superlatives
Brian Bedford, "The Importance of Being Earnest"
In a year of cross-dressing performances, Brian Bedford crafted an indomitable Lady Bracknell without stooping to drag clichés in Roundabout Theatre Company's production of Oscar Wilde's classic comedy "The Importance of Being Earnest." He never put on a falsetto voice or mincing mannerisms but created instead a steely symbol of Victorian righteousness. Bedford made his first entrance into John Worthing's bachelor apartment encased in an oppressive gown while sailing on like a battleship. This was a woman so sure of her place at the top of the food chain that she's astonished anyone would question her values. Every reaction, pause, and gesture was pitch-perfect.
(Photo by Joan Marcus)
Christian Borle, "Peter and the Starcatcher"
Sporting a painted-on Groucho Marx moustache and evoking equal parts poetic pomposity and black-hearted villainy, Christian Borle committed scene-stealing piracy of the highest order as Black Stache, the future Captain Hook, in "Peter and the Starcatcher," Rick Elice's riff on the Peter Pan legend, based on the novel by Dave Barry and Ridley Pearson, at New York Theater Workshop. Channeling Johnny Depp's Jack Sparrow and Cyril Ritchard's Hook (from the Mary Martin musical version of "Peter Pan"), Borle riotously conveyed his character's colossal ego and literary pretensions. He was particularly hilarious when interacting with Kevin Del Aguila's groveling Smee, the pirate leader's sidekick. As Smee corrected the Black Stache's numerous malapropisms, Borle found a different and equally valid explosive reaction to each intrusion.
(Photo by Johan Persson)
Derek Jacobi, "King Lear"
The primal howl of despair came from offstage and ripped its way into the audience's soul. That gut-wrenching sound issued from the usually elegant voice of Derek Jacobi in the title role of "King Lear" in the Donmar Warehouse's stripped-down, existential clown-show production at the Brooklyn Academy of Music. There was such anguish in that scream—uttered as the elderly king discovers that his favorite daughter, Cordelia, has been slain, partially due to his own pride and arrogance—that it transcended the plot and expressed the loneliness of the human condition. Jacobi's titanic portrayal was definitive in a year of Lears (there were three major productions of the play). While previous stars such as Ian McKellen, aKevin Kline, and James Earl Jones stressed the powerful monarch aspects of the role, Jacobi emphasized the needy inner infant who throws tantrums when thwarted. His choices were always surprising, such as whispering during the normally shouted storm scenes and playing with a blanket like a child pretending to be a monarch. It was an epic journey from inflexible tyrant to pitiful lunatic to broken old man.
(Photo by Joan Marcus)
Sanaa Lathan, "By the Way, Meet Vera Stark"
It's rare that an actor creates a character who is simultaneously an individual and a symbol of an entire class, but Sanaa Lathan did just that in Lynn Nottage's brilliantly stinging satire "By the Way, Meet Vera Stark" at Second Stage. In the title role, Lathan smoothly transformed from sexy, eager newcomer on the Hollywood scene to cynical, bitter veteran raking up past regrets on a tacky talk show. She gave Vera specific objectives and desires but also referenced and paid tribute to a galaxy of African-American performers, from the forgotten Fredi Washington (of 1934's "Imitation of Life") to the legendary Sarah Vaughan.
(Photo by Richard Finkelstein)
Ellen McLaughlin, "Septimus & Clarissa"
The challenge in adapting "Mrs. Dalloway," Virginia Woolf's stream-of-consciousness masterpiece, is conveying the interior journeys of the characters in theatrical terms. As both playwright and performer, Ellen McLaughlin met the challenge with force and style in "Septimus & Clarissa," presented by Ripe Time at the Baruch Performing Arts Center. In her breathtakingly direct portrayal, McLaughlin took us through a lifetime of love, despair, and regret as Clarissa Dalloway prepared for one of her famous London soirees while reliving her girlhood and early marriage. Rachel Dickstein's imaginative staging used dance to physicalize the characters' interior struggles, but McLaughlin was still for much of her performance, and we could read Mrs. Dalloway's violent struggle between propriety and passion on this actor's eloquent face.
Adrienne C. Moore, "Milk Like Sugar"
She hovers by the cool girls' lockers, silently observing their chatter about a pregnancy pact and patiently waiting for a chance to be a part of their world. In Adrienne C. Moore's heartbreaking portrayal of Keera, the overweight, unpopular girl in Kirsten Greenidge's "Milk Like Sugar," she perfectly captured the character's yearning need to be accepted. You could see it in the way her eyes followed the conversation of the other teens and how she pounced when there was a pause. Moore also gave full life to Keera's elaborate fantasy of a perfect home life, so that when it's revealed that her father is really in prison and will not be taking her to a father-daughter dance, the impact was shattering. Her façade of a happy, churchgoing family crumbled, exposing the frightened little girl behind it.
(Photo by Richard Termine)
Chris Nietvelt, "Cries and Whispers"
As the audience entered the BAM Harvey Theater for Dutch director Ivo van Hove's stage version of "Cries and Whispers" (Toneelgroep Amsterdam at the Next Wave Festival), it was greeted with the agonized face of Chris Nietvelt, the actor playing the dying Agnes, on a giant monitor. In van Hove's adaptation of Ingmar Bergman's classic film, the time has been shifted from the early 1900s to the 2010s, and Agnes is a video artist documenting her demise as her two narcissistic sisters give her superficial attention. Nietvelt made Agnes' suffering achingly real as she detailed the character's physical pain in moving from her bed to the toilet and back again. In a dazzling coup de théâtre, Nietvelt documented Agnes' final death throes by covering herself in blue paint and fecal matter and thrashing about on a blank canvas while creating a Jackson Pollack–like painting, a visual scream. I've never seen a performer literally throw herself into a part like that.
(Photo by Stephanie Berger)
Geoffrey Rush, "The Diary of a Madman"
Just as he did in his Tony-winning performance in Ionesco's "Exit the King," Geoffrey Rush shattered the fourth wall and our expectation of what a satisfying evening of theater is supposed to look and feel like in "The Diary of a Madman," a stage version of Gogol's short masterpiece, presented by the Australian company Belvoir at the Brooklyn Academy of Music. Rush went far beyond realism, combining elements of standup comedy, the circus, and Brecht to create the clownish clerk Poprishchin in a kind of existentialist cabaret.He began as a pitiable fool hopelessly yearning for the daughter of his boss and transformed so convincingly into a raving maniac that I thought he would run up the aisle and attack me. Along the way, he hilariously imitated everything from a cow to a cricket to two lovesick dogs.
(Photo by Simon Annand)
Mark Rylance, "Jerusalem"
For the second consecutive year, Mark Rylance makes my list. In 2010, he combined slapstick with sophisticated wordplay as the egotistical Valère in "La Bête." A few months later, he topped that tour de force with an even stronger performance in "Jerusalem," Jez Butterworth's paean to a vanishing, idealized Britain. As Johnny "Rooster" Byron, a free-spirited drug dealer and alcoholic, Rylance embodied the scary spirit of the mythical, wild past of the character's now-homogenized native land. Rylance made Rooster a lovably crowing buffoon and a frightening attack fowl, cheerfully telling charming stories one minute, belligerently itching for a brawl moments later. You never knew what Rylance's Rooster was going to do next. This actor is one of the few who possess that vital quality—danger.
(Photo by Mark Burton)
Lucy Taylor, "The Select (The Sun Also Rises)"
Lady Brett Ashley, the morally untidy heroine of Ernest Hemingway's classic novel "The Sun Also Rises," treats men like Kleenex, discarding them as soon as she finishes with them. She's a beautiful siren and a selfish destroyer. But in Elevator Repair Service's exciting stage adaptation, Lucy Taylor made Lady Brett such a charming vixen, it was understandable why men would crawl after her even though she treats them like dirt. With her Audrey Hepburn–like spark and a pixyish blond haircut, Taylor's Brett was a boyish sprite teasing and tormenting the expatriate males in her circle of lost souls in 1920s Europe.
Ensemble Performance
(Photo by Jeffrey Dupuis)
The Sleepy Town Border Insomniacs, "Crawling With Monsters"
The Sleepy Town Border Insomniacs are a group of drama students and their teacher from a Texas border town. "Crawling With Monsters," a highlight of the New York International Fringe Festival, was a fascinating collagelike portrait of a community in crisis. Originally planning to bring a children's play to Mexican schools near the U.S. border, the troupe had to cancel its tour because of the unremitting violence caused by drug cartels. Instead, the company interviewed residents in the beset areas, concentrating on how the violence affects the children. The result was a matter-of-fact depiction of life in a war zone, horrifying in its ordinariness. None of the estimable performers can be singled out because, for the safety of their families in Mexico, they wish to remain anonymous.