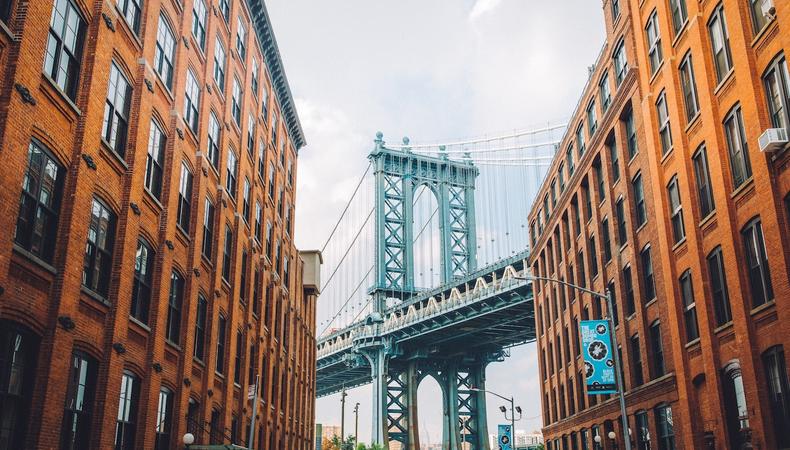 A brand new television and film studio is coming to Brooklyn . The city and the New York City Economic Development Corporation are looking for a developer who's able to construct a massive film and television sound studio complex on the waterfront Bush Terminal Campus in Sunset Park. The announcement of intended infrastructural investments indicates the municipal government's embrace of NYC's recent filming boom.
The city is seeking proposals to develop the 200,000 square feet of the property that will transform it into a mammoth "Made in New York (MiNY) Campus." The search process will be co-facilitated by the Mayor's Office of Media and Entertainment, as headed by Commissioner of Media and Entertainment Julie Menin.
The construction will also include the development of dilapidated buildings on the pier, road work, utility upgrades, and streetscaping. Undoubtedly, the announcement—which NYC Mayor Bill de Blasio made during his 2017 State of the City speech—will be a boon not only to the film industry in the area but also to the Sunset Park neighborhood in Brooklyn.
"New York City's film and TV sector draws talent from around the world—and creates thousands of good-paying jobs here across the boroughs," said Alicia Glen, deputy mayor of the country's largest city. "The Made in New York Campus will open a new chapter in this success story, by providing a state-of-the-art home base for 1,500 professionals."
The announcement is a significant next step in the entertainment industry growth versus economic gain argument between states and film and television lobbyists. States around the country are getting more competitive with tax credits to lure production companies to shoot in their state. Big productions not only hire local actors and industry workers, but also bring in millions of dollars to a region—restaurants get solicited, materials get purchased from local businesses, and locations get scenic marketing on screens around the world.
California and New York have gone tit for tat in their attempts to bring projects to their respective coasts. This past pilot season, New York topped the list with the most new projects being filmed. However, California has since sweetened their deal for tax credits, provoking several projects to pick up shop and head West.
"Our success with these relocating projects shows how the tax credit is working to affirm California's status as the preferred choice for TV production," said California Film Commission Executive Director Amy Lemisch in a March statement when the Sunshine State was lobbying to boost credits even higher. "From the earliest days of TV, shows set in other locales have been filmed in California. We're excited to welcome another series from New York [Amazon's 'Sneaky Pete' at the time] that will generate long-term employment and economic activity here at home."
The envisioned NYC campus is expected to create 500 new construction- and renovation-related jobs in restoring and beautifying the area—not to mention all the additional hires that filming will provoke—from actors to grips to catering once the campus is operational.
"New York City is synonymous with the film and media production industries," said Paul Vallone, NYC Council Member and Chair of the Committee on Economic Development. "Projects like these build on our City's strengths and lead to the creation of good jobs for New Yorkers."
Proposals submitted by companies and firms to the City must meet several preset standards with a preference going to plans that hire locally, design efficiently, and—notably—increase the standard for diversity, inclusion, and gender equality in the film and TV production industry.
The City is hoping for work to start and jobs to be filled by 2020. Proposals are due at the start of November. To look at the call for submissions, click here.
Check out Backstage's New York City audition listings!