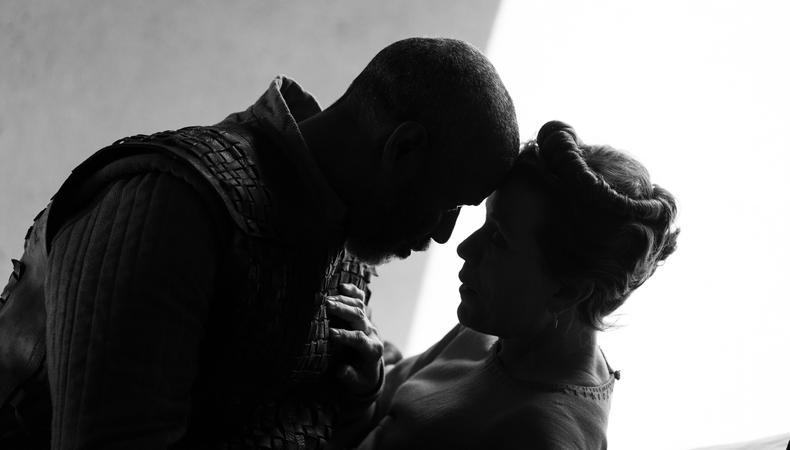 This year's Oscar ceremony occurred less than six months ago, but it's already time to anoint a fresh batch of frontrunners that will chase after film and guild awards in early 2022. The Venice, Telluride, and Toronto film festivals kick-started the season in September, and with the New York Film Festival ending Oct. 10, the upcoming awards derby is becoming a bit clearer.
Many film award season races still seem wide open, and there are a handful of buzzy movies that have yet to screen for press, including "House of Gucci," "Licorice Pizza," "West Side Story," "Don't Look Up," and "Nightmare Alley." But of the titles on the NYFF lineup, a handful are almost guaranteed to factor into the competition as the next several months unfold. Here are eight favorites that could make the roster when Oscar nominations are announced on Feb. 8, 2022.
"Dune" (Warner Bros.)
Release date: Oct. 22
This long-awaited adaptation of Frank Herbert's futuristic space odyssey finally arrives after multiple release postponements and Warner Bros' controversial decision to drop the movie on HBO Max the same day it hits theaters. As far as awards go, "Dune" has the pedigree to match its sweeping scale: director Denis Villeneuve following up "Arrival," a lead performance from it-boy Timothée Chalamet, an imposing score by legendary composer Hans Zimmer, and visual effects that are sure to yield nominations in the craft categories. Whether it will be a hit at the box office when people can watch it at home is another matter that could dampen the buzz needed to push a sci-fi epic across the Oscars' finish line—and secure its sequel.
"The French Dispatch" (Searchlight Pictures)
Release date: Oct. 22
Since premiering at the Cannes Film Festival in July, Wes Anderson's newest romp has divided critics. It's a heady, meticulous whirlwind set at an American newspaper housed in a fictional French city. Three of Anderson's previous nine movies have received screenplay nominations from the Oscars, so that's probably the field in which "The French Dispatch" is likeliest to compete. But get a load of the cast: Chalamet again, Bill Murray, Frances McDormand, Owen Wilson, Tilda Swinton, Henry Winkler, Jeffrey Wright, Saorise Ronan—the list goes on and on and on.
"Passing" (Netflix)
Release date: Oct. 27 (theatrical), Nov. 10 (streaming)
"Passing" premiered at the Sundance Film Festival in January, after which Netflix reportedly paid more than $15 million to acquire the movie. Shot in creamy black and white, this adaptation of Nella Larsen's 1929 novella stars Tessa Thompson and Ruth Negga as mixed-race childhood friends who reunite in Harlem when they're adults. One of them is married to a successful Black doctor, and the other has branded herself as a white woman. The tension that exists within such complex code-switching forms the spine of the film, which marks Rebecca Hall's directorial debut.
"The Power of the Dog" (Netflix)
Release date: Nov. 17 (theatrical), Dec. 1 (streaming)
Jane Campion's tense adaptation of Thomas Savage's 1967 novel has the look of a Western and the atmosphere of a menacing psychodrama. Benedict Cumberbatch plays a cruel rancher in 1920s Montana terrorizing his gentle brother (Jesse Plemons) and new sister-in-law (Kirsten Dunst). "The Power of the Dog" could yield a few Oscar firsts: Campion would be the first woman with two Best Director nods (the first was for "The Piano"), Dunst is an actor long overdue for a nomination, and Netflix could snag the Best Picture win that has so far eluded the streaming giant.
"C'mon C'mon" (A24)
Release date: Nov. 19
A lovely slice-of-life dramedy shot in black and white, "C'mon C'mon" follows a radio interviewer (Joaquin Phoenix) tasked with babysitting his precocious nephew (newcomer Woody Norman) while his sister (Gaby Hoffmann) tends to a personal crisis. Director Mike Mills' last two movies, "Beginners" and "20th Century Women," received one Oscar nomination apiece: Best Supporting Actor for the former, and Best Original Screenplay for the latter. Maybe Phoenix, who won two years ago for the much darker "Joker," will lead the charge on this one, though it could very well receive a screenplay nod thanks to its soft humor and tear-jerking conclusion.
"The Lost Daughter"
Release date: Dec. 17 (theatrical), Dec. 31 (streaming)
Maggie Gyllenhaal makes her feature-film directorial debut with this adaptation of Elena Ferrante's novel about a woman who finds herself obsessing over a family she observes on a beach vacation. Boasting a supreme cast that includes Olivia Colman, Dakota Johnson, Jessie Buckley, Paul Mescal, Ed Harris, and Peter Sarsgaard, "The Lost Daughter" is a haunting conversation starter about how the past never truly passes us by.
"Parallel Mothers" (Sony Pictures Classics)
Release date: Dec. 24
You never know how far Pedro Almodóvar's movies will travel with the Academy. The beloved Spanish filmmaker has won two Oscars, and Penélope Cruz's first Oscar nomination came for Almodóvar's excellent "Volver." His latest, "Parallel Mothers," marks his seventh collaboration with the actor, who plays a photographer unexpectedly pregnant at nearly 40, only to discover a strange mishap that throws her life into chaos. Cruz is a strong Best Actress contender, even though Spain has selected "The Good Boss" (a comedy starring Cruz's husband, Javier Bardem) as its International Feature Film submission.
"The Tragedy of Macbeth" (A24/Apple)
Release date: Dec. 25 (theatrical), Jan. 14 (streaming on Apple TV+)
For the first time in his 37-year career, Joel Coen directed a movie without his brother, Ethan. The younger Coen has crafted an electric thriller, casting Denzel Washington in a powerhouse performance as the famous Shakespearean antihero who just can't wait to be king. Frances McDormand is his partner in crime, and it's about time she gets to play Lady Macbeth. "The Tragedy of Macbeth" could be a bit too weird and cerebral for the Oscars' taste, but its haunting cinematography (by five-time nominee Bruno Delbonnel) and score (by two-time nominee Carter Burwell) could be enough to make it a viable contender.
For more on this season's awards buzz, follow along at backstage.com!