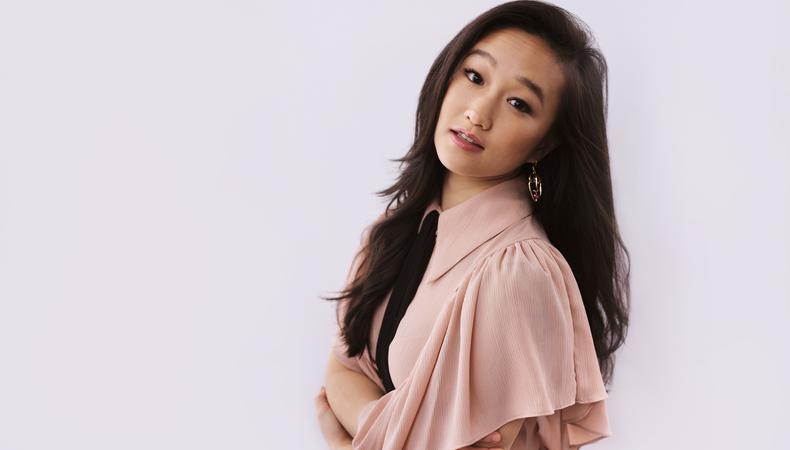 The following Career Dispatches essay was written by Cathy Ang, who is the lead voiceover actor in Netflix's "Over the Moon," which is now nominated for the Academy Awards' best animated feature.
Throughout my strange acting journey, more talented and experienced artists have gambled on me. In "Over the Moon," I worked with AAPI greats, Disney Legend Glen Keane, and creatives who've shaped both animation and musical theater. It's amazing and terrifying. Even if the room affirms who I am—and the OTM team was especially affirming—I still struggle to claim my space and focus.
Everyone's discussing "imposter syndrome," and there are a million articles out there explaining how we can and should deal with it. As a young Asian actress, I'm working on it, too. Unfortunately, when you're already in the room, there's not always time to develop healthy habits. So as a "lukewarm" mess procrastinating her therapy, here are some questionable methods for my friends who also thrive on negative motivation.
Whether or not I deserve to be in the room, I'm in the room. Everyone else is focused and working on the actual project, so it's time to move on, Cathy. Use that fear of finishing last! Embrace it and CATCH UP. Then the question becomes: How will I use this opportunity? Will I spend it worried about falling on my face, or learning about our craft? For us insecure folk, it's both. All we can and need to do is slowly shift the balance towards learning.
How do I focus on learning? I listen, duh! This is the first lesson they teach you in acting school—yet, here I am. Luckily, voiceover is a fantastic training ground for listening! Creatives in a recording studio are A+ listeners. Before you record a line, everything stops; people exhale, just waiting for the actor to restart time. It's akin to that energy I chase onstage, and it only happens when suddenly, everyone is listening. When I hear myself back in those headphones, I'm judging the take, but the creatives are conjuring entire worlds with it. I conclude that these artists belong on pedestals, and crane my neck up to let them inspire and guide me.
I constantly discover how little I know, and use it as proof that our inner voices need to shut up and make space to listen. Because listening feels good. It's an opportunity, it's discovery. When everyone is listening, we will, in fact, create something beautiful together.
READ: How to Become a Voice Actor
I'm getting ahead of myself. First, I'm definitely going to fu** it up. I know I'm not good enough. But that actually makes it easier to lower my expectations. I'm going to stumble. That perfect version of Cathy I'm comparing myself to? She's definitely not appearing when all the creatives are staring at me. But voiceover acting (and acting, generally) is ripe for stumbling, since they only need one good take. Strong and wrong, baby! When I'm ready to be wrong, I can learn a lot from my mistakes. So I really think about my failures. After a session, I find moments I feel like I let the team down, and map out which mistakes led to that moment. It helps me reframe difficult days into neutral ones. When I pinpoint mistakes, I learn. If I'm still learning, the pressure of "perfection" can be pushed onto future Cathy. For now, I can simply listen and grow.
Finally, the project's over. Back to square one. LIES! That brilliant team sacrificed their time and energy on me! I owe it to them to keep celebrating our creation. These projects partly belong to us. Our team's combined juju is weaved into the project's DNA. We did have to be there. We can be proud. Though antithetical to my essay, we must hold on to that feeling for as long as we can, if only for our fellow artists. We're lucky to have created with them, so smile! Plus, I think we just became slightly hotter messes.
Looking for remote work? Backstage has got you covered! Click here for auditions you can do from home!