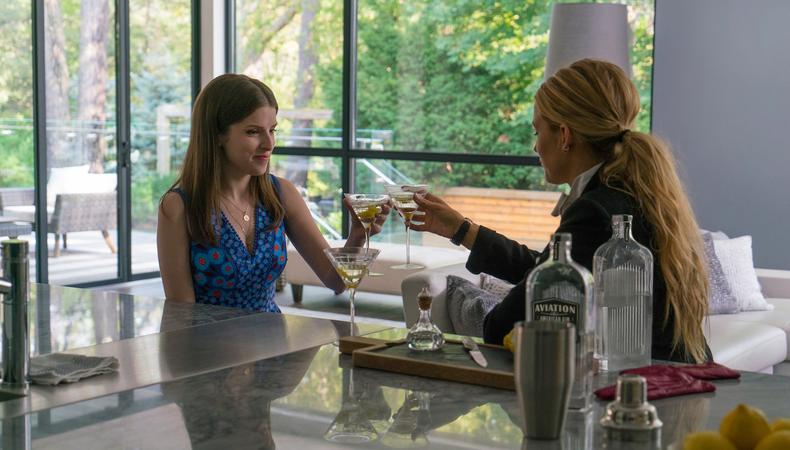 Paul Feig's preferred armor is a three-piece suit. As a childhood cinephile of 1940s formalities and old Hollywood glamour, the "Bridesmaids" director dons them daily, each dapper look featuring a carefully selected shirt-and-tie pairing and meticulously folded pocket square. So when Blake Lively met with Feig and costume designer Renée Ehrlich Kalfus to discuss her latest character's clothing, the actor turned to him and said, "Honestly, I just want to dress like you."
That's how Lively's sexy, debonair aesthetic—complete with ornate pins, pocket-watch chains, and customized tear-away dress shirts—came to be for "A Simple Favor," the suburban noir thriller in which Lively's enigmatic executive suddenly goes missing, leaving her mommy-vlogger friend (Anna Kendrick) to solve the mystery. Adapted by Jessica Sharzer from Darcey Bell's gripping novel, the Sept. 14 release—also featuring Linda Cardellini, Andrew Rannells, and relative newcomer Henry Golding—is not only Feig's most stylish movie yet, it's also his first foray into the thriller genre.
"This was a house of cards like no other movie I've done before. Every single moment leads to the next, everything that happens has a payoff or is a setup for something else," says Feig. And in comparison to his genre-blending entries "The Heat" and "Spy," "A Simple Favor" tiptoes when integrating zippy one-liners and physical comedy beats. "I wanted it to be funny, but it's a thriller first and foremost. You have to be pure about the genre and not subvert it in a way that ruins things or makes fun of it."
READ: 5 Tips From Paul Feig on Rising to the Top in Comedy
Feig felt drawn to the project because of Kendrick's character, Stephanie, a chirpy mother who unexpectedly bonds with Lively's Emily, a powerful public relations player. "Yes, Stephanie fits in with the heroines of all my movies: a flawed and nerdy person who hasn't figured out her place in the world yet. But she also reminds me of my mom, who stayed at home after she had me," he explains. "She was always so enamored with professional women. They were her heroes. Whenever she met a woman who ran her own business or was an executive, she got completely fangirly."
What begins as a budding friendship (exotic cocktails! Friendship bracelets! Deepest, darkest secrets!) becomes a sociopathic cat-and-mouse game between the two matriarchs. "They're at odds, but they're not catfighting or being petty. They still have a mutual respect for each other while it's happening," Feig explains. "They ultimately see each other as equals, even if it doesn't seem that way at first."
Feig hopes viewers appreciate being taken for a ride by these complex, irreverent female characters. "Women can solve their own problems in a way that's not reducing them to being insanely emotional and erratic. That's how women have been portrayed for so long," he says. "But it's ridiculous—that's not how anyone I know is in real life."
This is a conversation he's been having for decades now, since he first wrote Cardellini's beloved "Freaks and Geeks" character as "the older sister I wish I had." But Feig reiterates that his consistent characterizations of women as dynamic, empowered people isn't a noteworthy Hollywood breakthrough. "I grew up watching movies with my mom that starred Katharine Hepburn, Rosalind Russell, Barbara Stanwyck. In their movies, they were equals to the men," he notes. "Suddenly, we're in the '70s and '80s, and the women are the hookers or the shrews or the mean wives. While he's saving the world, she's mad he's not home for dinner."
Feig simply seeks to entertain and be entertained. He has always gravitated toward women ("Guys at school were bullies, with lots of name-calling and homophobia and all that shit, while the girls were making each other laugh in a smarter or goofier way") and wants their onscreen portrayals to be more accurately multifaceted. "To this day, internet trolls yell at me about my progressive agenda with 'Ghostbusters,' and I just wanted to cast the four funniest people I know. If anything, it's comedic activism—I want funny people on the screen."
Of Kendrick and Lively, Feig says he cast them because they're collaborative, committed, and, at the end of the day, right for the roles. If naysayers arise, he'll suit up and step up, three-piece armor and all.
Ready to get to work? Check out Backstage's film audition listings!