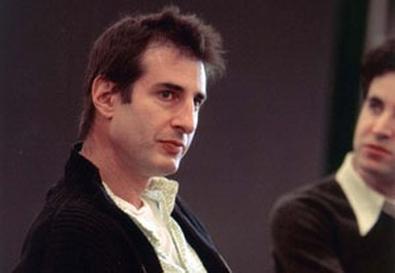 NEW YORK (AP) — It was F. Scott Fitzgerald who famously wrote there are no second acts in American lives. It is Jon Robin Baitz who says that's utter baloney.
"There's nothing but second acts," the playwright says over coffee in the café of a Greenwich Village hotel.
He should know: Baitz was a well-regarded writer of such plays as "The Film Society" and the Pulitzer Prize finalist "A Fair Country" when he left New York for Hollywood in 2002 to create the TV show "Brothers & Sisters."
But finding frustration at every turn, Baitz lasted only a few years before being fired and fleeing back East. He has re-emerged with the drama "Other Desert Cities," easily his best-reviewed play and the first of his original works to make it to Broadway.
"I always felt that there was something else to come," says Baitz. "I sort of wake up every day in a kind of weird state of gratitude. It feels like a war ended for me, actually."
Baitz in person is soft-spoken and utterly charming, happy to talk about any topic with a dash of wit and plenty of wisdom. Over the course of an hour interview at the Jane Hotel in Manhattan, which he points out sheltered some surviving crewmembers of the Titanic, he references the last days of World War I, Elia Kazan, W.H. Auden, Allen Ginsberg and paintings by Eric Fischl, which inspired his play "The Paris Letter."
Things are lately looking up for a man who admits that he's usually prepared for the worst. The young-looking 50-year-old is digging his roots deep into the city — his apartment is being renovated — and he has the first draft of a new play written. He's eager to concentrate on plays now.
"I think having gone through the experiences I did — particularly with Hollywood — it now seems churlish to do anything other than write plays for as long as I possibly can," he says. "I had to teach myself how to write for myself again."
"Other Desert Cities" is about a dysfunctional, politically divided family wrestling with a deep secret in their past. The cast includes Stockard Channing and Stacy Keach, who have been with the show since it made its debut a year ago at Lincoln Center Theater. Former "Brothers & Sisters" star Rachel Griffiths and Judith Light of "Ugly Betty" have joined the Broadway show.
Baitz often writes with actors in mind and did so this time as well. "You hear one or two people for parts in your head and then you have a sort of tiny, tiny team on the bench, waiting," he says. "All those people are in the play pretty much."
One of them is Keach, who Baitz calls an actor with "majestic depths of dignity and sorrow." Keach returns the compliment, calling Baitz a cross between Noel Coward and Anton Chekhov. "The characters he writes are endlessly fascinating. Every performance is an adventure," says Keach, who also starred in Baitz's "Ten Unknowns," at the Mark Taper Forum in Los Angeles, in 2003.
For Baitz, it's no coincidence that the latest play comes Phoenix-like from the ashes of his wretched TV experience. "It was fairly quickly evident that the level of ambition that I had for it had nothing to do with the situation on the ground," he says. "The level of subtext could be dwarfed by a paramecium."
He left New York and his playwriting career following a series of unhappy events — 9/11, the death of his father and the breakup of his relationship with director and actor Joe Mantello, who nevertheless directs "Other Desert Cities."
"I think I was probably so avidly attempting to flee whatever pain there was, thinking I could do it by changing the scenery," Baitz says, ruefully. "You can never do it."
He had high hopes to create a vivid, sad-funny drama about an American family but thinks "Bothers & Sister" probably should have landed at Showtime or HBO, and not in a Sunday night slot at ABC.
Though the show had a great cast in Griffiths, Sally Field, Calista Flockhart and Rob Lowe, Baitz had to endure writing by committee and constantly pleasing executives less interested in quality than cash. "My ambitions for it were unrealistic and I think they have to be unrealistic."
He began "preposterously non-confrontational" but emerged as probably too eager to fight for his show and was canned. "I'd like to think that it's a testament to my survivor instinct kicking in that I managed to get myself ejected," he says, laughing.
"I think because I felt so muted there, so shackled, it's one of the things that allowed me to write a play about a politically divided family, which is sort of one of the things I tried to do there."
Baitz was born in Los Angeles but lived for years in Brazil and South Africa when his father was posted abroad for the Carnation evaporated milk company. His experience in apartheid-era South Africa taught him how evil governments could be and that anyone can assimilate into a nasty system if they are comfortable.
He says "Other Desert Cities," which takes its name from a California highway sign outside Palm Springs, is about complicity and how as people mature they must accommodate many truths. "It's maybe the clearest expression of my constant theme, which is, 'You have no idea what you believe in until you're tested,'" he says.
He points to the example of Kazan, the brilliant director who was reviled by many for naming names during the Hollywood blacklist era. "That's what I live with every day," he says. "I'm certain I would name names."
Baitz writes all the time and keeps a list of evolving ideas in a little notebook. "Eventually, they fight like weasels in a pit and one idea is slightly triumphant, though deeply bruised and battered. Then I think about it and think about it some more," he says.
"Eventually, I'll start writing words."
---
Copyright 2012 Associated Press. All rights reserved. This material may not be published, broadcast, rewritten, or redistributed.